8 Father's Day Gifts To Buy at Dollar Tree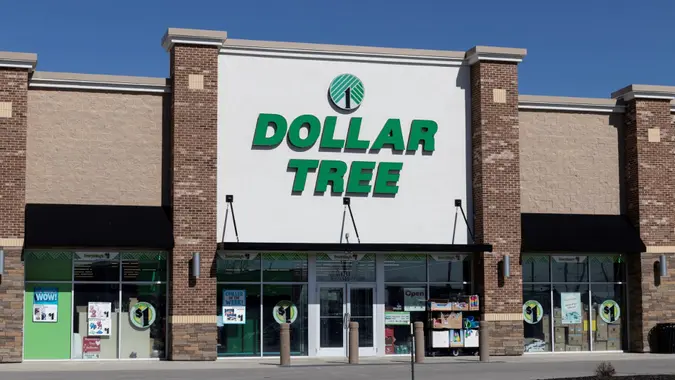 It can be hard to know just what kinds of gifts to get Dad on Father's Day. Not exactly a birthday or a formal gift-giving holiday, Father's Day is supposed to celebrate all that makes Dads great. Some dads like to get their hands dirty gardening, some dads are handy with tools and others like to cook or craft. Dollar Tree offers a lot of incredibly affordable gifts for Dads. You can even mix and match a bunch of them, considering you're not likely to pay more than $1.25 each (with a few exceptions). Here are eight Father's Day gifts for dads from Dollar Tree.
Tool Bench® Hardware Precision Magnetic Screwdrivers
Handy dads who might need an easy-to-reach, portable set of screwdrivers they can take anywhere will appreciate a set of Tool Bench® Hardware Precision Magnetic Screwdrivers. Each kit comes with six metal screwdrivers with yellow twist-knob handles and magnetic tips in plastic cases. It includes three Phillips head screwdrivers (1/16 inch, 5/64 inch, and 3/32 inch) and three flat head screwdrivers (1/16 inch, 5/64 inch, and 3/32 inch), great for smaller repairs. $1.25 per set.
Black Plastic Toolbox
You really can't have too many toolboxes, particularly if Dad moves his between multiple locations, in or around the house or even to work. This basic black toolbox with yellow carry handles and a ready-to-padlock closing tab is a great, simple item for Father's Day. Better yet, pack it full of other Dollar Tree tools. Width is 11.953 inches, height is 4.195 inches and length is 6.007 inches.
Make Your Money Work for You
Special Moments® Black and Silver Trim Photo Frame
Many dads don't need more material goods to feel celebrated on Father's Day. Instead, consider buying one or more of these black and silver trim 8-by-10-inch frames and filling them with meaningful photos of the people they love or places they've gone. These frames are elegant and practical and will match most decor in a home or office. Better yet, for just $1.25, you can stock up!
Terrarium Globe
For an unusual gift that doesn't just add more material clutter to Dad's life, consider buying one of these plastic terrarium globes and creating a special, living oasis of plants and rocks for Dad to put in an office or in the house somewhere. If the worst happens, and someone knocks it over, it won't break, either. It can be hung or sit on its own. This can be a great project for Dad and the kids to do together.
Wooden Crafter's Crates
Projects that Dad can do with kids can make for a much more special Father's Day than simply buying things. Dollar Tree has a ton of wooden projects just waiting to be painted, woodworked or more. These rectangular wooden crates may look plain, but once Dad and kids go to town on them, they can become fun ways to carry, hold or store things ranging from toys to books to food.
Pizza Pans
For dads who like to get messy in the kitchen, what's better than making homemade pizza from scratch. But you need special pizza pans for that, and Dollar Tree delivers, with Cooking Concepts Tin Pizza Pans. These are 12 inches across, and the perfect round shape makes sure that every inch of your pizza heats evenly and perfectly for delicious meals every time.
Make Your Money Work for You
Glass Sports Mugs With Handles
For dads who love to drink beer, these 26.5-ounce glass sports mugs make a great sturdy mug for a nice, cold frothy one. Or, for dads who don't drink alcohol, it brings gravity to a soda, juice or glass of water. Chill them in the freezer for a special cool effect. For just $1.25, you could stock an entire bar with these.
Driver's Choice Microfiber Chenille Wash Mitts and Armor All Auto Cleaning Solution
Give Dad the gift of the right tools (and the time) to wash his car, with these microfiber Chenille wash mitts. These are good for dusting, scrubbing, polishing and drying on both exteriors and interiors, wet or dry. Throw in some Armor All multipurpose auto-cleaning solution as well, and Dad is halfway to a perfectly spiffed-up vehicle. What you save in money on cleaning supplies you can use in taking Dad out to a nice meal, or for a drive in his swank car.
More From GOBankingRates