5 Things Parents Spend Big Money on That Those Without Kids Don't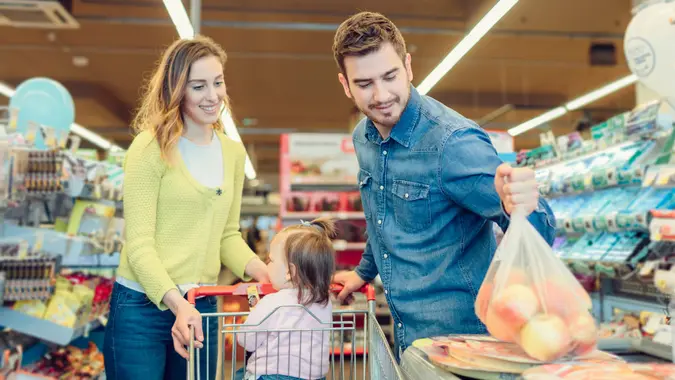 vgajic / iStock.com
When new parents think of major expenses they have to start planning and saving for, college often comes to mind first — and at an average cost of nearly $30,000 a year, who could blame them? But college isn't a necessity, and according to Parents.com, studies show that in some parts of the country, parents should expect to spend roughly that amount every year on kid-related expenses that they can't avoid.
In the most comprehensive future inflation-adjusted analysis to date, the Brookings Institution estimates the average middle-class family with two children will spend $310,605 to raise a child born in 2015 through 2032 to the age of 17. That's about $17,000 per year that parentless adults can save, invest or splurge on themselves.
Here's a look at where it all goes.
Some Spend More Than Others, but It's Not Cheap for Anyone
The Brookings report found that geography has a lot to do with what you should expect to spend — having children costs parents in the Northeast the most, while those in the Midwest and rural areas spend less. Income plays a major role, too — higher earners pay more overall, but lower-income families dedicate a greater percentage of their income to raising children.
The Washington Post created a calculator based on the Brookings data that lets parents estimate the total cost of raising children to age 17 relative to their annual income.
Less than $25,000: $120,300
$50,000-$75,000: $217,200
$75,000-$100,000: $248,700
$100,000-$125,000: $266,100
$125,000-$150,000: $274,500
$150,000-$175,000: $325,800
$175,000+: $376,500
Make Your Money Work for You
Here's a look at a few of the biggest expenses parents have to budget for that those without kids will never have to worry about.
1. Prenatal Care
Kelly Palmer, founder of The Wealthy Parent, is a chartered financial analyst specializing in helping parents and young families. She knows that the price of parenthood starts adding up at the moment of birth. 
"Becoming a parent is an experience unlike any other, but it's also an experience that comes with a price tag," she said. "From the moment your child is born, you are immediately presented with medical costs from the birth and a slew of other costs to recover from the experience."
In fact, it usually starts before the mother ever feels the first kick inside — according to WebMD, the average cost of prenatal care is $2,000, much of which goes to prenatal vitamins.
2. Diapers
The high cost of diapers starts adding up before the mother ever leaves the hospital with her new baby. According to Cross River Therapy, the average parent spends $70 per month or $840 per year. That's $1,680 for the 6,000 diapers that the average baby goes through in the first two years of life.
3. Formula and Baby Food
According to VeryWellFamily, parents spend roughly $70-$250 per month on formula and baby food in the first year or two. The cost varies depending on the brand and whether or not the mother breastfeeds and for how long.
4. Necessary One-Time Purchases
Formula, baby food and diapers are all ongoing costs, but parents also have to budget for one-time expenses that childless people get to dodge.
Make Your Money Work for You
"While you are busy paying the medical bills, you can expect many middle-of-the-night delivery orders, whether it's extra diapers or a smart crib with promises of sound sleep," said Palmer.
Here are a few of the most common one-time purchases, each of which shows modest average price ranges stated by Consumer Reports and VeryWellFamily. For example, you can spend well over $1,000 on a high-end stroller.
Car seat: $80-$300
Crib: $150-$400
Bassinet: $80-$200
Baby chair or infant swing: $75-$100
Stroller: $200 and up
5. Child Care
Even those hefty expenses pale in comparison to the cost of hiring someone to watch your kids while you're at work — a crushing financial penalty that non-parents get to avoid.
"Upon surviving the early days with your newborn, you are confronted with the next large expense — child care," said Palmer. "Whether it's daycare or a nanny, childcare will have a large impact on your budget."
According to the Washington Post, average childcare costs now exceed the price of in-state college tuition.
"According to Care.com's 2023 Cost of Care Report, 67% are spending 20% or more of their annual household income on child care," said Kendall Meade, certified financial planner at SoFi. "79% of those surveyed said their child care costs would amount to $9,600 or more per child for the year. This is by far one of the biggest expenses that most parents have that is typically not optional, unless you have family willing to help out.
For many parents, it's the single most decisive lifestyle-defining expense of having children.
"When it comes to paying for childcare, this is when many parents have to make tradeoffs in their own financial lives," said Palmer. "Whether it's dialing back on travel or retirement savings, something has to give."
More From GOBankingRates