5 States Will Replace Your SNAP Benefits If You Lost Food Due to Severe Weather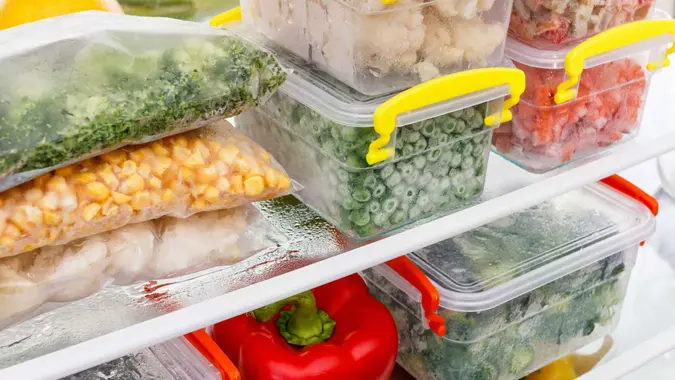 BravissimoS / Getty Images/iStockphoto
Severe thunderstorms, hail, and power outages have swept parts of the country this summer. For lower-income Americans already on tight budgets, losing food stored in a refrigerator or a freezer due to a power outage can be devastating.
But some states are willing to provide replacement benefits to SNAP recipients. Rules vary by state and you may have to show proof of the loss. Here's a round-up of states that may help you replace food that spoiled during a power outage or other household misfortune.
Tennessee
Tennessee will replace SNAP benefits for up to the value of your household's loss due to a power outage or other misfortune — though the sum is not to exceed your monthly benefit amount.
Fill out the affidavit request here. Then, upload it through the One DHS portal. You must make the request within 10 days of the outage.
Oklahoma
Oklahoma also offers SNAP recipients the opportunity to receive additional benefits to replace food lost during a severe storm. Fill out a Destroyed Food Replacement request online or call 1-405-522-5050 to request the form if you are still without power.
Requests must be made within 10 days, although the state of Oklahoma is working with federal officials to request a deadline in the most recent instance. The DHS has already been deluged with requests, Fox News reported.
Texas      
Families in 12 Texas counties can apply for replacement benefits for food lost or destroyed during the severe storms this June, according to a release from Gov. Greg Abbott's office.
Make Your Money Work for You
If you live in Camp, Cass, Franklin, Gregg, Harrison, Marion, Morris, Ochiltree, Panola, Titus, Upshur or Wood county, you can request benefits by calling 211 and dialing 8. You can also go online and download form H1855 here.
Mail the form to Texas Health and Human Services Commission, P.O. Box 149027, Austin, TX, 78714-9027 — or fax to 1-877-447-2839. 
If you lost food during the storms of June 14 — 16, you have until July 14 to apply. Benefits will be applied to your Lone Star card within two business days, according to the governor's office.
Louisiana
Louisiana residents in Bienville, Bossier, Caddo, Caldwell, Claiborne, DeSoto, East Carroll, Franklin, Jackson, Lincoln, Madison, Morehouse, Natchitoches, Ouachita, Red River, Richland, Tensas, Union, Webster, West Carroll and Winn parishes can apply for replacement SNAP benefits if they lost power for 24 hours or more during the mid-June storms. With a 10-day extension, Louisiana residents must report the food losses and apply for additional benefits by July 17, 2023.
Additionally, SNAP recipients in Bossier, Caddo and DeSoto parishes who lost power for at least 24 hours will automatically receive a replacement of 60% of their benefits for June. Families do not have to take any action to claim these replacement benefits.
Download and submit the affidavit, the SNAP 38 Form, here. The Louisiana Department of Children & Family Services recommends you submit the form promptly, since you may have to provide additional proof of power loss from your electric company.
Massachusetts
Massachusetts is among the states with a policy of replacing SNAP benefits if food is lost due to storms or household misfortune. Although recent thunderstorms and hail ravaged the South, the Northeast is not immune to hurricanes and tropical storms throughout the summer, either.
Make Your Money Work for You
Should Massachusetts residents lose power, causing a loss of food, they can file a form to receive up to one month of replacement benefits. Massachusetts' policy also covers loss due to a broken refrigerator or freezer.
To request replacement benefits in Massachusetts, report the loss by filing form SNAP 9B, which you can upload to DTAConnect.com. Alternatively, you can call the DTA Assistance Line at 1-877-382-2363 to file your claim.
More From GOBankingRates