7 Ways Boomers Can Save Money on Groceries During Retirement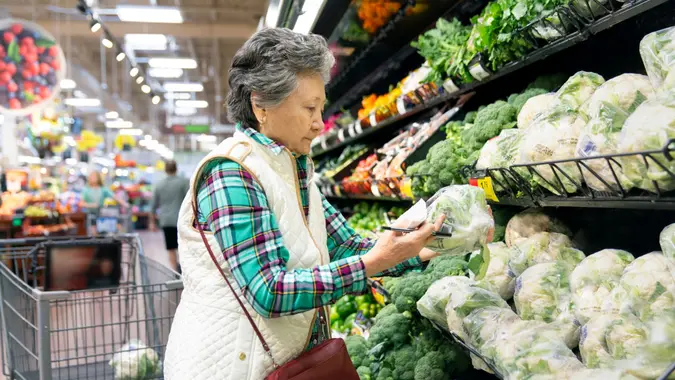 AMR Image / Getty Images
Saving on groceries is a goal across generations, but perhaps no generation is as strapped to a budget as retired baby boomers living on a fixed income. What are some of the best ways that boomers can save on groceries during retirement? Let's explore.
Grocery Shop at the Right Times 
They say timing is everything, and it turns out that's as true for grocery shopping as it is for anything else. According to Dave Ramsey's blog on the Ramsey Solutions website, experts frequently tout Wednesdays as the best day to grocery shop. Why? Because new stuff gets restocked midweek and you can find fresh markdowns on items that didn't sell the previous week.  
Go Generic/Store Brand  
By now it's no secret that generic or store brand items are cheaper and almost always about the same quality as their more expensive brand name alternatives or sources of inspiration. You'll save big in the cereal aisle, in particular. 
Shop Produce in Season 
Got a hankering for watermelon in February? Well, not only might you end up with mediocre-tasting watermelon, but you'll also likely end up with one that is wildly expensive. It's always best to shop for produce when it is in season. A great way to do this is by hitting up local farmer's markets. You stand to get fresher food this way, and you can support local farmers — a nice bonus.  
Make Your Money Work for You
Substitute Meats 
Are you okay with swapping out ground beef for ground turkey? If you stand to save some money by doing so, you should certainly consider it. Some meats are far pricier than others. 
Tally Up Price Tags While Shopping 
Sometimes you get to the cash register with your groceries and are astonished to see just how much you owe. Wipe out the element of surprise by taking the Ramsey Solutions suggestion to keep a running list of how much you're racking up while you're shopping. Calculating costs as you go can also help you decide in the moment what you need versus what you merely want.  
Pay With Cash 
Ok, so this tip is more about self-discipline. If you make a budget and carve out an appropriate amount of money from it to spend on groceries, give yourself a challenge by taking out this money in cash and leaving your credit cards and digital payment methods at home. Paying in cash will help you stay within your budget boundaries. 
Pay With a Cash Back Credit Card 
If you'd rather pay with a card than with cash, definitely use a card that gives you cash back rewards on qualifying grocery purchases.
More From GOBankingRates