9 Air Fryer Meals You Can Make for $10 or Less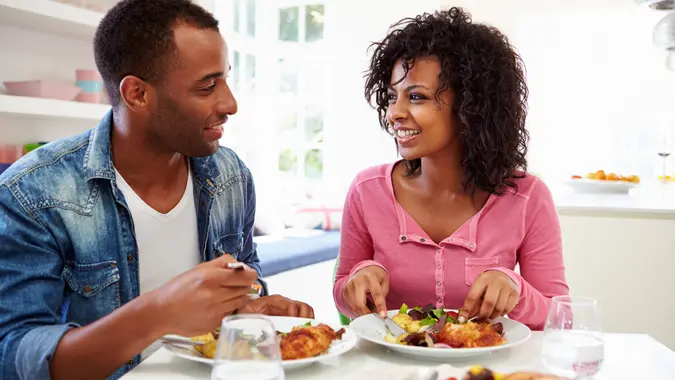 ©Shutterstock.com
Another night, same nagging question: "What to make for dinner?"
It may not sound like a big deal, but cooking can be a major stressor for those most often charged with the task. Adding to the stress are the financial factors — inflation is out of control and the cost of food is soaring. On top of that, the pandemic refuses to fade away, so more people continue to stay home and make their own meals.
See: Costly Mistakes People Make While Grocery Shopping
Be Aware: 40 Supermarket Buys That Are a Waste of Money
With all that in mind, we really, really just need dinner to be as simple, affordable and painless as it can be. Is that too much to ask? It certainly is not, and you're one step ahead if you're one of the many who have added an air fryer to their kitchen in recent months. Check out these nine foodie-recommended air fryer recipes — all of which fit a budget of $10 or less. 
Make Your Money Work for You
Mexican-Style Stuffed Chicken Breast
Approximate Cost: $8 
Ingredients: 
2 extra-long toothpicks
½ tablespoon and ½ teaspoon chilli powder, divided
½ tablespoon and ½ teaspoon ground cumin, divided
½ skinless, boneless chicken breast
1 teaspoon chipotle flakes
1 teaspoon Mexican oregano
salt and ground black pepper to taste
¼ red bell pepper, sliced into thin strips
¼ onion, sliced into thin strips
½ fresh jalapeno pepper, sliced into thin strips
1 teaspoon corn oil
¼ lime, juiced
Instructions: 
Soak your long skewer sticks. 
Add 2 teaspoons of cumin and chilli powder each in a dish. 
Preheat the air fryer model at 200 degrees C (400 degrees F). 
Slice the chicken breast from the centre into two pieces. 
Pound each chicken fillet with a mallet to about ¼ inch thickness. 
Begin to sprinkle each piece of chicken with leftover chilli powder, cumin, chipotle flakes, oregano, salt and pepper. 
Divide the vegetables (bell pepper, onions, and jalapeno) into two halves for each chicken breast. 
Roll them in the fillet from the tapered end and secure them with skewers. 
Cover each chicken with the chilli-cumin mixture in the dish with olive oil. 
Place them in the air fryer for 6 minutes with the skewer side up. 
Check the center by inserting a thermometer in the fillet roll. It should read at least 74 degrees C for complete cooking. 
Serve with lime and tortilla wraps. 
Submitted By: Melissa Collins, partnership manager at Perfect Brew
What Makes It Great: "The reason why I love this recipe is that it's packed with good calories and protein," Collins said. "I began religiously following this recipe when I was gaining muscle mass. This meal alone has 14.8g of protein in each serving and low cholesterol because I drizzle olive oil." Also, it's easy to make in an air fryer with readily available ingredients. Mexican-style stuffed chicken breast is loaded with a burst of flavor in each bite.
Make Your Money Work for You
Related: 11 Cheap and Healthy Meals That Will Help You Cut Costs
Air Fried Hot Dogs and French Fries 
Approximate Cost: $1.25/serving
Ingredients:
2 hot dogs
2 hot dog buns
3 oz. french fries
cooking oil
salt, as desired
Instructions:
Preheat air fryer at 400º for 3 minutes, and spray the basket with oil.
Spray french fries with oil and sprinkle with salt, if desired.
Cook for 20-25 minutes, tossing halfway. Remove the fries to a medium-sized bowl and cover with aluminum foil to keep them warm.
Set air fryer to 390º.
Place hot dog buns in the basket of the air fryer and cook for 2 minutes. Remove buns to a plate and set aside.
Place hot dogs in the basket of the air fryer and cook for 3 minutes. Transfer hot dogs to buns, and serve with french fries on the side.
Submitted By: Emily Krill, food blogger  at Resolution Eats
What Makes It Great: "You can't go wrong with hot dogs and fries and at $1.25 per serving, it's a tasty and cheap meal," Krill said.
Check Out: How To Make Money Sharing Your Favorite Recipes
Easy Air Fryer Greek Chicken and Potatoes 
Approximate Cost: $6.90
Ingredients: 
1 lb. chicken breast, diced
1 lb. baby gold potatoes, quartered
2 tablespoon (32g) olive oil
2 tablespoon (30g) lemon juice
½ teaspoon lemon zest
1 tablespoon Greek seasoning, divided
1 tsp. black pepper, divided
Make Your Money Work for You
Instructions:
1.      Mix the lemon juice and zest together with the olive oil and toss the quartered potatoes in the mixture. Season with 1/2 Tbsp Greek seasoning and 1/2 tsp black pepper.
2.      Use a spatula to transfer the potatoes to an air fryer basket, leaving the remaining oil/lemon juice mixture in the bowl. Avoid dumping the potatoes straight in the basket. Air fry for 12 minutes at 400ºF.
3.      While the potatoes cook, dice the chicken breast and add to the bowl with the remaining olive oil and lemon juice. Add the additional tablespoon of olive oil and toss to coat before adding the remaining 1/2 Tbsp Greek seasoning and 1/2 tsp black pepper.
4.      Once the potatoes have cooked for 12 minutes, transfer them to the bowl with the chicken and stir together.
5.      Add the Greek chicken and potatoes back to the basket and air fry for 10-12 minutes at 400ºF, shaking halfway through, until the chicken reaches an internal temp of 165ºF. Check multiple pieces to ensure everything is evenly cooked. Serve with kalamata olives, feta cheese, and parsley, if desired.
Submitted By: Mason Woodruff, a food blogger
What Makes It Great: "With no marinade required and a short, cost-effective ingredient list, this air fryer chicken and potatoes combo is an awesome weeknight dinner fix when you're short on time," Woodruff said. "And since everything is cooked in the air fryer basket together, you don't need to worry about preparing side dishes.
Budgeting 101: How To Create a Budget You Can Live With
Perfect Air Fryer Chicken Breasts
Approximate Cost: $6 to $8 
Ingredients: 
Kosher salt
4 boneless skinless chicken breasts
1 teaspoon paprika
1 teaspoon salt
½ teaspoon black pepper
½ teaspoon garlic powder
½ teaspoon onion powder
¼ teaspoon cayenne pepper (optional)
non-stick cooking spray
Instructions: 
Fill a large bowl or pot with 6-8 cups of lukewarm water. Add approximately 3-4 tablespoons of kosher salt and mix well until dissolved. Do not add warm or hot water as it will start to cook your chicken.
Add the chicken breasts to the water. Let them rest for approximately 20-30 minutes. Remove from the water and pat dry with paper towels. Discard the salt water and set the chicken breasts aside.
In a small bowl combine the paprika, salt, black pepper, garlic powder, onion powder, and cayenne pepper (if using). 
Lightly spray the chicken breasts with nonstick spray (you may also brush with a light coat of oil) and season both sides with your homemade seasoning – use your fingers to rub the seasoning all over the entire surface.
Lightly spray the inside of your air fryer basket with nonstick spray and preheat your air fryer (if necessary). Add the chicken breasts (work in batches, you don't want to stack the chicken breasts on top of each other). 
Set temperature to 380°F and cook for approximately 8-12 minutes total, flipping halfway through cooking.
After approximately 6-8 minutes, use a digital read meat thermometer to check the doneness of your chicken. You know it's done cooking when it registers between 160-165°F.
Remove chicken breasts from the air fryer to a clean plate and allow them to rest for 5 minutes before slicing or serving. Enjoy!
Submitted By: Jessica Randhawa, the head chef, recipe creator, photographer and writer behind The Forked Spoon
What Makes It Great: "Perfect Air Fryer Chicken Breasts that are tender, juicy, and delicious every time," said Randhawa. "Make this easy, foolproof recipe for a fast and simple weeknight dinner, or use it in your favorite meal prep recipes."
More: 34 Dollar Store Secrets You Need To Know Before You Shop
Quick and Easy Air Fryer Frittata 
Approximate Cost: Serves 6-8 people for about $1 per serving
Ingredients: 
12 eggs
1/2 cup of milk (oat milk works great here too)
1 cup of cheese (any kind you like, but reduce milk by a few tablespoons if using "wet" cheese like ricotta or cottage cheese)
1 cup of cooked vegetables. I love roasted red peppers, zucchini, spinach or butternut squash, but the possibilities are endless.
Salt and pepper, to taste
Instructions: 
Preheat your air fryer to 350F. Lightly spray a 9″ baking pan or deep pie plate with nonstick cooking spray. 
In a bowl, whisk your eggs and milk until totally combined. Add your cheese and mix. 
Pour your egg mixture into your prepared baking pan. Add your cooked veggies over the egg mixture so they are evenly distributed..
If you want a gooey, cheesy top, sprinkle some shredded cheese like cheddar or mozzarella on top. 
Place the baking pan into your air fryer basket carefully- you definitely don't want any egg spillage! 
Cook for 12-15 minutes until the middle is set, but just a little wobbly. Let cool for at least 20 minutes before serving, though it tastes great cold too!
Submitted By: Sylvia Fountaine, CEO and founder, Feasting at Home
What Makes It Great: "This is a great 'template' recipe, meaning you can adapt this to whatever combination of cheese and veggies you have in your fridge," Fountaine said. "You can use up leftovers, that random chunk of cheese and get a high protein, delicious meal on the cheap."
Read: Shopping Mistakes You're Making and How To Stop
Air Fryer Mac and Cheese Tuna Bites
Approximate Cost: $10
Ingredients: 
2 cups uncooked whole grain elbow macaroni
2 cups cheddar cheese, shredded
1 cup mozzarella cheese, shredded
1 cup 2% milk, divided
¼ teaspoon turmeric
5 ounces canned or pouched tuna, drained and flaked
1 egg
1½ cup panko breadcrumbs
1 tablespoon grated Parmesan cheese
1 teaspoon paprika
½ teaspoon garlic powder
Nonstick cooking spray
Favorite prepared tartar or marinara sauce for dipping
Instructions: 
Cook macaroni according to directions; drain. Add macaroni back to pot, and add cheddar cheese, mozzarella cheese, ½ cup milk and turmeric; mix well. Add tuna; stir to mix well. Let sit until cool enough to handle with hands.
While mac-and-cheese is cooling, spray air fryer basket with nonstick cooking spray and preheat it to 400 degrees F for 5 minutes.
Place remaining ½ cup milk and egg in a small mixing bowl; whisk until well combined. In another small mixing bowl, place panko breadcrumbs, Parmesan cheese, paprika and garlic powder; mix to combine.
Using a spoon, scoop about 2 tablespoons of mac-and-cheese and roll tightly into a ball (should make about 12 smaller or 16 bigger balls). Roll each ball in the milk and egg mixture until well-coated, then roll in the panko mixture until all sides are coated. Reshape into a firm ball (you may need to squeeze some liquid out to reshape).
Place balls in air fryer basket and spray each mac-and-cheese ball with nonstick cooking spray. Be sure not to overlap balls (cook in batches, if necessary). Cook for 5 minutes or until golden brown on top; then turn each ball, spray other side with cooking spray and cook for another 4 minutes, or until bites are crispy and golden. Enjoy warm with your choice of sauce.
Submitted By: Rima Kleiner, MS, RD and blogger at Dish on Fish
What Makes It Great: "Because I have young kids that suddenly seem to get hungry the second I step into the kitchen to cook (no matter what time it is!), my favorite dishes right now are ones that are easy to cook and easy to clean," Kleiner said. "And being a dietitian mom, I choose dishes that deliver big on the nutrient front. And this dish checks all of those boxes."
Learn: 9 Bills You Should Never Put on Autopay
Air Fryer Quesadillas 
Approximate Cost: $9.17
Ingredients: 
7 flour tortillas  
1 15-ounce can dark red kidney beans 
1 15-ounce can whole kernel corn  
1 7-ounce package of shredded cheese  
2-3 roma tomatoes   
½ a red onion  
1/3 jalapeno pepper 
1 clove fresh garlic 
1 tablespoon lemon juice 
1/4 teaspoon salt 
1/4 teaspoon pepper  
1 avocado 
Lettuce, to taste  
Instructions:
First, wash your tomatoes and jalapeno.
After that, dice the tomatoes and add them to a bowl. (If you are just making a small batch for one or two people, you can just make the pico on the cutting board, but for a big batch a bowl is easier.)
Next, dice your red onion half and add the pieces to the tomatoes.
For the jalapeno, first remove the seeds, then finely dice 1/3 or so of the pepper and add it to the bowl.
Then, you can mince the garlic (or use a garlic press if desired) and add that as well.
After the veggies are all chopped, pour a tablespoon of lemon juice over them (or squeeze fresh lemon juice if available). 
Finally, add the salt and pepper, and stir to combine.
Plate and serve
You can slice the quesadillas in half so they are easier to eat if desired.
Slice your avocado and sprinkle with salt.
I just used the quesadilla as a scoop for the pico de Gallo, but if you want to add it to the middle you can.
Once your plate has a quesadilla, pico de Gallo, and avocado, top everything with lettuce, serve, and enjoy!
Submitted By: Tara Reigle, food blogger and founder of Simple Vegetarian Dishes
What Makes It Great: "This meal is delicious and quick to make – each quesadilla only takes 5 minutes to cook," Reigle said. "The fresh vegetables and beans provide protein, fiber, and plenty of nutrients and flavor to keep you satisfied on busy days."
Shopping: 50 Purchases Buyers Almost Always Regret
Air Fryer Avocado Egg Rolls
Approximate Cost: $9.75
Ingredients: 
1 avocado diced
½ cup black beans rinsed and drained
2 tablespoons salsa
¼ cup corn kernels
2 tablespoons chopped fresh cilantro
8 egg roll wrappers
Instructions: 
In a medium bowl combine avocado, black beans, salsa, corn and cilantro.
 Lay an egg roll wrapper out on a flat surface with the pointed end facing up. place 2 tbsp of the avocado mixture in the center. Fold in the sides over the filling and then roll up from bottom to top.
Repeat with remaining wrappers and filling.
Heat air fryer to 300°F. Spray the egg rolls with canola oil spray and place in the air fryer basket.
 Cook for 5 to 6 minutes, turning once halfway through, until golden brown.
Remove from basket and serve.
Submitted By: Dana Angelo White, MS, RD, ATC, cookbook author and owner of Dana White Nutrition, Inc.
What Makes It Great: "Egg rolls were made for the air fryer – you get all the crispy goodness and none of the grease," White said. "Just about anything can go into an egg roll so they are a great way to use up what you have on hand. The vegan recipe uses affordable pantry staples – beans and salsa."
Learn: 21 Items That Are Always Cheaper at Costco
Dairy-Free, Egg-Free Air Fryer Brownies
Approximate Cost:  $9.50
Ingredients: 
2 teaspoons milled flaxseed
3 teaspoons warm water
½ pkg (18.2 oz each) (2 cups) Duncan Hines Dark Chocolate Fudge Brownie Mix
2 tablespoons Earth Balance Vegan Buttery Sticks, melted
¼ cup water
Instructions:
Stir together flaxseed and warm water in small bowl and let sit for one minute.
Lightly spray a 7-inch foil baking pan with baking spray.
Add brownie mix, Earth Balance®, water, and flax seed mixture to medium bowl and stir until just mixed. 
Scrape into pan and place pan into fryer basket.
Cook at 300°F for 15 to 20 minutes or until toothpick inserted in middle comes out mostly clean. 
Let brownies stand 5 minutes before cutting and serving.
Submitted By: Rebekkah Ziesmer, development chef, Conagra Brands 
What Makes It Great: "This decadent brownie recipe yields rich flavor with less than five ingredients," said Ziesmer. "This sweet dish can be easily prepared to serve in a pinch to your dinner party, or to indulge in by yourself."
More From GOBankingRates
Make Your Money Work for You