7 Items That Aren't Actually Cheaper at Aldi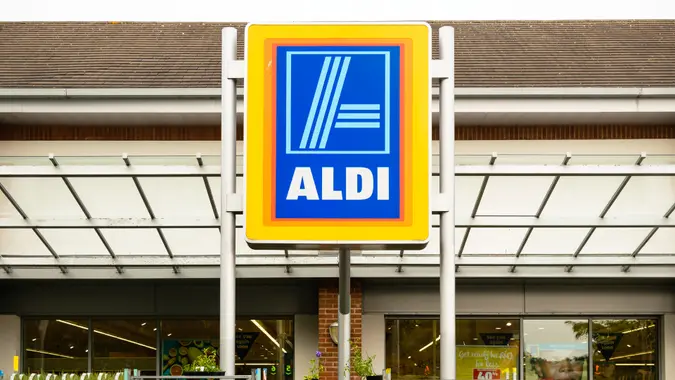 Cristina Nixau / Shutterstock.com
Aldi is a go-to destination for many shoppers looking to save money on groceries, but is it always the best option? While the store is known for its low prices, there are some name-brand items that may actually be more expensive at Aldi compared to other stores.
Because these are name-brand items, we can effectively do a 1:1 comparison at other stores. We also took note of any size differences, but we tried to compare the same sizes when possible. It's essential to keep in mind that just because some items may be more expensive at Aldi, it doesn't mean that all name-brand items are. So, before you write off their selection entirely, it's important to double-check prices to ensure you're getting the best deal.
Chips Ahoy! Cookies
According to consumer analyst Julie Ramhold from DealNews.com, buying certain items like Chips Ahoy! cookies at Aldi may not be the most cost-effective option. For instance, in her area, a 25.3-ounce pack of original Chips Ahoy! or a 26-ounce pack of chewy Chips Ahoy! both cost $6.59 at Aldi.
However, at a nearby grocery store, the same items usually retail for $6.29 per pack, and they are currently on sale for $5.99. At Target, these items are regularly priced at $5.99, making them a more affordable option than purchasing them at Aldi, even without a sale.
Make Your Money Work for You
Takis Fuego Tortilla Chips
According to Ramhold, a 9.9-ounce bag of Takis costs approximately $4.19 at Aldi. The exact same product is priced at $3.99 at stores like Kroger, and even cheaper at Target, where it's only $3.59 for a bag of the same size.
Coffee K-Cups
According to Ted Chan, the founder of CoffeeRoast.com, Aldi offers K-Cups at a price of $3.99 for a pack of 12. The issue is, there are no bulk-size options available.
For couples who quickly consume 12-packs of K-Cups while working from home, purchasing generic equivalents for a month's supply, such as Donut Shop or Breakfast Blend, may result in slightly lower costs per cup — around five cents less per cup, when purchased from Amazon or Sam's Club.
My/Mochi Ice Cream
Ramhold advises against buying the My/Mochi brand ice cream at Aldi, stating that although they're one of her favorite treats, but she never purchases them from there. Not only do they come with a hefty price tag of $5.49 for a box of 6, but the flavor options are also limited.
Make Your Money Work for You
She suggests opting for Target instead, where you can find several more flavors for only $4.99 per box. Alternatively, she recommends keeping an eye out for sales at Kroger, where you may be able to snag them for as little as $3.24 when they're part of BOGO promotions.
Fruity Pebbles Cereal
"If you're a purist and don't want the Malt-o-Meal Fruity Dynobites, even though they totally taste the exact same, don't shop at Aldi for this name-brand cereal," shares Ramhold. At Aldi, a 15-ounce box of a popular cereal typically costs around $4.39. However, at Kroger, you can purchase a 27.5-ounce box for $5.99, and at Target, it's priced at $6.19.
This means that at Aldi, the cereal costs around 29 cents per ounce, while at Kroger and Target, it's only 22 or 23 cents per ounce, respectively.
Nathan's Famous Franks
Ramhold reports that Nathan's Famous Franks are not the best deal at Aldi. An 8-count package of bun-length hot dogs is priced at $4.95 at Aldi, but at Kroger, you may be able to find the same item on sale for as little as $3.99. Even at Target, the regular price is lower than Aldi's, at $4.79.
Make Your Money Work for You
Duke's Mayonnaise
Finally, Ramhold mentions Duke's Mayonnaise, stating that a 30-ounce jar of it costs $4.95 at Aldi. However, at Target, the same product is regularly priced at $4.79. Additionally, you may be able to find it for an even lower price at stores like Kroger when it's on sale, with prices ranging around $4.49 for the same size or even larger jar.
More From GOBankingRates