6 Reasons You Should Shop at Aldi Instead of Trader Joe's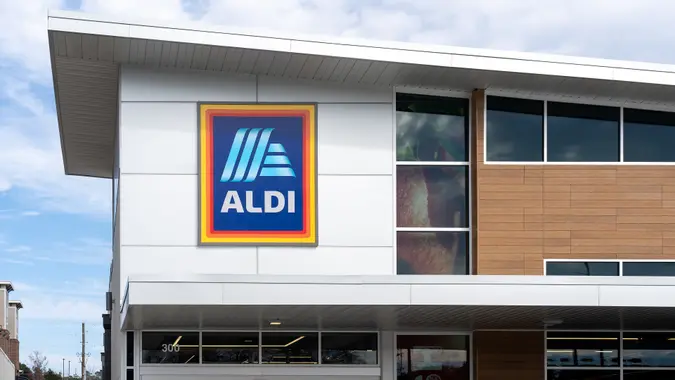 JHVEPhoto / iStock.com
If you're a bargain hunter or simply looking to stretch your grocery budget, you've probably heard of Aldi and Trader Joe's. Both stores have a reputation for offering high-quality products at affordable prices, but when it comes to choosing between the two, there are some key differences to consider.
Let's explore the reasons why you should consider shopping at Aldi instead of Trader Joe's. From cost savings to product selection, we'll highlight the advantages of shopping at Aldi and help you make an informed decision about where to buy your groceries.
Less Expensive Produce
Buying produce from stores like Aldi can be cost-effective as it offers lower prices, allowing you to purchase more produce for your budget, said Julianna Coughlin, a dietitian at Athletic Muscle. Aldi has a wider selection of organic produce and it's cheaper than Trader Joe's, added Lucy Henderson of Palladio Interiors. For example, organic spring mix at Aldi is 29 cents an ounce, while at Trader Joe's it's 46 cents an ounce.
Less Expensive Specialty and Gourmet Products
According to Henderson, Aldi has the one-up on Trader Joe's in terms of offering specialty and gourmet products at lower prices. Customers can find an assortment of international cheeses and charcuterie, as well as artisanal bread and bakery items. Aldi also offers premium frozen seafood and meats, exotic spices and seasonings, and imported wines and craft beers. For customers with special dietary requirements, Aldi provides a range of organic, gluten-free, vegan and vegetarian products. The store also offers specialty chocolates and desserts, fair-trade and organic coffee and tea, and premium household and personal care products. For instance, Aldi sells fair-trade Sumatra coffee for 53 cents per ounce, compared to Trader Joe's, where the same product costs 69 cents per ounce.
Make Your Money Work for You
Aldi's Special Buys Are Unbeatable
Aldi's Special Buys are limited-time, seasonal deals on a variety of products ranging from food to household items to electronics. They are typically advertised in-store and online, and the selection changes each week. 
Aldi's Special Buys are a fantastic deal because they offer customers the opportunity to purchase high-quality products at a lower price point than they would typically find elsewhere. Aldi works directly with manufacturers to create these products, and they are often available in limited quantities. This means that customers can get a great deal on a unique item that they might not find elsewhere. Additionally, the items offered as Special Buys are often on-trend and relevant to the season, making them a great option for customers looking to stay up-to-date without going broke.
Couglin said that the Special Buys always include at least three fruits and vegetables at significantly reduced prices, including once finding a whole pineapple for only $1. 
Shopping at Aldi Is Faster
From its infamously small parking lots to the crowded aisles to the long lines, shopping at Trader Joe's can be an overwhelming experience. By comparison, Aldi is a relatively chill shopping experience. In fact, Forbes has calculated that the checkout lines at Aldi are approximately 40% faster compared to those of its competitors in the retail industry. The swiftness is due to multiple barcodes on most items, which enables cashiers to scan them more conveniently, in addition to the usage of super-long conveyor belts.
Make Your Money Work for You
Better Breakfast Options for Kids
While Trader Joe's offers some good cereal options, the variety is limited and lacks familiar brand names that children may prefer. In contrast, Aldi provides better breakfast choices for kids, including both name-brand cereals that children might insist on, as well as generic versions of popular cereals. Henderson points out that Aldi's generic cereals are also cheaper — for example, 16 cents an ounce vs. 29 cents an ounce for some products.
Aldi Has an Unbeatable Return Policy
Aldi's commitment to customer satisfaction is evident in its Aldi Twice as Nice Guarantee, which allows shoppers to return any item they are not completely satisfied with for a full refund or product replacement. The company is confident in the quality of its products and wants customers to feel secure in their purchases. In some stores, customers can even return items without a receipt and still receive a gift card, which is a testament to the store's dedication to customer service. This policy ensures that even if a customer is dissatisfied with a purchase or changes their mind, they are still able to find a product that meets their needs at Aldi. Trader Joe's doesn't have a bad return policy, but it's not on the same level.
Make Your Money Work for You
More From GOBankingRates