Amazon Fresh Ends Free Shipping for Orders Under $150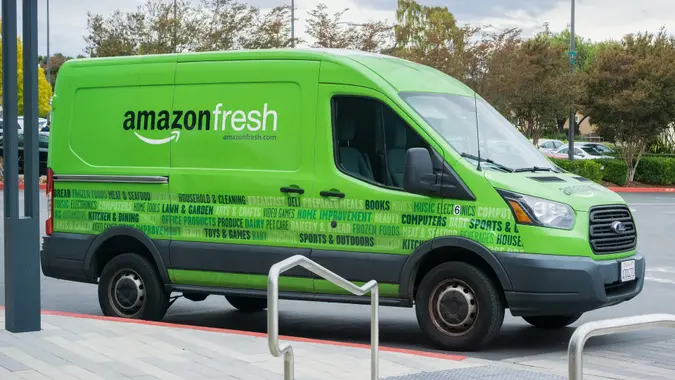 Sundry Photography / iStock.com
As more Americans continue to shop from home amid sky-high inflation and consumer prices affecting bottom lines, companies are continually coming up with ways to make delivery models work. Amazon Fresh, the grocery subsidiary of the retail giant, has announced it will hike up the spending amount to qualify for free delivery by more than four times its current amount.
Costco's Best Deals? Employee Reveals 10 Standout Buys for Your Money
Learn: 3 Signs You're Serious About Raising Your Credit Score
Starting Feb. 28, Amazon Fresh members will need to spend at least $150 to get their orders delivered for free. The new delivery rates will be $9.95 for orders under $50, $6.95 for orders between $50 and $100 and $3.95 for orders between $100 and $150.
Amazon Fresh currently offers free delivery to Prime members for orders over $35, except in New York, where orders over $50 come with free delivery. Per CBS, Amazon has over 200 million Prime members across the world, who pay $139 a year/$14.99 a month for shopping and shipping perks.  
Make Your Money Work for You
"We're introducing a service fee on some Amazon Fresh delivery orders to help keep prices low in our online and physical grocery stores as we better cover grocery delivery costs and continue to enable offering a consistent, fast, and high-quality delivery experience," Amazon spokesperson Lara Hendrickson said in a statement to The Verge.
The move comes as Amazon continues to cut operating costs, having announced at the beginning of the year that it would cut 18,000 jobs. The company was initially looking to lay off around 10,000 employees, according to CNBC.  
Amazon has promised that it will keep its two-hour window in place for deliveries, but cheaper options are to be introduced.
Take Our Poll: What Do You Plan To Use Your Tax Refund For?
Check Your $2 Bills: They Could Be Worth Upwards of $4,500
"We will continue to offer convenient two-hour delivery windows for all orders, and customers in some areas will be able to select a longer, six-hour delivery window for a reduced fee," Amazon said in its statement.
More From GOBankingRates
Make Your Money Work for You