5 Best Grocery Deals at Aldi This Spring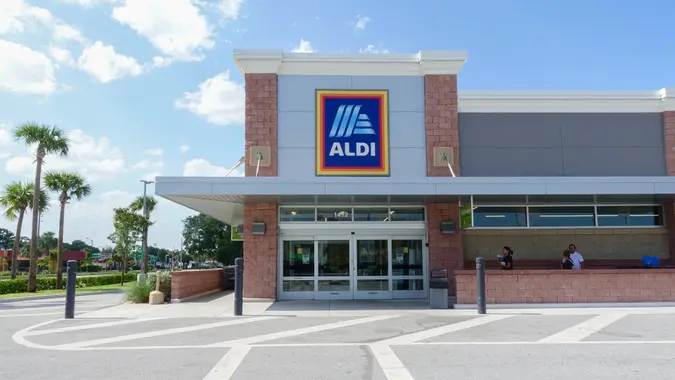 Joni Hanebutt / Shutterstock.com
What started as a small family business in the early 1960s has blossomed into a semi-national phenomenon. Aldi now operates 2,285 locations in 39 states and territories, and it has no shortage of super fans, with some arguing that Aldi is the best grocery chain ever.
Costco's Best Deals? Employee Reveals 10 Standout Buys for Your Money
Notable: 3 Signs You're Serious About Raising Your Credit Score
A big part of Aldi's appeal is its discount prices. Shoppers must grapple with a few inconveniences (paying a quarter to rent a cart, paying a fee for bags, packing their own groceries) in exchange for rock-bottom prices.
Additionally, similar to Trader Joe's, Aldi has emblazoned a trail of hungry hearts with its signature brands, creating many a cult favorite. 
But back to those rock-bottom prices. Aldi is brimming with them. Things are always evolving in this fast-paced place, so it's key for shoppers to stay in the know of what's in store at their favorite store. 
Make Your Money Work for You
Here's a look at the five best grocery deals at Aldi this spring.
Countryside Creamery Pure Irish Butter
Familiar with Kerrygold? Well, this is essentially Aldi's equivalent of the delicious butter, and an 8-ounce brick is only $3.75. Walmart sells an 8-ounce pack of Kerrygold for $4.18, while Target sells it for $4.99. 
Julie Ramhold, consumer analyst at DealNews.com, recommends this kind of butter for eating on things like freshly baked bread rather than baking with, because you can clearly taste the difference. 
"If you're planning to make Irish soda bread or something similar for St. Patrick's Day," Ramhold said, "this is a must-have for finishing, and you can expect to save at least $1.66 per brick." 
Take Our Poll: What Do You Plan To Use Your Tax Refund For?
Silk Almondmilk Yogurt
More and more households are looking for plant-based options to help the planet and their health; unfortunately, that can get expensive. But not at Aldi, which sells Silk almondmilk yogurt in a couple of flavors for just $1.69 per 5.3-ounce cup. 
Make Your Money Work for You
"Elsewhere, you may see more flavors, but you're also going to end up paying $2.19 per cup," Ramhold said. "If you're adjusting your diet for whatever reason, this makes a better pick for breakfast or a snack and you'll save at least 50 cents per cup by shopping at Aldi."
Benton's Fudge Mint Striped Cookies
Girl Scout cookie season is upon us; and, while you may want to support a troop, the good deed can get expensive. 
"A 9-ounce box of Thin Mints is about $5 online, but at Aldi you can get an 11.5-ounce package for just $2.15 — and they taste exactly the same as Thin Mints," Ramhold said. "You'll save $2.85 per package by shopping at Aldi, and you may even be able to find these items outside of cookie season since Aldi can have them multiple times throughout the year."
Benton's Caramel Coconut Cookies
Another Girl Scout favorite?  Girl Scout Samoas. These also sell for a steep price of about $5 per 7.5-ouncepackage — an even smaller deal than what you get with the Thin Mints. 
"However, Aldi's version is $2.19 for an 8.5-ounce package, and they're available pretty much year round," Ramhold said. "They taste the exact same as Samoas, and you'll save $2.81 per package, while getting a full ounce more."
Make Your Money Work for You
Kirkwood Breaded Chicken Breast Fillets
In many households across the U.S., breaded chicken breast fillets are common dinner entrees. Aldi's chicken has developed a cult following, with fans referring to its fully cooked breaded chicken breast fillets as "red bag chicken." 
"A 24-ounce bag will cost around $8.79 or so," Ramhold said, "but these fillets can be used for a quick addition to so many meals they're worth keeping on hand any time — but especially when salad season starts up again."
They're not only famously tastier than other premade breaded chicken breast fillets, they're cheaper. 
"Elsewhere you can expect to pay something closer to $13 or $14 for a 20- to 25-ounce package of something like Tyson chicken," Ramhold said, "so you're looking at saving $4 to $6 by shopping at Aldi."
More From GOBankingRates
Make Your Money Work for You