20 Bottles of Bubbly You'll Love for Under $20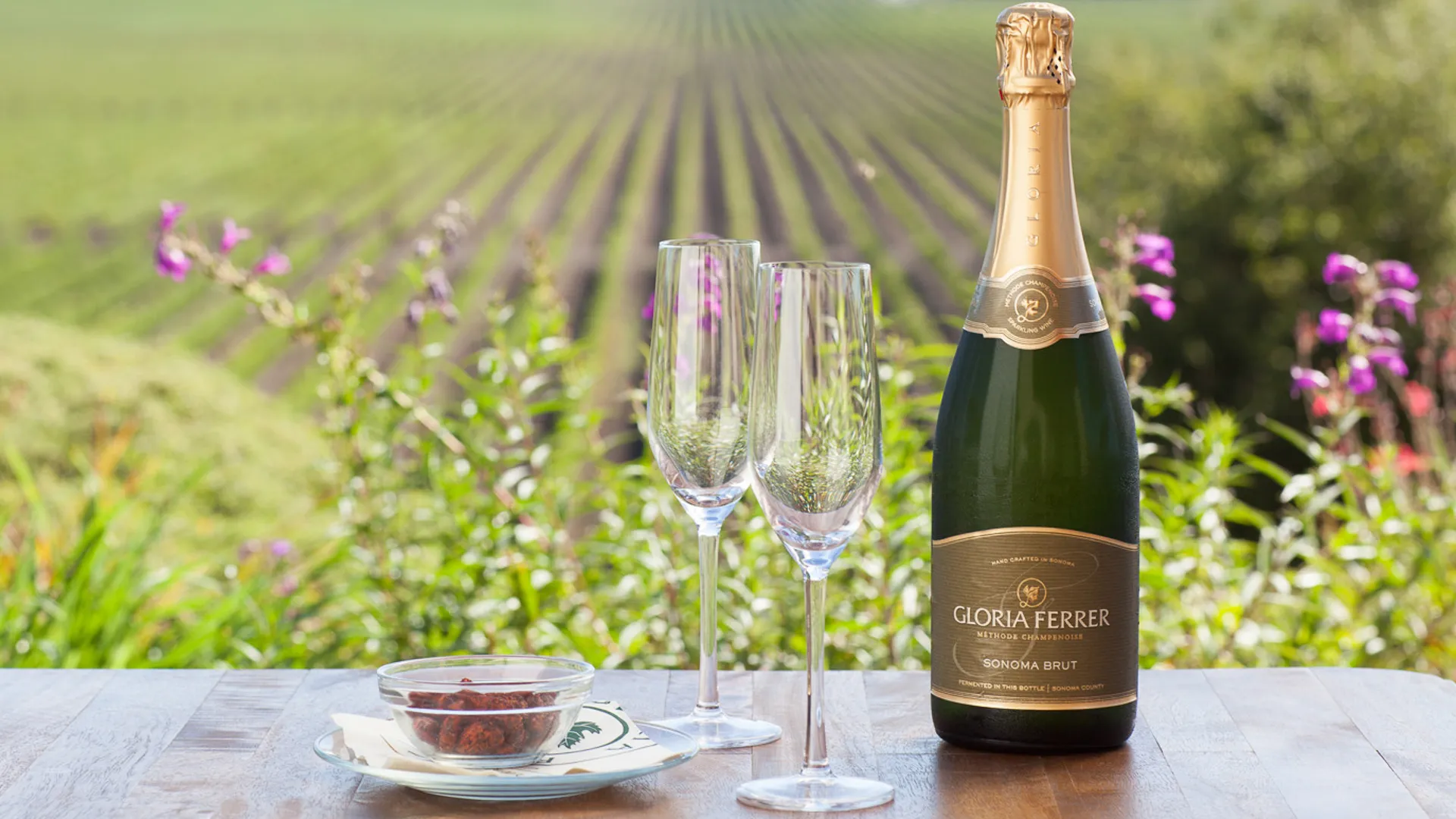 With New Year's Eve right around the corner, it's time to start planning your party — and start looking for the perfect bottle of bubbly.
If French Champagne is out of your budget but you still want to start the new year off right, this list is for you. Each of the sparkling wines here costs $20 or less — and some are well under $10. Although you might not find flagship French Champagne at that price, you will find a number of affordable, high-quality bottles of bubbly.
Make Your Money Work for You
Segura Viudas Brut Reserva Cava: $8.29
Lovers of sparkling wine know that cava — Spain's version of Champagne — is one of the great bargains in the industry. Made from native Spanish grapes rather than French grapes, this low-priced sparkler is far better than it needs to be at this price. It's nicely balanced in the nose and on the palate, with plenty of fruit and a bright, refreshing acidity.
You can pair this with anything from classic hors d'oeuvres to your favorite tailgating chicken wings recipe, and at this price, you can drink it every week. If your local store doesn't have it, the Cordon Negro offered up by sister brand Freixenet is similar and an equally impressive value.
Mumm Napa Brut Rosé: $18.49
Champagne is traditionally made from white chardonnay and red pinot noir and pinot Meunier grapes. Usually, the skins of the red grapes are separated after the grapes are crushed to keep the wine white, but sometimes they're left in place to give the finished wine a pink color and a hint of tannin. That's the case with this brut, or dry, rosé from Mumm Napa, the California arm of the great French Champagne makers.
The rosé has deep berry flavors from its high percentage of pinot noir and its soft fruitiness makes it a great pairing for assertive foods. The sweetness and body make this rosé a great addition to homemade sangria, pairing well with your favorite fresh fruit. Wine Spectator rated this one a 90 and Wine Enthusiast gave it a 91, a clear nod to the skill level Mumm brings to its New World enterprise.
Roederer Estate Brut: $18.97
Like Mumm, Roederer is a great French Champagne specialist with a booming American operation. This brut Champagne landed a gold medal at the San Francisco International Wine Competition in 2003 and has earned further acclaim in the years since.
It's a crisp, fruity sparkling wine that begins with a lot of fruit on your palate but ends with a more austere, mineral finish. Those mineral notes make it a great pairing with shellfish, from shrimp and lobster to raw oysters.
Make Your Money Work for You
Voveti Prosecco: $14.59
Prosecco is Italy's signature sparkling wine, as cava is for Spain, and it's pretty variable. Some are sticky and soda-pop sweet, but the best of them are charming, easy-drinking sparkling wine with a surprising amount of character. Voveti's prosecco is one of the great bargains in cheap Champagne, blended with grapes from different parts of Veneto and Friuli to give it a greater depth of flavor.
It has enough steel and limestone to provide structure, with surprising hints of florals, smoke and green apple. If you've blown your budget on cheese and prosciutto, use what's left on this prosecco to go with it.
Insider Tips: How to Save on Wine at Costco
Graham Beck Brut Rosé: $14.99
Good, cheap Champagne can come from anywhere in the world that wines are produced, and Graham Beck's brut rosé is a fine example. It's from South Africa, which has a well-established wine industry that doesn't seem to get as much love as its European counterparts.
This fine, low-cost sparkler gets plenty of ripe berry notes from its pinot noir, but there's a hint of sterner stuff underneath to give it some backbone. It's a pleasant quaffer for hot days or would go beautifully with your favorite tailgate recipes as an alternative to beer.
Gratien & Meyer Crémant de Loire Rosé Brut: $17.97
The Champagne region isn't the only home of fine sparkling wine in France. In other regions, you'll see them referred to as "crémant" — a reference to the creaminess of the foam in a truly good bubbly. This crémant from the Loire region is made from the cabernet franc grape, rather than the usual pinot noir or Meunier — and it's an absolute charmer.
The winemakers give this rosé a long time on the yeast, and it shows in the complexity of the flavors. You'll get lots of the fresh fruit you expect in a rosé, but you'll also find hints of citrus, dried fruit and even perhaps a whiff of the sea. Those top notes make this a fantastic pairing for your favorite salmon recipe.
In a Beer Mood? Find 30 Great Brews That Are Great on the Palate and the Wallet
Make Your Money Work for You
Gruet Blanc de Noirs: $17
This high-quality American sparkler is one of the best Champagne deals you'll find. The winemakers at Gruet are French expats — as the name suggests — and this fine bubbly is very much in the classic French mold. It's made in the traditional method, which gives it the characteristic yeasty, bread-like notes of a good Champagne, and it combines berry and apple notes with a bright, lively acidity. It's no wonder that Wine Spectator gave it a score of 90.
Nino Franco Rustico Prosecco Superiore: $18
Many of Italy's best proseccos come from the Valdobbiadene region near Venice. This fine example is made by the Franco winery, one of the leading prosecco-makers in the country. It's made from the local glera grape — rather than chardonnay or pinot noir — but that's no criticism. The flavor is fresh and lively but features hints of yeast underneath the fruit, making it taste like a wine with a much heftier price tag.
Wine Advocate, Wine & Spirits and Wine Enthusiast all awarded this fine prosecco a score of 90, and it's one of your best Champagne deals at the price point. If you've had a long afternoon of nibbling and want something to clear your palate before the main meal, this is a good choice.
Freixenet Elyssia Gran Cuvee Brut: $19.99
A terrific Spanish cava is arguably the best Champagne under $20, and this brut from leading cava-maker Freixenet is about as good as it gets for the price range. It's made in the traditional Champagne method with a mixture of native Spanish grapes and classic French Champagne grapes, giving it a very fine, long-lasting "mousse" — the French term for a sparkling wine's bubbles — and a long, yeasty finish on your palate.
Wine writer and blogger Jon Thorsen of Reverse Wine Snob, which specializes in wines under $20, made this brut one of his recommended sparkling wines for the 2012 holiday season.
Make Your Money Work for You
Côté Mas Brut Rosé, Crémant de Limoux: $14.99
The Champagne region is certainly France's best-known producer of sparkling wine, but surprisingly it's not the oldest. That distinction goes to Limoux in the south of France, where they were bottling up some bubbly up to 150 years before those up north even got the memo. The region still makes its traditional "blanquette" sparkling wines, but now also produces more refined, Champagne-like crémant as well.
This example is a brut rosé with just the faintest hint of pink to its hue. It has a bright, fresh acidity with plenty of mineral and citrus notes underneath the berries and ripe fruit. This is exactly the kind of bubbly that's equally at home with canapes or chicken wings, and a pleasure to drink for any reason.
Anna de Codorniu Cava Brut: $11.99
This cava from Codorniu, one of the leading Spanish winemakers, is what the French call a "blanc de blancs" — made entirely from white-wine grapes, rather than the usual blend of white and red. Named for the original heiress to the family enterprise, "Anna" is made by the traditional Champagne method and packs a whole lot more flavor and complexity than you'd expect at the price.
Your first impression will be how bright and fresh it tastes, with fresh fruit and tropical and floral notes competing with the underlying hint of yeast. It's a delightful companion for seafood, but it will really shine if you serve it alongside a strong, dry-aged cheese such as Manchego.
Gloria Ferrer Sonoma Brut: $16.99
The French aren't the only Old-World Champagne makers to expand into California. Sonoma's Gloria Ferrer winery is an outpost of Spain's Freixenet Empire, and this wine — made in the traditional method — is an outstanding brut Champagne without the Champagne price.
It has the crisp toastiness you'd expect from a wine made by the traditional method, but with an unusual note of ripe pear added to the more common hints of citrus, berry and green apple. This is as good as sparkling wine gets for less than $20, and Ferrer has the competition results to prove it. Ferrer Brut has a fistful of gold medals from the Critics Challenge Wine Competition, San Francisco Chronicle Wine Competition and Dan Berger's International Wine Competition, to name just a few.
Make Your Money Work for You
Mumm Napa Brut Prestige: $17.99
Mumm's Napa Brut Prestige is another worthy candidate for the title of best Champagne under $20. It's the winery's signature product, earning scores of 91 from Wine Spectator and Wine Enthusiast and making Spectator's Top 100 for 2014.
The burst of fresh apples at your first sip with underlying hints of bread and yeast make for an interesting starting point, but there's a lot of stone fruit and citrus on the palate as well. It's a perfect hybrid of the French and New World styles — a wine you can serve with anything and on any occasion.
Not Feeling Wine? Here Are 7 Unique Bars to Get Your Beer Fix
NV Antech Brut Nature Blanquette de Limoux: $12.99
Limoux is the original home of sparkling wine, and its blanquette wines are fine examples of the earliest, simplest way to make bubbly. Instead of adding a small splash of sweetness and yeast to the bottle for a second fermentation, as Champagne does, these "brut nature" beauties simply allow the wine's own natural sugar to produce the fizz.
The end result is a crisp wine with an exceptionally clean, bright flavor — exactly the kind you'll love if you ordinarily opt for bone-dry whites such as New Zealand's famed Sauvignon Blancs. Serve it with oysters, finger foods and rich, creamy cheeses.
Adami Bosco di Gica Prosecco Superiore: $17.99
As the name proudly boasts, this is another truly superior prosecco from the Valdobbiadene growing region in the north of Italy, near Venice. It might lack a little of the complexity good Champagne offers, but at the price point, it's a great example of the Italian style.
Its pale yellow-green color is the quintessence of summer in a glass, whether you're enjoying it on a hot August night or as a protest against a cold mid-winter evening. There are lush hints of peach hiding between the bright apple flavors at the top, as well as stony minerality underneath. It's an ideal accompaniment to cheeses and dried fruit, but it will really shine when paired with good and dry-cured salami.
Make Your Money Work for You
Loosen Brothers Dr. Loosen Sparkling Riesling: $16
Sparkling wine tends to do best in cool climates, and the Germans are one of the world's masters of cool-climate viniculture. They're also huge fans of bubbly, so it's no surprise that they produce some pretty standout examples. One notable example in the under $20 price range is Loosen Brothers' Dr. Loosen sparkling Riesling.
The Riesling grape has just as much potential for serious wine as chardonnay, and it shows in this stellar "sekt" — the German term for sparkling wine. The wine is crisp and clean, fruity and bright, with sweet hints of melon, honey and stone fruit hiding under its palate-cleansing acidity. Wine Enthusiast scored the Dr. Loosen at 91, and it is a full value for the rating.
Francis Coppola Sofia Blanc de Blancs Mini: $13.49
Francis Ford Coppola will always be best known as the legendary director of the "Godfather" movies, but he's quietly built himself a serious second career as a winemaker. One of his most intriguing wines is a hugely drinkable blanc de blancs named after his daughter and fellow filmmaker, Sofia.
California winemakers have built a substantial industry on puncturing Old World pretension and wine snobbery, and Sofia is a fine example. Although it's also sold in bottles, you'll frequently find it in bright pink single-serving cans, with a four-pack — the equivalent of a standard bottle — coming in at well under $20. The wine inside is as lighthearted as its packaging, but make no mistake — this is seriously good bubbly at the price, with medals from plenty of competitions to prove it.
Segura Viudas Brut Heredad Reserva: $18.99
High-end Spanish cava takes a back seat to few other wines in its price range, and this top-of-the-line offering from Segura Viudas is an absolute winner. It's instantly recognizable, with the funky pewter accents on its bottle. But the wine inside is good enough that you'll forgive the mild pretension.
Made by the traditional Champagne method and then aged for three years, it's got the long, yeasty finish you'd expect from a French Champagne, with bone-dry acidity and lots of fruity and even nutty overtones. This is the kind of sparkling wine you could easily serve with a crisp salad and a sharp vinaigrette, or with a pungent and tangy cheese.
Bottoms Up: Get the Best Beer for Your Buck at These Breweries in Every State
Bisol Crede Prosecco di Valdobbiadene Brut: $19.99
Here's another outstanding prosecco from Valdobbiadene, where the limestone beneath the soil gives the grapes a deep mineral quality that lends structure and substance to the finished wine. Its price hovers right around the $20 target, so watch for it to be discounted when your local wine store offers Champagne deals.
The Bisol shows the combination of ripe fruit, citrus and bright acidity that marks most of the best proseccos, with a few added floral notes all its own. You can serve this fearlessly with anything from grilled sausage to crisp salads.
Michelle Brut: $11.99
Located well north of California's endless sun, growers in Washington cope with a much less favorable climate but still manage to produce a surprising number of high-quality wines. One of those wineries is Domaine Ste. Michelle, Washington's leading producer of sparkling wine. Domaine Ste. Michelle's simply-named Michelle Brut is as good a domestic value as you could ask in a cheap Champagne.
It's made by the traditional method and given 18 months to mature on the lees — the natural yeast and sediment — which gives it more depth of flavor than you'd expect at the price point. It's bright and fresh, with hints of apple and lemon, and is an altogether perfect party wine.
Up Next: Your Cost to Visit the Best Winery in Every State
The wines featured here all sold for $20 or less through multiple retailers in the United States as of Dec. 4, 2017. Prices might vary over time, between vintages or between locations.
About the Author