10 Budget-Friendly Costco Meals That Are Cheaper Than Takeout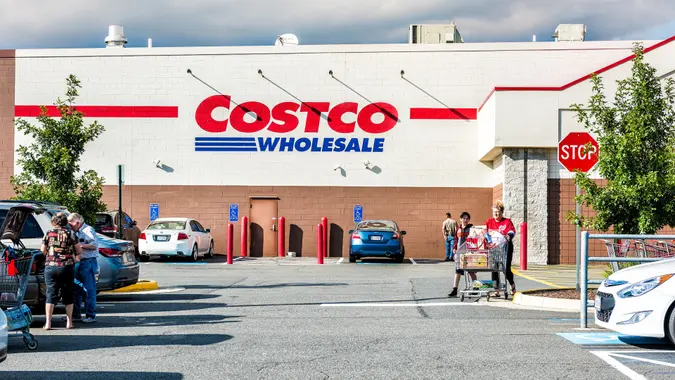 855684128 / iStock.com
When you want to save money by dining in, stocking up at Costco could be the break your budget needs. These budget-friendly Costco meals may save you prep time on meals while keeping you from dropping major money on takeout since each one is under $20. 
Costco Rotisserie Chicken
Price: $4.99
Costco has kept its rotisserie chickens at the low price of $4.99, even in the face of inflation. Add these to your next sandwich, ramen, or taco night with tender, juicy chicken breast. Some sustainable shoppers boil down the bones to make chicken stock for even more recipes. 
Kirkland Signature Chicken Bakes
Price: $14.99
If your favorite part of a Costco shopping trip is visiting the food court afterward, you'll be thrilled to know that Costco sells a six-pack of their famous chicken bakes. These could easily be a meal by themselves since they're very filling, but you could also pair them with other items on our list for a full lunch or dinner.
If you've ever had them before, these are baked dough stuffed with chicken, cheese, and smoky bacon combined with Caesar dressing and green onions. Microwavable and handheld, these make for a quick weeknight treat.
Make Your Money Work for You
Kevin's Paleo Sichuan Chicken Green Bean Stirfry
Price: $12.79
You don't just want to save money; you also want to make healthy choices. Kevin's Paleo Sichuan Chicken Greenbean Stirfry is a healthy option in the freezer section for shoppers who don't mind a little spice. It's gluten-free, soy-free, and ready in just five minutes. It contains sous-vide green beans and chicken breast strips in a Sichuan sauce for just $12.79.
SeaPak Garlic Butter Shrimp
Price: $9.97
You can get two pounds of garlic butter shrimp at under ten dollars to make various recipes. You can find this pick in Costco's freezer section. These precooked and seasoned shrimp could go perfectly in a quick shrimp scampi or alfredo.
Nongshim Shin Ramyun Noodle Soup
Price: $19.99
Instant ramen can be something other than basic. This Korea-based shin ramyun has a bit of spice adding depth to its flavorful beef stock. Add a soft-boiled egg, green onion, some of your Costco rotisserie chicken, and veggies for a cost-effective meal. Although it's slightly more than Cup o' Noodles or Top Ramen at $19.99 for a 16-pack, it still costs a cheap $1.25 per packet.
Ajinomoto Vegetable Yakisoba
Price: $16.99
For vegetarian shoppers who don't look forward to the mess of making a stirfry, there's a microwavable six-pack of vegetarian yakisoba. It's packed with broccoli, mushrooms, peppers, onions, carrots, and edamame with a savory sauce. At $2.83 per serving, it's a great option for veggie lovers who want to save money and meal prep time.
Make Your Money Work for You
Bob's Redmill Gluten Free Oatmeal Cups
Price: $7.97
If most mornings are a rush to get out of the house, these gluten-free oatmeal cups could help you squeeze in breakfast on those busy mornings. Simply pair it with cinnamon, fruit, or other toppings for a nutritious breakfast. There are 12 cups in a pack, making this an excellent deal at under eight dollars. 
Marie Callender's Chicken Pot Pies
Price: $16.99
Sometimes you want something hearty without spending too much time in the kitchen. That's where these come in. Marie Callender's Chicken Pot Pies come in a pack of eight and have 17 grams of protein per serving. You'll get the typical chicken pot pie ingredients you're familiar with, such as chicken, peas, carrots, celery, and gravy. At $2.12 per serving, this makes a great option for cost-conscious shoppers who want a filling meal without the takeout bill. 
Authentic Motor City Pizza Co. Detroit-Style Deep Dish Pizza
Price: $14.99
Thinking of ordering pizza for dinner? You'll spend more than buying this Costco alternative between tipping your driver and paying someone else to make your pizza. Get a two-pack of deep dish, double pepperoni pizzas from Costco, and skip the delivery fee. Simply follow the oven baking instructions and slide your frozen pizzas into the oven for a budget-friendly pizza night. 
Smoked Salmon Poke Bowls
Price: $13.99
If your takeout weakness is sushi and poke, this two-pack of salmon poke bowls could save you money. This Hawaiian-style bowl comes with responsibly sourced smoked salmon, rice, and spices and has 25 grams of protein per serving-great for budget-friendly bodybuilders. Although only two are in a pack, it's still less than you would typically spend on a poke bowl from your favorite restaurant.
Make Your Money Work for You
More From GOBankingRates