20 Deals and Freebies for National Cheeseburger Day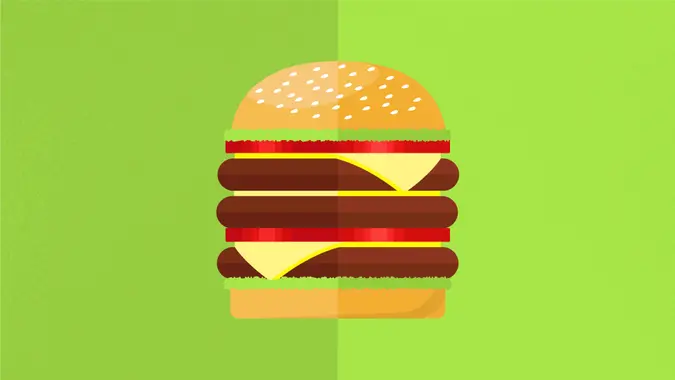 ©© GOBankingRates
The cheeseburger, a staple of American cuisine, is rumored to have been invented by late-restaurateur Lionel Sternberger in Pasadena, Calif., during the mid-1920s. Gracing the menus of fast-food establishments and high-end eateries across the U.S. and beyond, there's basically no wrong way to serve one.
National Cheeseburger Day falls on Sept. 18, giving you the perfect excuse to indulge. Many restaurants are offering deals on the holiday, so take advantage of the chance to delight your taste buds and save some money.
The Best Deals on Burgers at McDonald's, Wendy's and More
The only thing better than a cheeseburger is a double cheeseburger. You can save money at fast food chains across the country using these coupons, deals and discounts on National Cheeseburger Day:
BJ's Restaurant and Brewhouse: Delay your cheeseburger day celebration by two days — or have a second celebration — and take advantage of the Wednesday special at BJ's Restaurant and Brewhouse. You won't need a coupon to feast on $10 loaded burgers, unlimited fries and $4 craft beers.
Black Angus Steakhouse: Enjoy a buffalo and blue cheeseburger or steakhouse bacon cheeseburger,  served with a 16-ounce draft beer and choice of coleslaw or fries, for $10. Offer only valid in the BullsEye Bar.
Burger King: Get two cheeseburgers, a small order of fries and a small drink for just $3.49 for a limited time — no coupon necessary.
Carl's Jr.: Sign up for deals and news online and get a coupon for a free order of small fries and small drink when you buy a Six-Dollar Burger.
Champps Kitchen + Bar: Join the MVP League and get a free Champps Cheeseburger.
Checkers: Sign up for the email club and get a free order of fries to go with your cheeseburger.
Cheeseburger in Paradise: Get an All-American Burger with all the fixings and a side of fries for $7 — plus a draft beer for 99 cents– every Monday at participating locations.
Culver's: Join Culver's email club and get a free Value Basket — which you can fill with any ButterBurger — when you purchase another Value Basket.
Habit Burger Grill: Get a free Charburger with cheese at a participating location when you donate at least $2 to the No Kid Hungry campaign in September.
Hardee's: Sign up for the Hardee's email list and get a coupon for a free order of small fries and small drink when you buy a Thickburger.
Islands Restaurants: Register for the Tiki Link email club and get a $5 coupon to save on menu items like the Malibu burger.
Johnny Rockets: Enjoy a free burger when you register for the Rocket email club.
Logan's Roadhouse: You don't need a coupon code to get the Thursday deal at participating locations, which includes a burger, fries and brew for $10.
LongHorn Steakhouse: Sign up for LongHorn's newsletter and get a free appetizer to pair with your Steakhouse Bacon Cheeseburger.
McDonald's: Buy one large sandwich and get one free — once a week — when you order from the McDonald's app through Oct. 1. Or learn how to hack McDonald's secret menu for a bigger Big Mac.
Rally's: Use coupon code 4111 to get a free burger on National Cheeseburger Day — and every day.
Red Robin: Join the Red Robin Royalty club and get a free burger during your birthday month.
Rock Bottom Restaurant & Brewery: Sign up to join the RB Brewers Club and get $10 off your next purchase of $35 or more to save on a variety of burgers.
Smashburger: Join SmashClub to get a free entree with the purchase of a side and drink.
Sonic: Feast on Sonic's Carhop Classic — a cheeseburger and onion rings for just $2.99 — no coupon necessary.
Steak 'n Shake: Use this printable coupon to take $1 off a Bacon 'n Cheese Triple Xtreme Steakburger 'n Fries through Nov. 10.
Texas Roadhouse: Sign up for the email club and get a free appetizer to eat while your cheeseburger is cooking.
Wendy's: You don't need a coupon code to get a Giant JBC meal, which includes the Giant Junior Bacon Cheeseburger, fries, nuggets and a drink for $5. The deal is available at participating locations for a limited time.
The cheeseburger is arguably the most popular sandwich in America. The sandwich is always delicious, but scoring a discounted or free cheeseburger on National Cheeseburger Day somehow makes one taste even better.
Next Up: Spice Up Your Burger With These 15 Unique Additions for Under $5
Andrew Lisa contributed to the reporting for this article.