Consumers Call Out Recent Reese's $25,000 Contest as Scam: 'You Never Have To Pay To Play'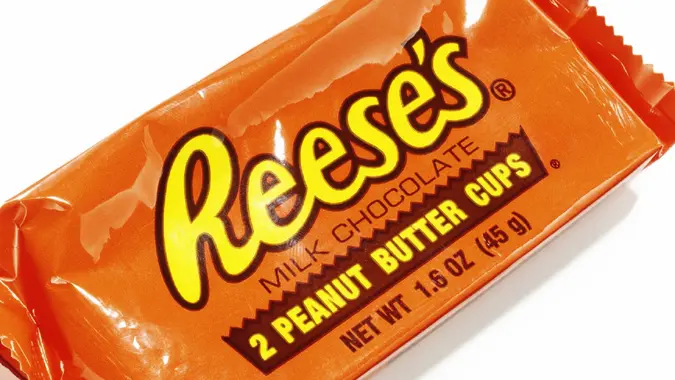 157724742 / iStock.com
A new $25,000 giveaway by Hershey is coming under scrutiny for possible violations of state and federal sweepstakes law. The contest is being promoted on packs of Reese's Peanut Butter Cups, and while Hershey claims that no purchase is necessary, evidence points to the contrary.
As The Associated Press (AP) reports, "The promotion on two-cup packages reads 'You could win $25,000' and, in smaller print, 'See details inside.' But only after consumers have bought and opened a package can they see the small print: no purchase is necessary to enter the sweepstakes."
On Monday, consumer advocate and former assistant attorney general in Massachusetts, Edgar Dworsky, brought the complaint to light, claiming that the packaging is misleading to contestants. "You never have to pay to play. All these packages should be recalled," he said.
The crux of the problem is that, per state laws, sweepstakes require no purchase to participate, whereas contests that require you "pay to play" are considered lotteries and are subject to different rules. The "no purchase necessary" information isn't readily available to consumers until after they make a purchase.
Hershey has countered the complaints, saying that its website has full details of the contest and that some Reese's packages contain QR codes with information on the promotion.
"As with all of our promotions, we place great care and diligence to ensure they are compliant with all regulations," Hershey's said in a statement.
Additionally, the multinational confectioner states that there are in-store contest displays explaining the contest rules, including the "no purchase necessary" entry info. However, both Dworsky and an AP reporter found no QR codes or displays in their searches.
Make Your Money Work for You
The Pennsylvania candy company is one of the largest chocolate makers in the world and owns brands such as Reese's, Kit Kat, Rolo, M&M's plus candy, gum and other products. Dworsky, who runs the Consumer World website, says the company ran a similar promotion earlier this year using the same packaging.
AP says the FTC hasn't confirmed or denied an investigation against Hershey and can't comment on the practices of specific companies' practices outside an investigation.
Sweepstakes rules are principally administered by individual states, but three federal agencies — Federal Trade Commission, the Federal Communications Commission and the U.S. Postal Service – "also enforce laws governing sweepstakes depending on the type of promotion," according to AP.
https://apnews.com/article/reeses-sweepstakes-25000-6baba25eced7f8ac528252c0588f3ed0