Let Them Eat Cake: Desserts Are Jumping In Price Because They Contain Eggs – Save Cash with These Swaps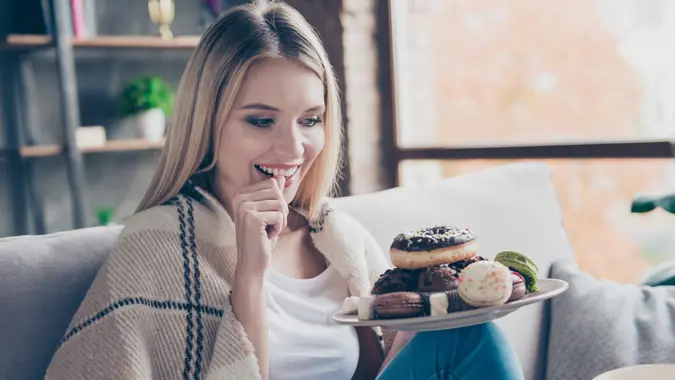 Deagreez / Getty Images/iStockphoto
The cost of eggs has been rising since the outbreak of the deadly avian flu late last year, but it's not just eggs that are soaring in price at the supermarket, it's also items that contain eggs as ingredients – and those make up quite a list, especially when it comes to baking. 
See: 11 Grocery Items To Buy at Dollar Tree
Find: 3 Ways Smart People Save Money When Filing Their Taxes
So, if you're thinking of making a cake, a pie, some cookies or maybe a fresh loaf of bread, consider using these replacements to save some money. 
Vinegar and Baking Soda 
It doesn't sound very tasty, but vinegar and baking soda actually combine to make something vaguely egg-like in taste, or at least, they do when you're eating them in a cake or a muffin. According to the Pioneer Woman, 1 tablespoon of distilled white vinegar or apple cider vinegar plus 1 teaspoon of baking soda equals 1 egg in a baking recipe. 
Make Your Money Work for You
Flax Seeds and Warm Water
A 16-ounce bag of organic flax seeds costs $3.48 at Walmart, which is less than the U.S. average price for a dozen eggs. If you need an eggy texture in a recipe, flax seeds and water can do the trick. What you'll need is this: 1 tablespoon finely ground flax seeds and 3 tablespoons warm water. Let it sit for 10 minutes and you'll have the equivalent of 1 egg. 
Buttermilk 
Again, if you need that eggy texture but don't want to splurge on eggs, turn to a replacement, and in this case, that's buttermilk, which retails for $2.98 per quart at Walmart. A ¼ cup of buttermilk equals one egg. 
Banana
Banana as a substitute for an egg? It's a trick that works for certain recipes. Bigger Bolder Baking recommends using ripe, mashed bananas as egg replacements when making waffles, cakes and pancakes. 
Yogurt 
Yogurt acts as a binding agent much like eggs do and is ideal for baked goods. A quarter cup of yogurt can be used instead of one egg in many recipes. It's probably best to go with plain and unflavored regular yogurt unless you're looking for an added flavor. 
Make Your Money Work for You
Carbonated Water 
Here's a surprising (and super cheap) option for an egg substitute: carbonated water, which acts as a leavening agent. According to Pioneer Woman, this is ideal in a bread swap. You use ¼ cup carbonated water instead of one egg.  
Take Our Poll: Do You Have a Second Job or Backup Plan in Case You Are Laid Off?
Cornstarch 
It's a kitchen staple and it's also an egg substitute, apparently. According to Bigger Bolder Baking, 2 tablespoons of cornstarch plus 3 tablespoons of water or other liquids from your recipe is equal to 1 egg. This swap is best for custards, pies, tarts and cheesecakes. 
More From GOBankingRates
Make Your Money Work for You