Dietitians' 6 Favorite Grocery Deals at Costco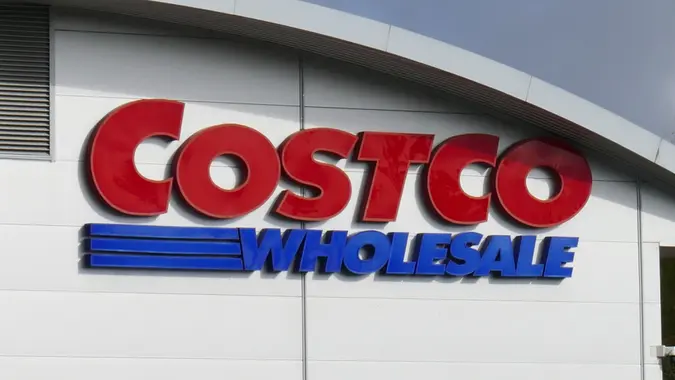 Geoffrey Swaine / Shutterstock.com
If you're a devoted Costco shopper, you're probably always on the lookout for the best deals. But besides snagging great bargains, it's essential to find nutrient-dense products that are not only good for your wallet but also for your well-being. 
To discover the most nutritious recommendations in Costco's grocery section, GOBankingRates consulted dietitians for their top picks. Since Costco offers everything in bulk, it's crucial to invest in grocery items that provide value for your money and support your overall health.
Check out these six Costco grocery deals that dietitians absolutely love. 
Quaker Oats, Old-Fashioned Oatmeal
For just under $13, Costco shoppers can satisfy their oats craving for weeks with this 10-pound box of Quaker oats. Not only is it a fantastic deal, but it also offers great nutritional benefits. 
"Oats are an easy way to get a serving of whole grains in at breakfast," said Stephanie Wells, MS and registered dietitian at Thyme to Go Vegan Nutrition Services. "Rich in soluble fiber, they're beneficial for reducing cholesterol levels. Oats are known for being affordable, but buying them in bulk makes them even more budget friendly at only $0.08 per ounce."
Kirkland Signature Organic Peanut Butter
A pantry staple and crowd pleaser, peanut butter is a must-have item to stock up on at Costco. For just $12.99, you can get two 28-ounce jars to satisfy your cravings for this pantry essential.
Make Your Money Work for You
"Peanut butter is an incredible and accessible source of plant-based protein and healthy fats," Wells said. "This option from Costco is free from added sugars and contains only two ingredients: roasted peanuts and salt.
"Peanut butter is a nutrient-dense, filling option that is especially useful when other proteins don't fit your budget. Buying two 28-ounce jars at once can cut down on weekly trips to the grocery store, adding to your total savings."
Kirkland Signature Organic Quinoa
Quinoa may seem like an intimidating health food, but it's a versatile and affordable grain to cook with. It takes on the flavors of the ingredients it's cooked with and tastes delicious with sauces, curries, spices and veggies. At just $10.99 for a 4.5-pound bag, you can't beat Costco's deal on this nutritious grain.
"Quinoa has been trending as a healthy grain for years — and for good reason," Wells said. "One cup of cooked quinoa provides eight grams of protein, five grams of dietary fiber and important minerals like iron, folate and magnesium. Quinoa can be pricy compared to other grains like rice or oats, but this bulk option provides amazing savings compared to smaller containers available at traditional grocery stores."
Dave's Organic Bread
Bread critics know that Dave's organic bread is one of the most delicious nutrient-dense breads on the market, but it can be pricey at most grocery stores. Costco, however, has got Dave's bread lovers covered by offering two 27-ounce loaves for the mere price of $10.89.
Make Your Money Work for You
"For people who can't stay away from carbs, Dave's Killer Bread at Costco is a killer deal," said Megan Darlington, registered dietitian at Test Prep Insight. "Not only is it high in protein and fiber, but it is also sweetened with organic fruit juices rather than high-fructose corn syrup. Plus, at Costco, it comes in a two-pack that is much more affordable than at your local grocery store."
Via Emilia Organic Riced Cauliflower
A nutrient-rich alternative to rice, Costco's organic riced cauliflower is not only delicious but also a great deal. For only $9.01, you can get four 16-ounce bags of riced cauliflower that can be easily popped into the microwave or cooked on the stove for a simple and nutritious grain fix. 
"Organic riced cauliflower is an easy way to sneak more vegetables into your diet," Darlington said. "Not only does it resemble rice in terms of texture, but it is also full of fiber, vitamin C and vitamin K, which has been shown to reduce your risk of heart disease potentially."
Simple Mills Almond Flour Crackers
Gluten-free shoppers and those seeking crackers with a protein-packed punch in every bite should try Simple Mills almond flour crackers. For $12.99, shoppers can get a 20-ounce package of crackers packed with nutrient-dense ingredients and a satisfying salty flavor.
"Simple Mills almond crackers are a much healthier alternative than traditional crackers for your next charcuterie board," Darlington said. "Not only are these crackers lower in carbs than other types of crackers, but they also contain a good amount of protein and healthy fats."
Editor's note: The prices of each item were compiled from Costco.com and may vary based on location.
More From GOBankingRates