8 Best Deals on Costco's Healthiest Food Items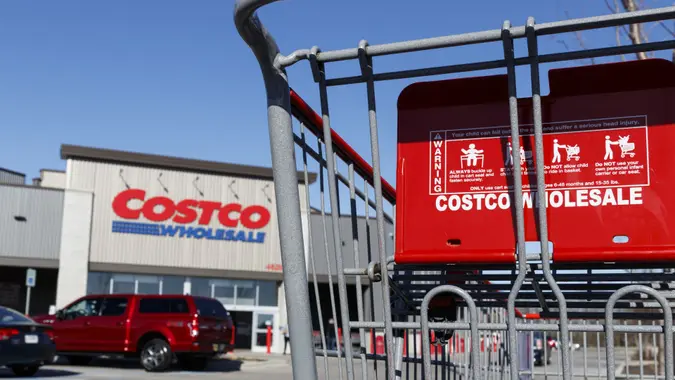 jetcityimage / Getty Images
Now that all of the holiday parties and gatherings with fat-laden snacks, rich entrees and sugar-loaded desserts have ended, it's time to reset and start eating healthier. One way to get some great deals on healthier foods is to shop at Costco.
If you're looking for deals on items like kale and boneless, skinless chicken breasts, you won't find them on this list. What you will find, however, are some bulk food options that can help you start eating healthier with little to no prep — plus some healthier snack options thrown in for good measure.
From plant-based patties to organic apple chips, here are the eight best deals on Costco's healthiest food items.
Impossible Plant-Based Burger Patties
"As people venture into the world of meatless eating, plant-based alternatives are popping up at restaurants and stores across the country, including Costco," said Rebecca Gramuglia, consumer expert at TopCashback. "Specialty products like these tend to be expensive, but Costco offers a value pack of 10 patties, 4-ounces each, for $14.99, making the price per patty around $1.49." 
Note that this is a $5 savings from the regular price of $19.99, and there is a limit of 10 packages per member.
Chobani Less Sugar Greek Yogurt Pack
"If you're in need of a quick, on-the-go option for breakfast or a midday snack, Costco has a 16-count variety pack of Chobani Less Sugar Greek Yogurt for $13.49," said Gramuglia. 
Make Your Money Work for You
This is a $4.50 savings as compared to the regular price of $17.99, and a limit of eight packs per member applies.
Manuka Health MGO 850+ Raw Manuka Honey
"As a natural sweetener, Manuka honey is a great alternative to sugar in your morning coffee or tea." Gramuglia said. "Studies have also shown many physical health benefits with this specific type of honey, making it one of the priciest options on the market. However, Costco has deeply discounted Manuka Health's MGO 850+ Raw Manuka Honey, offering the item for $59.99."
You'll save $20 on each 8.8-ounce jar, and no limits apply.
Made Good Organic Granola Minis
"These little pouches are great for having a quick snack that tastes good but won't make you feel guilty," said consumer analyst Julie Ramhold with DealNews.
"Each pack has the equivalent of a full serving of vegetables and will help to make sure you aren't snacking on empty calories. Even better, these are made in a facility that is dedicated to being peanut-, sesame-, soy-, dairy-, tree nuts-, egg-, wheat-, gluten- and fish and shellfish-free, which makes them ideal for people suffering from food allergies. It also means they're safe to send to school in your kids' lunches. Costco's 24-count package is $4 off this month as well, so it's a good chance to stock up."
Late July Organic Sea Salt Multigrain Tortilla Chips
"If you aren't quite ready to give up the crunch of chips in your resolution to eat healthier, these are a great substitute for the standard chips that occupy shelves," Ramhold said.
Make Your Money Work for You
"These are made with organic ingredients including whole ground corn, brown rice, chia seeds, flax, millet and more, plus a touch of sweetness from organic evaporated cane sugar. If you need something to eat with your homemade guacamole or salsa, you could do a lot worse than these chips, especially if you have a habit of snacking mindlessly. They're $2.90 off this month at Costco, and there's no limit to how many you can purchase, so feel free to stock up!"
Season Skinless & Boneless Sardines in Olive Oil
"These are seriously delicious if you like things like sardines, and I myself always stock up when they go on sale," said Ramhold.
"They're $3.30 off this month and come in packages of 6, but each tin can either be eaten alone or paired with other ingredients like avocado to bulk up and serve as an even more filling meal. These don't taste too fishy or anything like that, so even people who aren't big fans of fish will enjoy them. If you're trying to increase your dosage of healthy fats, this is a great way to do so."
Unreal Dark Chocolate Coconut Minis
"Are these still pretty much candy bars?" queried Ramhold. "Yes, but will they help you to stay on track with your diet in the new year? Also yes!"
These are vegan, gluten-free and sweetened without sugar alcohols, stevia, or artificial sweeteners, so you don't have to worry about weird aftertastes. If you enjoy Mounds bars, a bag of these for around $10 is a solid purchase to make to keep your indulgences under control without depriving yourself entirely."
Bare Organic Apple Chips
"These are a really great way to stay on track when craving something crispy as well as sweet." said Ramhold.
"Keeping whole apples on hand is great but unless you like to eat them whole, they usually take a few minutes of prep to slice up — especially if you want to dip them in something. But keeping these on hand can make quick snacks easier and they literally have one ingredient — apples. These are made with Fujis and reds, so you can expect the same kind of sweetness you get from standard snacking apples. They're a good source of fiber and have no added sugars and because they're baked and crispy, they also serve as a good vehicle for some dips. They're $3.50 off at Costco this month, but there are limits to how many you can purchase."
Make Your Money Work for You
More From GOBankingRates