Dollar Tree Can't Afford To Sell Eggs Anymore: 5 Places To Get Them Instead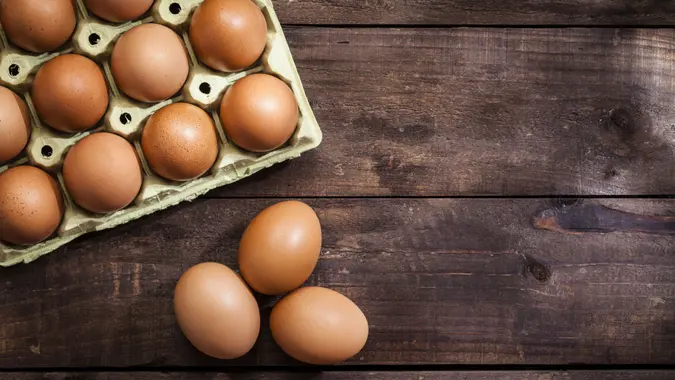 fcafotodigital / Getty Images/iStockphoto
A certain bunny might have been busy delivering Easter eggs on Easter Sunday this past weekend, but at least one discount retailer can't afford to sell them right now because they cost too much.
That retailer, Dollar Tree, recently announced that it will stop selling eggs at its stores because it can't make enough money offering them at its normal prices, CNN reported. Most of Dollar Tree's items cost $1.25 now instead of $1 — a change the company made in 2021 — though it does sell some items for $3 to $5.
The problem is, the average price of a dozen Grade A large eggs hit $4.21 in February 2023, according to Federal Reserve research. That was down from $4.82 in January but more than double the $2 average in February 2022.
Most retailers have responded by raising the prices they charge for eggs. But that's not a realistic option at Dollar Tree, where customers expect deep discounts.
"Our primary price point at Dollar Tree is $1.25. The cost of eggs is currently very high," company spokesperson Randy Guiler told CNN.
Make Your Money Work for You
Dollar Tree plans to return eggs to its shelves when "costs are more in line with historical levels," Guiler added.
Dollar Tree also operates 8,200 Family Dollar stores, which sell items priced at up to $10. Those stores still sell eggs, NBC Today reported.
Another deep-discount retailer, Dollar General Corp., said in a March statement that it had "solid in-stock levels" of eggs at its roughly 19,000 stores.
To get an idea of how much egg prices have changed in recent years, Dollar Tree used to sell cartons of eight or six eggs for $1, CNN noted.
Take Our Poll: Would You Move for a Job That Paid You a $10,000 Signing Bonus?
The decision to pull eggs from its shelves, which Dollar Tree made last month, was driven by an initiative to incorporate a lean staffing model in stores, according to David D'Arezzo, a former Dollar General executive who now works as an industry consultant. If Dollar Tree were to keep selling eggs, workers would have to change price tags every week to keep up with shifting market conditions — something that would go against its lean model.
Make Your Money Work for You
Even though you can't buy eggs at Dollar Tree (at least for now), here are five low-price retailers where you can buy them:
Family Dollar.
Dollar General.
Walmart.
Target.
Aldi.
More From GOBankingRates
Make Your Money Work for You