5 Dollar Tree Food Items That Are Cheaper Than Buying Takeout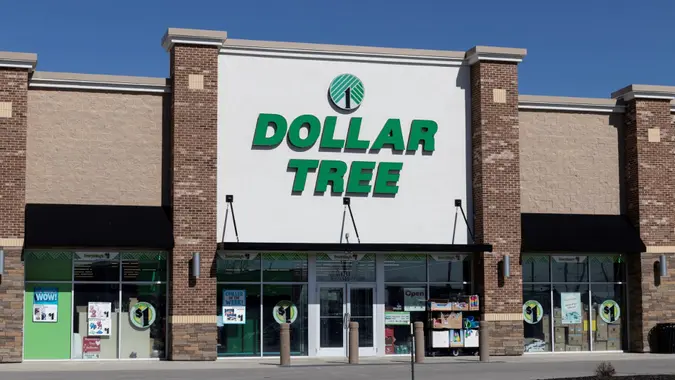 These days, everyone is on a tight budget. That being said, you still have to eat, and sometimes that can leave your bank account feeling starved.
Sure, there are budget-friendly meals that you get at places like Costco but more often than not, it's the call of takeout that seems to be the easiest choice for feeding you and your family.
But did you know that Dollar Tree is actually a great place to do your grocery shopping or pick up a quick food item for meal time? That's because Dollar Tree is able to supply quality foods at discounted prices, so you know you are getting delicious things to eat without the high-priced grocery bill.
Cancel your next trip to the drive-thru. Hang up the phone on delivery. Because here are a few Dollar Tree food items that are cheaper than take out.
Ramen Noodles
"Dollar Tree offers a five-pack of Ramen Noodles for $1.25," says Samantha Landau , a consumer expert at TopCashback, noting that for this price, the dish comes out to 25 cents per serving. 
What's great about Ramen noodles is your ability to customize the bowls yourself. Toss in a few veggies or chop up some protein and you've made a dish that's fast, flavorful, and all yours.
"Not only are these noodles a cheap alternative to takeout, but they are quick and easy to make as well," Landau explains, highlighting that Dollar Tree's Ramen noodles have a star rating of 4.7 out of 5.
Make Your Money Work for You
SkinnyPop Original Popcorn
"I usually reach for individual-packaged Skinny Pop packs as my mid-afternoon snack," says Radwa Khalil, founder of Healthy Life Trainer. "I adore that the original and kettle corn versions are frequently available at Dollar Tree and that they are pre-portioned to a single serving amount."
That's because a 1-ounce Skinny Pop bag contains no artificial ingredients and is gluten- and GMO-free. Plus, one cup only has 39 calories. A great treat for home movie nights or to take on the go for parties.
"They are also a big hit with my kids, who frequently pack them as an on-the-go snack or drop them into their lunchboxes," Khalil adds. "With portion management, it has all the taste and quality of a large bag of grocery store Skinny Pop. Additionally, the individual packing guarantees that there are no stale, unsealed popcorn packets in my pantry."
Campbell's Chicken With Rice Soup
With the cold weather season approaching, this meal in a can is the smart alternative to fast food or delivery during the winter. 
"For an easy and balanced meal from Dollar Tree, Campbell's Chicken with Rice Soup is a great option," says Landau. "At $1.25, you get 3 servings of soup with antibiotic-free chicken." 
Now in 30% bigger cans and the price staying the same, Dollar Tree is where you'll want to stock your pantry full of Campbell's classic soups.
Campbell's SpaghettiOs Original Pasta
Want a filling Italian meal without all the hassle of mixing pasta, sauce, and meat? Campbell's and Dollar Tree have got you set with the SpaghettiOs original pasta. This classic, fun food comes with no artificial flavors, no preservatives, and no synthetic colors added.
Make Your Money Work for You
"Dollar Tree sells a lot of canned foods that are cheaper than takeout and can make quick, easy meals," said Catherine Rall, a registered dietitian with Happy V. "You can find most of these items at your regular grocery store, but they'll probably be a bit more expensive there, so shopping for them at Dollar Tree is a steal."
Rall does note that "while such canned foods might not end up being the healthiest, most well-rounded meals, they can be great meals to have on hand if you're ever in a pinch."
Southgate Chili with Beans
Landau explains that one can of chili is a simple meal for a protein-rich diet. 
"A can of Southgate Chili with Beans, which goes for $1.25 at Dollar Tree, offers you 2 servings of chili which can be enjoyed alone or served with other dishes," Landau said, adding that it has a 4.2 star rating with reviewers.
But chili is more than just chili on its own. You can add it to cheesy dishes, casseroles, and make your own spicy dips for entertaining with it as well.
More From GOBankingRates
Make Your Money Work for You