Domino's Is Giving Away A Free Medium, Two-Topping 'Emergency' Pizza — Here's How to Get One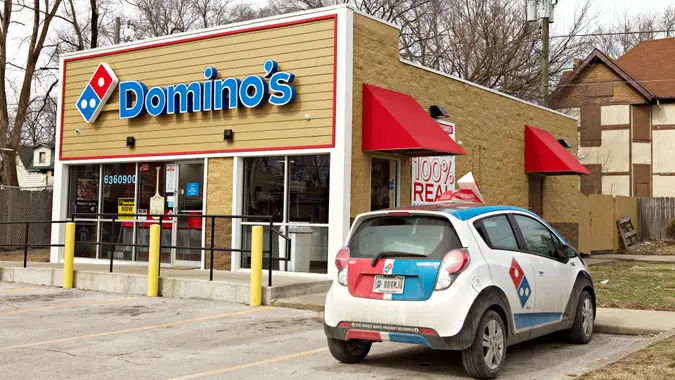 Matthew Schaefer / Shutterstock.com
While you can't go wrong with an easy, yummy pizza, ordering out often can strain your finances. But thanks to a current promotion, spending at least $7.99 on one Domino's digital order will get you a future medium, two-topping pizza for free through Domino's Rewards. This "emergency" pizza deal is designed to help during a tough time or even a simple craving. The offer is easy to get and lasts through February 11, 2024. 
First, head to the Domino's website or app when ready to place an order. If you have a Domino's Rewards account, sign in first to save yourself some time and access any saved orders. Keeping the $7.99 minimum in mind, add whatever food you want to your online cart. You can check the chain's current deals to save on your carryout or delivery order.
When you check out, you should provide an email address and password to make a Domino's Rewards account if you don't have one. That way, you can simply check your account after at least 24 hours of your order time to claim the free pizza reward. Otherwise, you'll have seven days to create the account and claim the reward.
Domino's gives you 30 days to redeem your claimed pizza by selecting the reward on your account's dashboard or the "My Deals & Rewards" section. Just keep these important terms in mind:
Special options like pan crust will cost extra.
You can't use Domino's AnyWare to get the offer.
You'll still have to pay for any delivery charge.
Only immediate orders will qualify.
Halloween, New Year's Eve and Super Bowl Sunday are blackout dates.
Once you redeem a free pizza, you won't qualify for this deal again.
Make Your Money Work for You
Enjoy your free "emergency" pizza, and take advantage of the ongoing Domino's Rewards program benefits to save money. Every time you spend at least $5, you'll earn points that you can eventually redeem for various food items. Plus, you'll get special deals that Domino's will email you about.
More From GOBankingRates