Food Stamps: Battle Akin to Social Security Debate Has Politicians Facing Off Over SNAP Cuts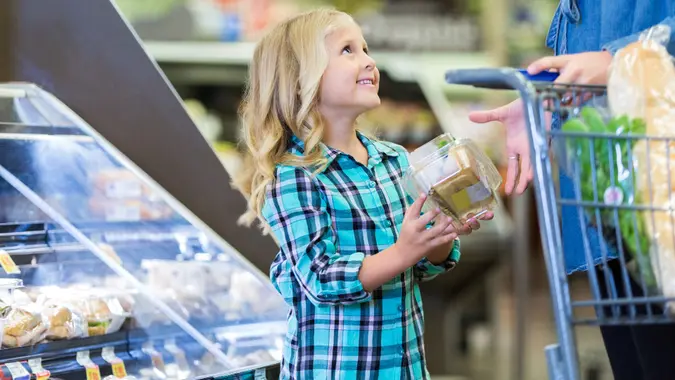 SDI Productions / iStock.com
Political battle lines that are already being drawn over Social Security appear to be extending to food stamps, as some lawmakers debate whether (and how) to cut the food purchasing assistance program.
Food Stamps: What Is the Maximum SNAP EBT Benefit for 2023?
Learn: 3 Signs You're Serious About Raising Your Credit Score
Food stamps, formally known as Supplemental Benefit Nutrition Program (SNAP) benefits, have been targeted by deficit hawks as a way to slash federal spending. Republican leaders have proposed various reforms to the program, ranging from restricting the kinds of food SNAP recipients can purchase to limiting the amount of aid available and imposing stricter work requirements on beneficiaries.
U.S. Rep. Jodey Arrington (R-Tex.), who leads the House Budget Committee, targeted SNAP in a recent cost-cutting memo, the Washington Post reported. According to the memo, work requirements tied to SNAP would "save tens of billions and spur economic growth," while tougher verification of SNAP applicants would reduce waste, fraud and abuse.
With the GOP now in control of the House, Republicans see an opening to at least push SNAP reform through that chamber of Congress.
Make Your Money Work for You
"A Republican majority will make work, not government handouts, the best financial option for able-bodied citizens," Arrington wrote in a Washington Examiner opinion column last month. "Democrats have stripped work requirements from welfare programs and have even paid people more to be on government unemployment than they made in their previous jobs."
Some SNAP recipients do face work requirements to qualify for benefits, but the requirements vary from one state to the next. Although SNAP is run by the U.S. Department of Agriculture, it is administered at the state level, and different states impose different restrictions on the program.
One thing lawmakers can do at the federal level is reduce SNAP funding — and some Republicans want to do just that.
Blue Book Services, which provides credit rating and marketing information for the produce industry, noted in a recent blog that U.S. Sen. Chuck Grassley (R-Iowa) and others have recommended returning SNAP spending to pre-pandemic levels as a way of reigning in federal spending.
"The pandemic cannot be used as an excuse to ramp up federal spending," Grassley said during a Feb. 16 session of the Senate Committee on Agriculture, Nutrition, and Forestry.
Make Your Money Work for You
Proposals to cut SNAP funding or restrict its access have not gone over well with anti-hunger advocates and many Democrats. SNAP supporters say now is not the time to trim the program, and point to the combination of soaring food prices and the upcoming end of emergency SNAP benefits that were first approved early on in the COVID-19 pandemic.
"The fight to end food insecurity is personal to me — my siblings and I relied on free meals at school and during the summer to stay healthy and fed," Rep. Jimmy Gomez (D-Cal.), chair of the Congressional Dads Caucus, told Axios.
In a separate interview with Axios, Rep. Brendan Boyle (D-Pennsylvania), the ranking Democrat on the House Budget Committee, said that "if Republicans really wanted to reduce families' reliance on SNAP, they wouldn't block efforts to raise the minimum wage, extend the Child Tax Credit and lower the cost of child care."
Some of these arguments mirror recent debates over Social Security. Republican proposals to reform Social Security have included raising the full retirement age and slashing monthly payments, though House Speaker Kevin McCarthy (R-Calif.) has vowed that the GOP "won't touch Medicare or Social Security" in negotiations over the debt ceiling.
Make Your Money Work for You
Take Our Poll: Are You Concerned the US Debt Ceiling Issue Will Endanger Social Security?
SNAP Benefits: Can You Use EBT Card/Food Stamps To Purchase Hot Food?
For his part, President Joe Biden has promised to stop any Congressional efforts to cut Social Security. Efforts in the House to cut SNAP benefits are also likely to fail because of a lack of support from the Senate and White House. The more probable scenario is that Democrat-led efforts to expand SNAP will likely fall short as well.
"One plausible outcome is that overall, SNAP benefits will survive the budget battle more or less as they are, but additional programs — including increased benefits for fruits and vegetables — may well not make it through," according to the Blue Book Services blog.
More From GOBankingRates
Make Your Money Work for You