Food Stamps: Can SNAP Be Used to Pay Your Water Bill?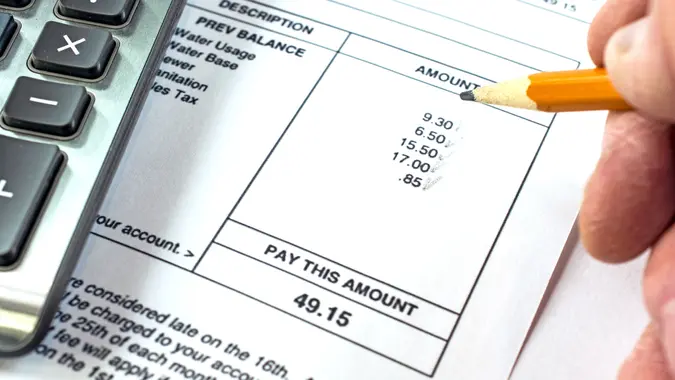 wwing / Getty Images/iStockphoto
Technically, water is not food — but a lot of food stamp recipients still use their benefits to purchase water. A 2016 study from the U.S. Department of Agriculture found that Supplemental Nutrition Assistance Program (SNAP) households spent 1.2% of total expenditures on bottled water, which adds up to tens of millions of dollars a year.
What you can't do is use your SNAP benefits to buy the water that comes out of your sink. SNAP cannot be used to pay your water bill, although some people think that should change.
Water and other utility bills do play at least one role in SNAP, the USDA food-purchasing assistance program formerly known as food stamps. When determining a household's SNAP eligibility, states consider households' total shelter costs. That includes the cost of utilities such as water, heat and electricity, according to the USDA.
Many states use Standard Utility Allowances (SUAs), which are amounts that reflect typical low-income household utility costs. SUAs can be used in lieu of the household's actual costs when determining your SNAP eligibility and benefit amount.
Make Your Money Work for You
But when it comes to how actual SNAP benefits can be spent, the USDA has very strict guidelines on what is allowed. Here are eligible items listed on the USDA website that you can buy with your SNAP Electronic Benefits Transfer (EBT) card:
Fruits and vegetables
Meat, poultry, and fish
Dairy products
Breads and cereals
Other foods such as snack foods and non-alcoholic beverages
Seeds and plants that produce food for the household to eat
To help pay water bills, many SNAP households get financial assistance through the Low Income Household Water Assistance Program (LIHWAP), a U.S. Department of Health and Human Services program that provides funds to low-income households for water and wastewater bills.
That program is set to expire at the end of this year, according to Manuel P. Teodoro, an associate professor at the La Follette School of Public Affairs at the University of Wisconsin-Madison. However, some lawmakers want to make LIHWAP a permanent, ongoing program.
In a March 29 column for Newsweek, Teodoro made the case for including water bills among eligible SNAP items instead of "extending the cumbersome and complex" LIHWAP indefinitely.
"Uncle Sam could channel water assistance dollars into SNAP and allow participants to pay for their water bills with their EBT cards," Teodoro wrote.
Make Your Money Work for You
This is a good year to consider the idea, too, because Congress will be voting on the Farm Bill in the fall. That bill, negotiated every five years, is the nation's largest agricultural and food policy omnibus.
"A simple change to this year's Farm Bill could make water bills eligible for payment through SNAP," Teodoro noted. "There are good reasons to think that doing so will result in federal water assistance with dramatically higher participation, much wider reach, and with far greater administrative efficiency than a permanent LIHWAP."
Take Our Poll: Do You Think the US Should Raise the Medicare Tax on High Earners To Help Save the Program?
He pointed out that SNAP boasts an 82% participation by eligible households – much higher than federal programs to help eligible households pay utility bills.
"Extending SNAP benefits to water would immediately help the 41 million people already enrolled in the program — without any of them having to apply or be screened for participation in yet another assistance program," Teodoro wrote. "Providing federal water assistance through SNAP also would help 'hard-to-reach' people who rely on private wells, or who pay for their water utilities through their rent or homeowners dues."
Make Your Money Work for You
More From GOBankingRates
Make Your Money Work for You