Frozen Food Prices Are Up 11% — 5 Smart Ways To Save on America's Most Popular Grocery Items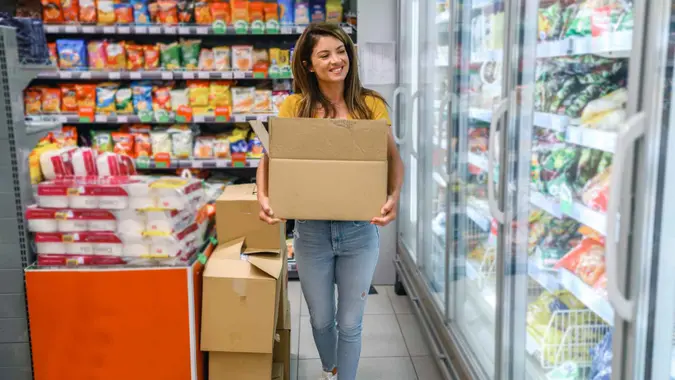 bluecinema / Getty Images
As with many grocery items, frozen food prices have been on a steady rise. That's been the case for a couple of decades, but prices have really accelerated since 2021.
On the production side, frozen food manufacturing costs rose 11% between June 2022 and June 2023, according to data from the St. Louis Fed. Since April 2020, the frozen food production index has risen by more than one-third.
For consumers, this translates into higher prices in the frozen food aisles of their local supermarkets. The average unit price for frozen products rose 15% in 2022 from 2021, according to Acosta, a sales and marketing company.
That hasn't kept consumers from buying frozen foods, though. Twelve-month frozen food sales in the United States exceeded $70 billion as of October 2022, per the latest data available from Acosta. That was up 7.6% from 2021 and 31% from 2019 pre-pandemic sales. Acosta research found that there were three key drivers for consumers' frozen food purchases: value, convenience and healthy options.
If you're a frozen food fan, one of the best ways to save money is to buy in bulk — if you have the freezer space. You can do this by purchasing larger packages at grocery stores or buying the supersized packages available at warehouse retailers such as Costco and Sam's Club. Clipping coupons (digital or physical), signing up for a store's rewards card, and buying discounted or on-sale product can also put a dent in your grocery bill.
Make Your Money Work for You
Another way to save money is to find frozen food items that cost less than their fresh counterparts — which usually means produce.
As GOBankingRates previously reported, here are five frozen veggies that can save you money when fresh produce prices rise.
Peas: The sugar in peas turns into starch as soon as they are picked, which can hurt their texture and flavor. But because frozen peas are frozen at the peak of ripeness, they will have a sweeter taste with the same nutritional value.
Spinach: Because you can pack a lot of spinach into one frozen container, one cup of frozen spinach has more than four times the amount of nutrients than a cup of fresh spinach.
Broccoli: You're usually better off with fresh broccoli if you want to retain the right flavor and texture. But frozen broccoli still provides a cheaper alternative, with the added bonus of being able to grab a bag of only florets if that's your thing.
Corn: This is another veggie that freezes well. While it can't replace that sweet, delicious crunch you get from a fresh ear of corn, frozen corn can still deliver enough flavor to make the savings worthwhile — especially when corn is not in season. Frozen corn also has fewer calories and carbs than fresh corn.
Carrots: Fresh carrots have a pretty short shelf life, usually lasting only a few days in the refrigerator before they start to turn brown. Because frozen carrots are chosen shortly after harvest, they can still maintain their fiber, vitamin A, and beta-carotene nutrients.
More From GOBankingRates