3 Grocery Items Americans Stopped Buying in 2023 To Save Money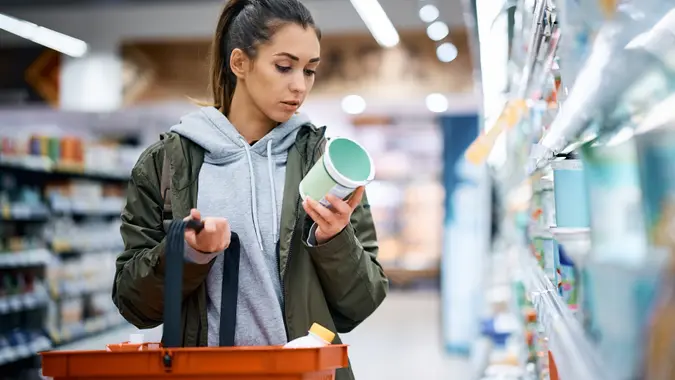 Drazen Zigic / iStock.com
Although inflation has eased, many Americans are still struggling to cover everyday expenses — and things actually seem to be getting worse. A GOBankingRates survey conducted in March found that 63% of Americans were "shopping smarter" to save more money.
But now, instead of looking for deals, Americans are cutting out some costs completely, even on necessities such as groceries. During a July earnings call, Sean Connolly, CEO of Conagra Brands Inc., said that this shift began in early April, Bloomberg reported.
"Importantly, where we see it, it is usually not a trade down to lower-priced alternatives within the category; rather, it's an overall category slowdown," he said.
According to new research, there are three specific categories of groceries that Americans have cut back on buying.
Frozen Foods and Pantry Staples Are Experiencing Sales Declines
Research organization NielsenIQ found that the biggest declines in food category sales have come from frozen meals, fruit juice and soup. This is likely because Americans are "burning through inventory in their homes" rather than continuing to buy new items in these categories, Carman Allison, VP of thought leadership, North America, at NielsenIQ told Bloomberg.
Cutting back on juice makes economic sense, as it's one of the food products that has risen in price the most over the past year — prices have increased by 8.66%.
Frozen meals also tend to be a grocery purchase that's not worth the cost.
Make Your Money Work for You
"They're going to be a few servings at most and more expensive per serving than if you were to buy the ingredients and make the dish yourself," Julie Ramhold, consumer analyst at DealNews.com, told GOBankingRates.
Groceries To Avoid If You Want To Save Money
Grocery shoppers on a tight budget should also avoid the following items or use coupons/rewards to make them more affordable:
Fresh produce
Brand-name products
Snacks
Convenience foods
Marinated and pre-prepped meats
Single-serve beverages
Heather Taylor contributed to the reporting for this article.
Survey methodology: GOBankingRates surveyed 1,056 Americans ages 18 and older from across the country between March 17 and March 20, 2023, asking 12 different questions: (1) When you were growing up, which financial topics did your parents talk to you about? (Select all that apply.); (2) At what age did you become comfortable with basic money skills (i.e., writing a check, balancing your accounts, budgeting)?; (3) At what age did you start saving and planning for retirement?; (4) How much cash do you think you should have on hand in case of a national emergency?; (5) Do you think a lack of financial understanding has impacted your ability to be financially prepared for the future?; (6) How much did a lack of financial literacy cost you in the last year due to things like not knowing the best way to save for retirement, not being comfortable with investing, not using a budget, etc.?; (7) Which major financial task is most confusing to you?; (8) What percentage do you think you are required to put down on a home when buying?; (9) Do you feel prepared to handle any possible cuts to Social Security benefits?; (10) How has inflation changed how you handle your finances? (Select all that apply.); (11) What's the minimum you think experts would recommend you have saved to be comfortable in retirement?; and (12) Which of the following do you find most confusing about Social Security? GOBankingRates used PureSpectrum's survey platform to conduct the poll.
More From GOBankingRates