Eating Well on a Budget Is Totally Doable With This Handy Grocery List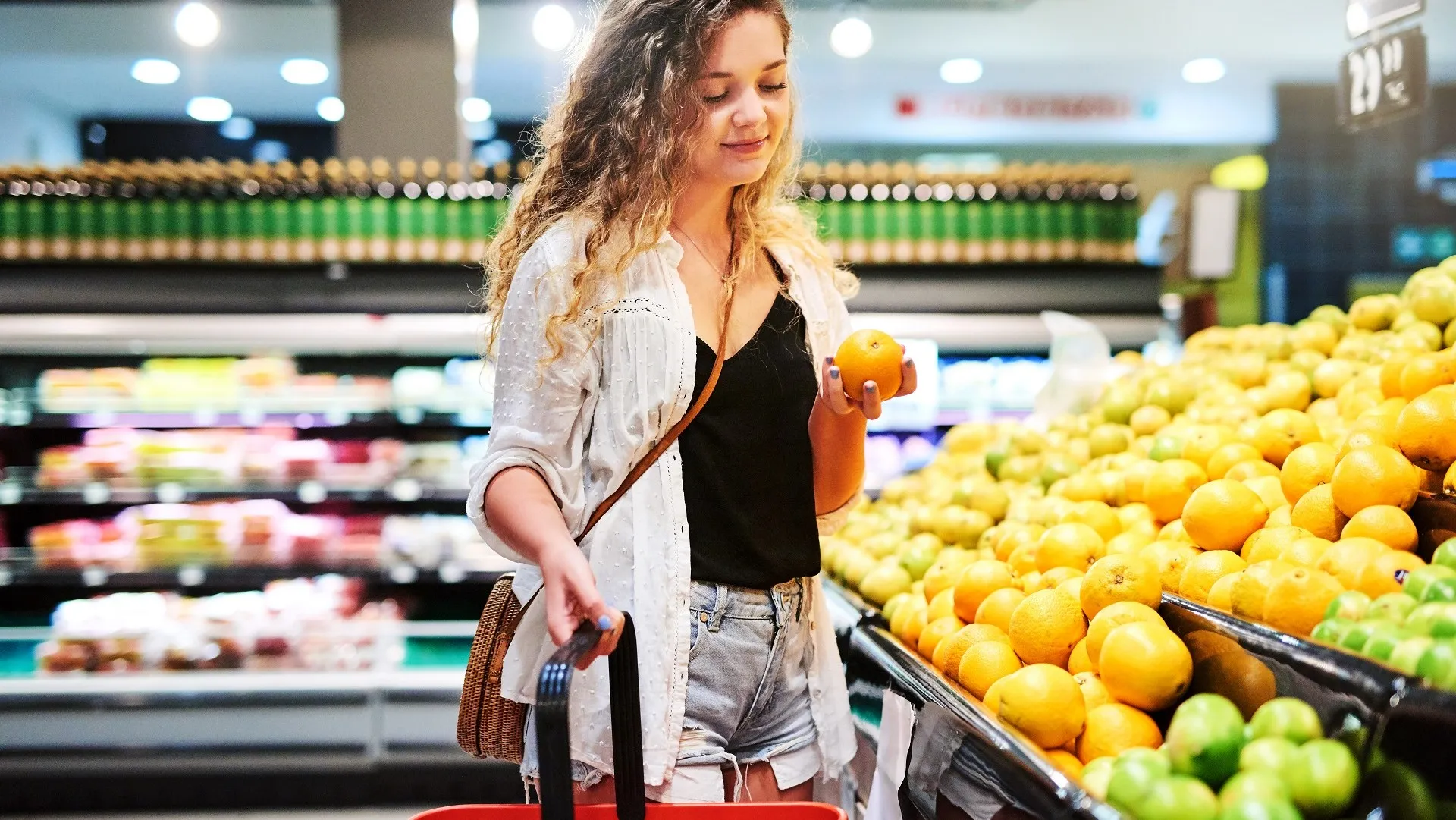 Dietary fads might change with the seasons, but you can still eat healthy year-round. The key is to buy fresh, whole ingredients rather than processed, pre-made foods.
There are plenty of healthy eats you can toss in your grocery cart for less than $5. We found each of these items available at an affordable price at a typical grocery in the Midwest. See how you can eat healthy for less money.
Apples
Typical Price: $0.95 each
"An apple a day keeps the doctor away" isn't an ironclad guarantee, but it's pretty solid folk wisdom. This biblically tempting fruit is loaded with vitamins and fiber, and priced for frugality all year long.
Plus, there's so much you can bake with apples, including the classic favorite — apple pie.
Bananas
Typical Price: $0.27 each
Whether you think of them as mineral-rich, low-fat snacks or an ingredient in your favorite smoothie or muffin, bananas are sweet and tasty treats. They're also inexpensive and widely available, making them the perfect items to add to your grocery list.
Make Your Money Work for You
Cantaloupe
Typical Price: $3.19 each
Cantaloupes are as lush and sweet as any dessert, but they're also loaded with minerals — especially potassium — and vitamin A. Use cantaloupe generously in fruit salads and smoothies, or nibble on some as a snack between meals.
Grapes
Typical Price: $4.98 per bag
Fruit makes for a healthier snack than candy bars or chips, and grapes are especially convenient for eating on the go. They're individually "wrapped," require no peeling and are sturdy enough to hold up nicely in your lunch cooler.
Here's a pro savings tip you should keep in mind once winter is over: Grapes are one of the seasonal foods you can save on during the summer.
Grapefruit
Typical Price: $1.50 each
Making a grapefruit part of your morning routine is an inexpensive way to crank up the nutritional value of the most important meal of the day. Grapefruits pack fiber, potassium, vitamin A and calcium, along with the vitamin C you expect from citrus fruit. And it's surprisingly good for your heart.
Mangos
Typical Price: $1.25 each
Mangos vary in price throughout the year, so watch for sales and enjoy them fresh or freeze them for later while they're cheap. Swapping out heavy sauces for a flavorful mango salsa on meat or poultry is a quick route to healthy eating. Or, you can transform your mango into a delicious chocolate dessert.
Make Your Money Work for You
Oranges
Typical Price: $0.99 each
You may already know about juicing oranges and eating them by the wedge, but these brightly colored fruits have a lot more to offer. Next time you're thinking about cheap and healthy dinner ideas, try grilling sliced oranges to go on your chops or chicken.
Watermelon
Typical Price: $7.99 each
Watermelon is almost all water and fiber, which makes it the perfect won't-weigh-you-down summer snack.
For something so insubstantial, this pretty pink fruit is surprisingly well-furnished with vitamins A and C, along with essential minerals like calcium, magnesium and potassium.
Bok Choy
Typical Price: $1.87 each
With its thick, juicy stems and green leaves, bok choy is like two vegetables in one. Stir-frying it in a wok with minimal oil is the classic preparation, but it's surprisingly good when charred lightly on the grill.
Broccoli
Typical Price: $3.29 each
If you're looking for healthy, affordable meals, starting with broccoli is a wise idea. And don't overlook the stems: If you peel away the woody skin, the stems are sweet and juicy and make a wonderful slaw.
Butternut Squash
Typical Price: $4.17 each
With its sweet flavor and potent nutritional profile, butternut squash is a cold-weather staple, but you can also enjoy this veggie in summer. Grill thin slices to go with your steaks and chops, or fold diced roasted squash into grain-based salads for a healthy lunch.
Cabbage
Typical Price: $2.23 each
Aside from St. Patrick's Day, cabbage doesn't get enough love in the vegetable world. If you don't care for it boiled or in a slaw, cut this versatile, nutritious food into half-inch "steaks" and roast under a drizzle of oil with some salt and pepper.
Make Your Money Work for You
Carrots
Typical Price: $0.15 each
Despite what your mom said, carrots probably won't help you see in the dark like a cat. They can play a large role in your best cheap dinner ideas, though. Carrots are good boiled, roasted, shredded and raw, and they're a vegetable almost everyone likes.
Cauliflower
Typical Price: $3.99 per head
Cauliflower's mild flavor and extreme versatility make it a favorite food among carb-conscious diners, who frequently substitute it for potatoes and other starchy foods. The price varies widely throughout the year depending on growing conditions, so watch for it to go on sale.
Celery
Typical Price: $1.89 per stalk
Celery's juicy crunch and hint of savory flavor make it an essential part of any vegetable tray, but it also has the happy ability to make other foods taste better. Use the stems in everything from soups and stews to stir-fry, and eat the leaves in your omelets and salads.
Collard Greens
Typical Price: $2.79 per bunch
Most greens are at their best when cooked lightly, but collards are an honorable exception. They'll stand up to long cooking in your favorite soups or bean dishes, two reliably cheap, healthy meal options.
Cucumbers
Typical Price: $0.69 each
With their mild flavor and light, juicy crunch, cucumbers may be a perfect summertime vegetable — but they're also inexpensive and refreshing throughout the rest of the year.
Try them dressed with plain Greek yogurt and a few fronds of dill — or with just a sprinkle of good white wine vinegar and some salt and pepper.
Green Beans
Typical Price: $1.99 per pound
Green beans are a great nutritional bargain, loaded with protein, vitamins, minerals and dietary fiber. They're usually eaten hot, but cooked, room-temperature beans make a fine salad when tossed with a vinaigrette and garnished with fresh herbs.
Make Your Money Work for You
Lettuce
Typical Price: $1.99 per bunch
Lettuce is light on calories and long on fiber and trace minerals, especially if you avoid the relatively watery iceberg varieties in favor of romaine or leaf lettuces. The usual rule about vegetables — those with darker colors are more nutritious — definitely applies here.
Napa Cabbage
Typical Price: $5.97 each
Big, ruffly heads of napa cabbage look — and taste — like a cross between lettuce and cabbage. This veggie is sturdy enough to cook like regular cabbage, but the leaves can also be shredded and added to slaws or green salads.
Onions
Typical Price: $2.69 for a 3-pound bag
Aside from French onion soup, this aromatic veggie is rarely a main ingredient in meals. Onions pack a lot of flavor, and there's no need to pay organic prices for them.
They're also surprisingly rich in vitamins, fiber and minerals, so use them freely.
Potatoes
Typical Price: $3.99 for a 1.5 pound bag
Potatoes have been in and out of favor over the years, but their versatility, frugality and nutritional value are inarguable — especially if you go light on the butter or cream in favor of olive oil and herbs.
Pumpkin
Rutabagas
Typical Price: $2.24 each
Rutabagas are inexpensive and in season when many other vegetables aren't — a fact that makes them a useful ingredient in cheap, healthy meals. Dicing and roasting them brings out their sweetness, but they're also surprisingly good when shredded for slaw.
Make Your Money Work for You
Spaghetti Squash
Typical Price: $4.92 each
Boasting the mild flavor of a summer squash, this oddball pasta substitute is a big favorite with low-carb diners. Regardless of your diet of choice, spaghetti squash is a fine alternative to conventional noodles in Asian meals as well as traditional pasta dishes.
Spinach
Typical Price: $1.99 per bunch
This most versatile of greens is tender enough to eat raw in salads but durable enough to add to omelets, pasta dishes, casseroles and other cooked dishes. The fresh version is moderately priced but perishable, while frozen spinach is even more frugal and good to have on hand for healthy meals.
Sweet Corn
Typical Price: $1.25 per 12 oz. frozen bag
Corn is tastiest during high summer, when you can buy it fresh and locally grown. Still, the frozen and canned versions taste pretty good if you need to make do in winter. Use canned corn as a side vegetable or an ingredient in fresh relishes, salsas and salads.
Sweet Potatoes
Typical Price: $0.89 each
Stock up on fresh sweet potatoes when they're cheap over the holidays, or buy them canned for year-round frugality. Either way, sweet potatoes are an inexpensive and vitamin-rich way to add flavor and color to your meal.
Tomatoes
Typical Price: $2.67 per bunch
Nothing says summer like the taste of a fresh, ripe tomato in your salad — and these fruits are vitamin rich to boot. Plus, canned tomatoes are a versatile and flavorful meal ingredient when the fresh ones are costly or just not good enough.
Make Your Money Work for You
Turnips
Typical Price: $2.31 each
Whether you serve them lightly steamed, roasted or shredded in stir-fry or salad, turnips are a surprisingly tasty addition to any meal. They're best when small, young and tender.
Turnip Greens
Typical Price: $1.29 per bunch
They aren't always available (though they were when we checked), but if you see turnip greens at your local market — with or without the actual turnip — grab them.
A perfect ingredient for cheap meatless meals, these veggies are loaded with fiber, calcium and vitamin C and pack a more robust flavor than other cooked greens.
Zucchini
Typical Price: $0.75 each
Zucchini are inexpensive year round, but they're the ultimate frugal vegetable at their mid-season peak. If you have gardening friends, you might even find yourself with more than you can use in the growing season. They're also as virtuous a vegetable as you could ask for, offering minimal calories but plenty of fiber and minerals like potassium, calcium and magnesium. If you're lucky enough to have a spiralizer or similar device, you can even replace pasta noodles with this handy veggie.
Chicken
Typical Price: $3.99 per pound
Along with being the gold standard for light and lean proteins, chicken is as versatile an ingredient as you could want for cheap dinner ideas. It's never very expensive, but for maximum cost-effectiveness, comb your local supermarket's sales circulars and stock up when chicken is on sale.
Chicken Livers
Typical Price: $1.99 per 1.25 pounds
If you're keen on liver's nutritional benefits but can't quite get on board with the stronger taste of beef or pork livers, chicken livers might be a better bet. They're smaller and mild in flavor and can be incorporated into stir-fry, skewers or even canapes.
Make Your Money Work for You
Chickpeas (Garbanzo Beans)
Typical Price: $0.79 per 15.5 oz. can
Chickpeas are one of the all-time great vegetable protein foods, with their mildly savory flavor and creamy texture. You can add cooked or canned chickpeas directly to soups, stews and salads, or puree them with garlic, sesame and lemon juice to make a tasty hummus.
Eggs
Typical Price: $2.39 per dozen
Now that doctors have agreed they don't pose a problem for otherwise-healthy diners, eggs are back to being part of a balanced diet.
They're still great at breakfast, but consider enjoying this protein-packed food at lunch in a frittata with greens for a cheap, healthy meal.
Lentils
Typical Price: $2.29 per 16 oz. bag
Like beans, lentils offer high-quality, plant-based protein. But unlike beans, they don't need to be soaked ahead of time. They're great for dinner ideas that strike at the last minute.
Peanut Butter
Typical Price: $1.79 per 16 oz. jar
It appeals to the kid in all of us, but creamy, salty peanut butter — especially the natural kind, without added sugar and stabilizers — is also a good, quick source of protein.
It's not just a spread for sandwiches, either. Try it in Asian-style peanut sauces or African peanut stew.
Split Peas
Typical Price: $1.59 per 16 oz. bag
Split peas are another underrated legume, similar to beans in their nutritional value but smaller and quicker to cook. Use them in Indian food, add a handful to soups to make them heartier or cook them in broth to make a thick paste and serve with ham.
Make Your Money Work for You
Milk
Typical Price: $3.19 per gallon
Milk isn't just a refreshing beverage or something to moisten your cereal; it's a potent — and frugal — food in its own right. A single cup contains over 8 grams of protein, and it's rich in important minerals, such as calcium, phosphorus and potassium.
Bulgur Wheat
Typical Price: $4.59 per 15 oz. bag
This chewy whole grain is so versatile that you can steam it, simmer it like rice or even just soak it in water or broth until it's pleasantly chewy. Larger sizes can take the place of rice or quinoa in cooked dishes, while smaller options make excellent salads or cooked cereal for your breakfast.
Cornmeal
Typical Price: $2.29 per can
A quintessential American ingredient, cornmeal can play a role in numerous healthy meals. Use it as a coating or in cornbreads or enjoy cornmeal mush — the American equivalent of polenta — as a breakfast cereal or sliced and grilled as a side dish.
Oats
Typical Price: $4.69 per 42 oz. can
Oats can be enjoyed throughout the day. Eat granola bars, oatmeal or muffins for breakfast or dine on a savory oat risotto at lunch or dinner. Not only are oats high in protein and fiber, but they're also a heart-healthy food that can help keep your cholesterol and blood sugar in check.
Pasta
Typical Price: $1.25 per 16 oz. box
If you skip the rich cream sauces and puddles of melted cheese, pasta has a legitimate place in many cheap, healthy meals. For maximum benefit, opt for vegetable-based sauces and pasta varieties with whole grains or added fiber.
Popcorn
Typical Price: $2.84 per box
If you think frugality equals boring, think again. Popcorn isn't just one of the lowest-cost snacks around — it's also a delicious treat that offers whole-grain goodness. Opt to buy a bag of kernels as opposed to microwaveable options that are coated in oil and salt.
Make Your Money Work for You
Rice
Typical Price: $1.79 per bag
A large sack of rice can make dozens of frugal meals, and whole-grain brown or red rices are especially healthy. Simple steamed white rice offers less nutrition, but if that's what you prefer you can simply eat it as a side dish accompanying more virtuous vegetables or legumes.
Disclaimer: Prices are accurate as of May 8, 2023, and are subject to change. Photos are for representational purposes only. All prices taken from the Kroger website, with a card, based on the Peoria, Ill., location: 3311 N. Sterling Ave., Peoria IL 61604.
More From GOBankingRates