High-End Restaurants While Traveling: Why They Are Worth the Splurge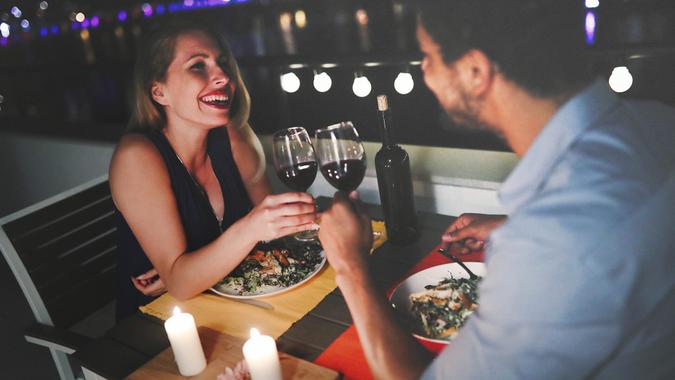 nd3000 / Shutterstock.com
Fine dining, in the words of Dmitri Chekaldin, begins with a piece of bread and a glass of something, usually wine, to start the meal. GOBankingRates chatted with several high-end establishment owners and chefs to discover what keeps bringing every generation back to the table and why it's worth the splurge to dine at a high-end restaurant. 
Discover: Best Cities To Retire on a Budget of $1,500 a Month
See: The Best Cities To Retire on $2,000 a Month
Consistency of Food and a Thoughtful Wine List
Chekaldin is the co-owner of Dacha Beer Garden, a casual spot in Washington D.C. and the owner of Jackie, an upscale D.C. restaurant. Chekaldin, who sees a difference in customers at both establishments, said that we dine out not just for special occasions. Sometimes we don't want to spend time cooking and setting tables or doing dishes. 
Make Your Money Work for You
As customers think about where they want to dine out and weigh their options on where to go, Chekaldin said the decision tends to be based on comfort food choices. Comfort food is not necessarily defined as greasy, fried or salty food. Rather, it is food that delivers a sense of recognition and satisfaction. And, as mentioned in the opening, Chekaldin said this comfort starts with bread and wine.
In a high-end restaurant, it is the consistency of food and a thoughtful wine list that shows attention to trends, ratings and pricing. It also endears customers to the establishment and draws in new patrons. This is particularly true of wines by the glass, which Chekaldin said tend to yield quality to supply and cost demands.
If it sounds rare to find a restaurant that offers wines by the glass, that's because it is. Chekaldin said at Jackie, the team spends considerable effort to source wines by the glass that are not available in retail. 
"When one finds a favorite dish and a good glass of wine any day of the week it means only one thing: success," said Chekaldin. 
Make Your Money Work for You
Take Our Poll: Do You Think People Should Invest In Crypto?
Discretion in Service
The discerning customer in a high-end restaurant does not need service that feels pompous or over the top in nature. Rather, Chekaldin said what is necessary is the opposite. Discretion, yet abundance, in service.
"Barely seen, but ever-present, service is a ticket to a returning, discerning customer," said Chekaldin.
The People Make the Difference
K.C. Gulbro is a nationally-recognized chef and restaurateur at FoxFire and Copper Fox restaurants. Gulbro said, to him, high-end dining is like taking a mini vacation without leaving your neighborhood or the state. 
"At a high-end restaurant, you are going to get an experience that is not usually found at other dining levels. There is a difference in service, flavors and flare," said Gulbro.
One of the biggest differences in the overall dining experience is that servers are typically full-time ambassadors to the establishment. This is not a side job for them. It is their passion.
Make Your Money Work for You
"They are professionals who are making their living and retirement on waiting tables. Chefs and kitchen personnel have pride they hold for professionals," said Gulbro. 
Michael Ivey, owner and CFO at Rick Erwin Dining Group, said the experience you have when dining in a restaurant is found in the staff and service. 
Fine dining may begin with bread and wine, but look at the people who bring it out to you and the memorable experiences they work hard to create. It is the people who make the difference. 
The Chef's Features
Fine dining restaurants, said Ivey, will most certainly have an executive chef at the helm of the kitchen. This is an additional perk that only enhances the guest experience and can accommodate almost any culinary request. 
If guests have access to an executive chef, Ivey recommends always trying the chef's features. "This is where creativity will be on display at any fine-dining restaurant, and where you'll get a truly unique experience you won't find anywhere else," said Ivey.
Similarly, high-end restaurants that have mixologists and sommeliers on staff will provide the perfect compliments with each dish. 
"Whether it be that perfect Napa Cabernet or a Smoked Bitters Blaton old-fashioned, your palate will be elegantly teased into submission. You will not likely get that experience anywhere else at that level," said Gulbro.
The Fine Dining 'Venn Diagram' and Memory
Chekaldin said when we dine at high-end restaurants, we pay for product selection, facilities, consistency in taste and presentation, a meaningful drink and wine list and abundant service. This creates a Venn diagram for a given fine dining establishment and it must include all of these elements. 
"In the end, and most importantly, you will have an experience you will always remember, whether it is to celebrate an important date, or a 'just because' occasion," said Gulbro. "The experience of dining at a high-end restaurant will always resonate in your memories."
More From GOBankingRates