See How Much Americans Are Tipping for Takeout and Delivery Orders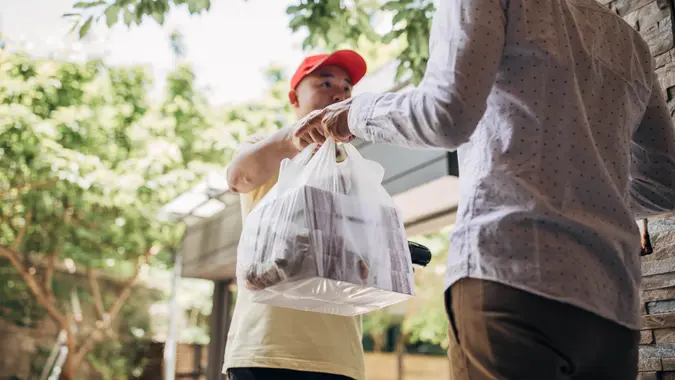 South_agency / Getty Images
Thanks to the wide array of delivery apps available, it's now easier than ever to order food for pickup or delivery with the click of a button. It's now also easier to add a tip, as you no longer need cash on hand to thank restaurant workers and delivery drivers for their service — you can simply tip through the app or at the point-of-service at many restaurants.
See the List: GOBankingRates' Best Banks of 2023
Find Out: 3 Ways Smart People Save Money When Filing Their Taxes
Check Out: GOBankingRates' Best Credit Unions 2023
But how much are Americans tipping? That depends on where you live.
Best and Worst States for Tips
Overall, 88% of Americans tip for delivery orders and 63% tip for pickup orders, a BentoBox study found. On average, Americans tipped 8% for pickup and delivery orders in 2022 — that's down from 9% in 2021. But some states are home to better tippers than others.
Make Your Money Work for You
Average Tip for Delivery in the Best-Tipping States
The BentoBox study found that these states give the highest average tips for food delivery:
Maine: 14%
Kentucky: 13%
Delaware: 12%
South Dakota: 12%
Montana: 11%
Take Our Poll: How Big of a Sign-Up Bonus Would It Take for You To Change Banks?
Average Tip for Delivery in the Worst-Tipping States
Unfortunately, residents of these states are less generous with their delivery tips. Here's a look at the average tips in the worst-tipping states:
Oklahoma: 9%
Georgia: 9%
Texas: 9%
Tennessee: 9%
California: 9%
How Much Should You Tip for Takeout and Delivery?
There is no hard-and-fast rule when it comes to how much to tip for takeout. The Post Institute says no tip is required if you walk into the establishment to grab your order, but that you should tip 10% if your food is brought out to you. However, Jodi RR Smith, president of Mannersmith Etiquette Consulting, believes that in a post-pandemic world, you should always tip for takeout.
"In our olden, pre-pandemic days, tips on takeout would be given when the order was [completed] quickly, for a really large order or any special instructions," she said. "If there was an above-and-beyond action, the tip would be in the 10-15% range."
Make Your Money Work for You
But now Smith advises to "tip as much as possible, even if you are doing pick-up." She added, "A few extra dollars from you can make a huge difference for them. When in doubt, tip more."
As for delivery, 10% to 15% is the standard amount suggested by experts, but some recommend tipping even more. Maryanne Parker, founder of Manor of Manners, recommends tipping 25% to 30% — but says it's really up to your discretion.
"Tipping is based on respect, gratitude and social circumstances," she said, "not just rules and norms."
More From GOBankingRates
Make Your Money Work for You