I'm a Chef: Here Are 10 Things I Love To Buy at Costco Every Month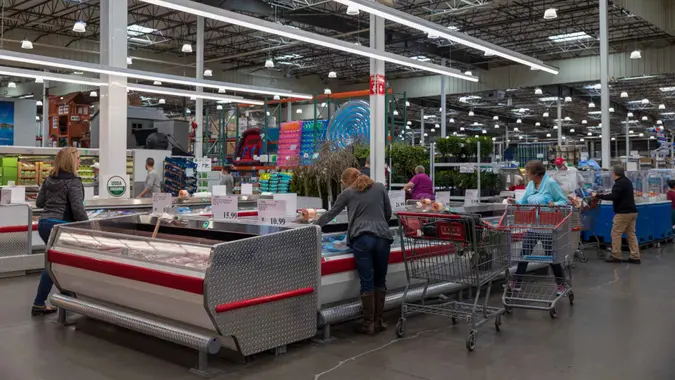 artran / Getty Images
For the casual shoppers, Costco is a great place to pick up groceries in bulk at competitive prices. However, the warehouse club also has much to offer for professional and amateur chefs who need ingredients to complete or complement their meals.
GOBankingRates spoke with Catherine Snowden — professional chef and CEO at Fascinating Sky — and Anna Cassidy — chef and author at IMARKU — about what they love to buy at Costco whenever they shop. Here's what they said.
Fresh Herbs
"Fresh herbs, such as basil, rosemary, thyme, and more, are abundant at Costco," said Snowden. You can even find them in bulk, which is great for chefs who use certain ingredients across many dishes.
"These flavors and fragrance-filled ingredients give your recipes a rush of flavor and are a must-have for crafting culinary masterpieces," continued Snowden.
Olive Oil
Cassidy said Kirkland's Signature Extra Virgin Olive Oil is high on the list of must-haves. "This olive oil is of high quality and very affordable…[you can] use it for everything from dressing salads to cooking vegetables to roasting meats."
Salt and Pepper
No dish is complete without the proper seasoning, and Costco has some great finds under the Kirkland Brand.
Cassidy recommended the Kirkland Signature Sea Salt for any chefs who need to season their food or make sauces and marinades. "This sea salt is also high quality and very affordable."
Make Your Money Work for You
On a similar note, Cassidy recommended the Kirkland Signature Whole Black Peppercorns who love using fresh pepper in their dishes. "These peppercorns are fresh and flavorful."
Dried Fruits and Nuts
Costco has a large selection of nuts and dried fruits to choose from. These can be used as ingredients in a variety of dishes, or used to complement existing meals.
"Costco's assortment of nuts and dried fruits goes beyond mere snacking; they're versatile ingredients that can enhance both sweet and savory dishes," said Snowden. "Roasted almonds and plump raisins are two examples of foods that have the appropriate texture-to-flavor ratio, giving them a great option for a sophisticated touch to your meals or just a healthy snack."
Frozen Seafood
In Costco's frozen section, chefs like Cassidy and Snowden can pick up some fresh, quality fish filets and shrimp for their seafood-based dishes.
Cassidy said Kirkland's Signature Frozen Salmon Fillets and Kirkland Signature Frozen Shrimp are two of her favorite Costco buys. "These salmon fillets are wild-caught and sustainable. They are also very affordable…These shrimp are peeled and deveined, which saves chefs time in the kitchen."
Beef
"Costco offers the best prices when it concerns proteins. They have cuts of beef that are ideal for braising, roasting, or grilling, so your meals will always be flavorful and full of flavor," said Snowden.
And if you want to stick with fish, Snowden recommended fresh salmon.
Make Your Money Work for You
"Their top supply of omega-3 fatty acids and adaptability for many culinary applications make their fresh salmon a seafood lover's dream," she said.
Frozen Vegetables
Costco also sells fresh and frozen vegetables in large volumes at reasonable prices. This includes mixed vegetables, broccoli, corn, carrots, spinach, green beans, peas, and more. Any of these options can be a great complement to a variety of side dishes, soups, and stews, said Cassidy.
Cheese
Adding cheese to your dishes is a great way to give them a flavor boost and make them really stand out for your guests or customers.
"At Costco, their extensive cheese selection boasts a wide array of flavors and textures, catering to the diverse needs of various dishes," said Snowden. "From creamy brie and tangy cheddar to aged gouda and artisanal blue cheese, the possibilities are endless, allowing you to effortlessly elevate your culinary creations."
Frozen Berries
For Cassidy, frozen food really is the way to go as next up on her list is the Kirkland Signature Frozen Berries. Not only are they surprisingly fresh, but they're also flavorful and reasonably priced. This makes them a great addition to fruity desserts, smoothies, and even yogurt parfaits.
Cookware and Utensils
While this one might not be a monthly buy, Costco is a prime place to shop for kitchen supplies. This includes an assortment of cookware and utensils used in preparing, cooking, and plating up dishes.
"Beyond ingredients, Costco frequently stocks quality kitchen tools and cookware at competitive prices, making it an invaluable resource for professional chefs," said Snowden. "From durable pots and pans to specialized gadgets, these items can significantly enhance your culinary capabilities, creating an efficient and well-equipped chef's kitchen."
Make Your Money Work for You
Tips from Chefs for Shopping at Costco
For Snowden, Costco is a great place to buy high-quality ingredients at a reasonable price.
"Their variety of cheeses, fresh herbs, and proteins like beef and salmon provide me with a wide selection to choose from, making it convenient for crafting diverse dishes," Snowden said. "Their organic products, like quinoa and eggs, align with my commitment to using wholesome ingredients in my cooking."
If you're interested in shopping at Costco for your culinary delights as well, Snowden had a few suggestions:
Be cautious about specialty items. "While Costco tempts with an array of exotic and specialty ingredients, it's wise to exercise restraint unless you have specific plans for them. Specialty items can quickly inflate your bill, so consider your needs and culinary goals."
Pay attention to expiration dates. Shopping in bulk won't result in savings if you let your ingredients go to waste. "Pay close attention to the shelf life of fresh items like herbs and dairy. Use them efficiently in your recipes, and if necessary, freeze herbs to avoid wastage and extend usability."
Check out the bakery. "Explore Costco's in-house bakeries for freshly baked bread and pastries that come at a fraction of the cost compared to specialty bakeries. These delectable items can be incorporated into a range of dishes, adding both flavor and value."
Shop during off-peak hours. Like many other places, Costco tends to get busy at certain times and days. Avoid shopping on weekends or right after work as these are times when the aisles will be clearer and the lines will be shorter.
More From GOBankingRates