Inexpensive Potluck Meals That Don't Seem Cheap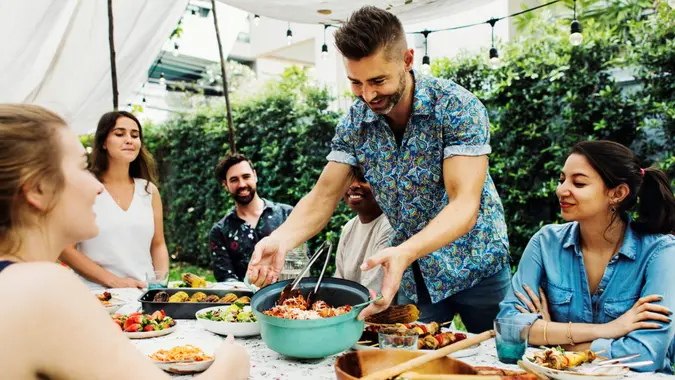 Rawpixel / Getty Images/iStockphoto
Who isn't a fan of potlucks? Whether you're hosting a lunch or dinner potluck, you can always count on every guest bringing a delicious dish for everyone to share together.
If you need inspiration for an affordable potluck meal everyone will want to dig into, check out these options.
Macaroni Salad
Beth Moncel, founder of recipe blog Budget Bytes, writes that macaroni salad is a good potluck dish for gatherings and for lunch.
Macaroni salad, according to Budget Bytes, costs an estimated $4.89 for the recipe, which can be prepped and cooked in 25 minutes. Those making this potluck dish also can make it ahead of the potluck date and store it in the refrigerator for about four to five days, per Moncel's recommendation. 
Potato Salad
Rather than run out and purchase a container of potato salad from the local deli, consider whipping up this dish from scratch. Potato salad is a perfect pairing for main courses such as burgers, salmon or meatloaf.
Make Your Money Work for You
Budget Bytes estimates a classic Southern style potato salad costs $5.56 for the recipe. Prep and cook times combined take 35 minutes. Potluck attendees looking to mix up their potato salad side dishes or make them more festive may make Moncel's recipe for a warm German potato salad with bacon instead. This recipe costs $3.86.
Broccoli Cheddar Casserole
Casserole dishes are comfort food staples at most potlucks. If you don't know where to start in making a casserole dish or want one that will please most guests, try making a broccoli cheddar casserole.
Budget Bytes' recipe costs $6.56 and takes 50 minutes to prep and cook. Best of all, most of the ingredients are items found in most pantries and freezers, including cooked rice, frozen broccoli florets, shredded cheddar cheese, onion, flour milk, salt and a few additional ingredients.
Classic Three Bean Salad
At an estimated $2.79 for the recipe, the classic three bean salad from Budget Bytes incorporates more than enough protein. 
The three beans used in the recipe are kidney beans, cannellini beans and green beans, although Moncel writes in the recipe that you can use chickpeas or black-eyed peas if you prefer. You can keep the salad in the refrigerator for up to four days.
Make Your Money Work for You
Spicy Chorizo Cheese Dip
What's a potluck without chips and dip for pre-meal snacking purposes? Budget Bytes' spicy chorizo cheese dip costs an estimated $6.39 for the recipe. 
While no processed cheese is used to make this dip, you do want to keep this specific kind of dip nice and warm. Depending on the amount you make, Moncel writes that you can keep it warm in a slow cooker or a rice cooker. This dip also reheats well in the microwave; put it on high for 30 seconds, then stir and microwave again for another 15 seconds.
Then make sure someone brings the chips.
Super Fudgy Homemade Brownies
Finally, every potluck requires a dessert. If you're lucky, you are attending a potluck where there are too many desserts to choose from. Make sure one of these is the fan favorite: Brownies.
Costing an estimated $3.93 for the recipe, according to Budget Bytes, these homemade brownies take roughly 55 minutes to prep and bake. Moncel writes in the recipe that you'll need to use two forms of chocolate, including unsweetened cocoa powder and chocolate chips, for these brownies.
Make Your Money Work for You
As for making the brownies super fudgy, Moncel writes that the secret is in the type of fat you use and how you use it. Try adding a little cooking oil in addition to butter for extra flavor, softness and moistness.
More From GOBankingRates