Luxury Thanksgiving Dinner: Here's How the Rich Eat During the Holiday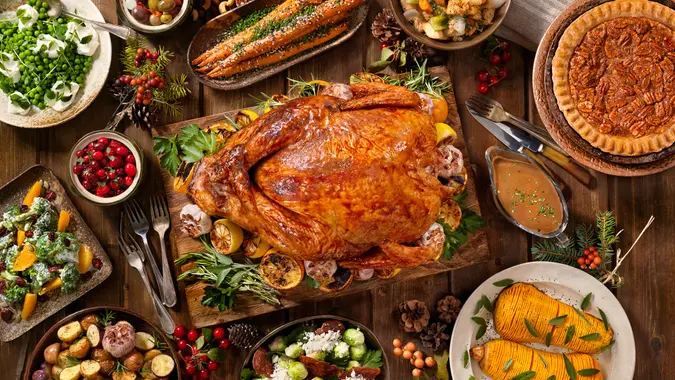 LauriPatterson / Getty Images
Most Americans go a little overboard on Thanksgiving, but it's still nothing compared to some of the nation's wealthiest.
A 2018 Business Insider survey found that the top 20% of earners — a household that makes $127,000 per year or more — are more likely to enjoy prepared cranberry sauce, in-bird stuffing and butternut squash. The wealthy eat most of the same things, but some are willing to spend thousands of dollars to dine in luxury. 
The Old Homestead Steakhouse in New York City's meat packing district is serving Thanksgiving for $85 per person this year, but several years ago, the restaurant served a $181,000 Thanksgiving meal — the most expensive in the world and over 2,800 times more than what the average family spends, CNBC Make It reported.
This dinner sat 12 people and included two 20 lb. free-range turkeys for $5,800, covered in $2,000 edible gold flakes. The turkeys were also seasoned with imported saffron and other spices for $4,000, and the gravy was infused with a $3,650 bottle of Louis XIII cognac. With the turkey, there was seafood bread stuffing with $600-per-ounce saffron, $50-per-pound Alaskan King crab, $20-per-pound Maine lobsters, $12-per-pound Otoro tuna and $1,800-per-ounce golden caviar from the Caspian Sea.
For the sides, there were candied sweet potatoes using bacon from pigs raised in Spain for $1,200 per pound, butternut squash made with spices from India, carmelized onions from Egypt and chunks of $480-per-pound Japanese Wagyu. 
Other sides included cranberry sauce made from queen strawberries and dekopon oranges from Japan, white asparagus with a vinaigrette infused with a 23-year-old reserve Pappy Van Winkle bourbon for $3,800 per bottle and mixed berries with an orange sabayon sauce infused with an $1,800 bottle of Grand Marnier. Dessert included pumpkin, apple, coconut custard and pecan pies.
Make Your Money Work for You
But if you're an average American, you'll pay much (much) less.
Last year, the average cost of a Thanksgiving dinner for 10 was $64.05, according to the Farm Bureau. While this year's estimates aren't available yet, the Consumer Price Index shows that food-at-home prices are up 2.4%, USA Today reported, and up 17% in the past two years.
More From GOBankingRates