How to Get a Free Brownie on National Brownie Day 2017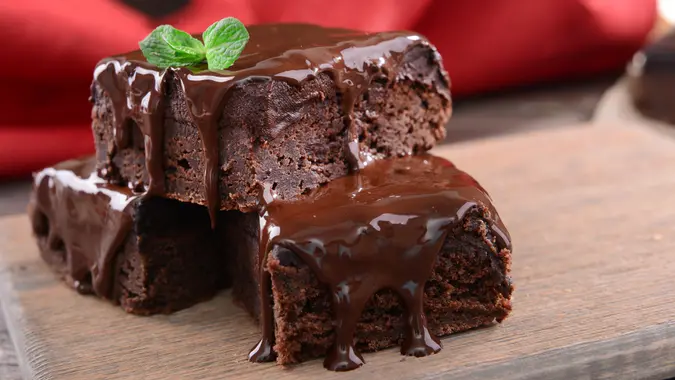 ©Shutterstock.com
According to the National Restaurant Association, brownies are considered a "bar cookie," not a cake. Whatever they are, they're delicious, they're warm, they're chewy — and on Dec. 8, they're cheap or even free.
It's National Brownie Day, and whether you have a weakness for blonde brownies or salted caramel brownies, there are plenty of ways to indulge at a discount. Some online retailers offer coupons, in other cases, your local pizza place might give away a brownie with an order. Either way, Dec. 8 is a reason for brownie lovers everywhere to rejoice.
From Papa John's to BPI Sports, Here's How to Save
Dec. 8 is National Brownie Day 2017, and whether you're making homemade brownies or getting your fix on the road, you've got options for saving a buck. These websites, stores, retailers and restaurants want to help subsidize your brownie addiction
Augason Farms: Thinking of making brownies at home? You don't need a coupon code to save $3 on chocolate fudge brownie mix.
BPI Sports: Think brownies and sports don't mix? Think again. When you spend $99 at BPI, you'll get a free 12 Serving bottle of BPI's Chocolate Brownie flavored Best Protein Shake — and you don't need a coupon code to save.
Brownie Brittle: Sign up for the email list and you'll get 15 percent off your first order. You can also use coupon code Kroll Call to save 30 percent. It is unclear if both offers can be used together.
Cheryl's Cookies: A gluten-free cookie and brownie box is discounted by $10 for a price of $29.99 instead of $39.99.
Dairy Queen: Join the Blizzard Fan Club and get a buy-one-get-one-free Blizzard. FYI: You might want to consider the Royal Ultimate Choco Brownie Blizzard Treat. Just saying.
Deer Dancing Baking Company: A Holiday Brownie Bars Tin is on sale for $21.42, down from the original price of $32.95. Plus, if it's your first order with Dancing Deer, you receive a 20 percent off coupon code.
Dunkin' Donuts: Get 10 percent off your order when you sign up for emails. If Dunkin' doesn't offer brownies, chances are good you can get something close that's equally as sweet.
Emergency Essentials: When the zombie apocalypse sets in, there will be two kinds of people: those who stockpiled brownie mix and those who did not. You don't need a coupon code to take 36 percent off a large can of Emergency Essentials brownie mix.
Ghirardelli: Coupon code 10OFF4ME gets you 10 percent off your entire order.
Great American Cookies: No coupon code is needed to take 15 percent off all online orders.
Hungry Howie's: Get a large, one-topping pizza and a Howie Brownie for $12 when you use coupon code 6205.
Insomnia Cookies: Use coupon code Holiday09 to get three cookies and three brownies when you buy a dozen cookies.
Jenny Craig: Do you love brownies but you want to lose weight? Now, you don't have to make a choice. When you buy a Taste of Success three-day sample kit, you'll get a free walnut brownie chocolate.
Lenny and Larry's: Use coupon code CKSD17 to take 20 percent off select cookie flavors, including the Muscle Brownie.
Marco's Pizza: Coupon code EC7535 buys you a large, one-topping pizza and any brownie for $17.99.
Papa John's: Use coupon code 6DSSRT to get a double chocolate chip brownie or a cinnamon pull apart for $6.
Pizza Hut: Get an Ultimate Hershey's chocolate chip cookie or a Hershey's triple chocolate brownie for just $5 when you use enter coupon code 2231 at checkout.
Prepared Pantries: Uncle Bob's Ultra-Moist Brownie Mix is on sale for $3.49, down from $5.99.
Silver Mine Subs: When you use coupon code FREECB, you'll get a free brownie or cookie with every sub you order.
Sweet Street Desserts: Several packages and boxes are marked down, including Chewy Marshmallow Bars, Toffee Crunch Manifesto and Toffee Crunch Blondie & Peruvian Brownie Variety, all of which are $2 off.
Think Thin: Not only will you save $24 on a brownie crunch protein bar 60-pack, but you'll also get free shipping. Who says brownies can't be healthy?
Vermont Brownie Company: No coupon code is needed to get $2 off a dozen maple toffee crunch brownies.
Brownies are indulgent and delicious, but there's no reason why you should pay full price when you dig in. This year, dive into a brownie for less on National Brownie Day.
Up Next: The Best Budget-Friendly Ice Cream Spot in 40 Cities