Get a Free Croissant With National Croissant Day Deals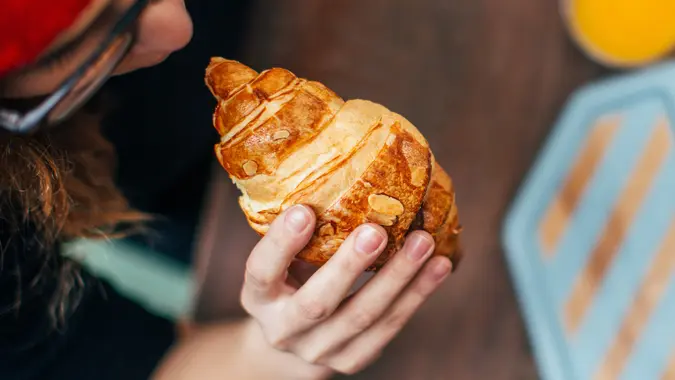 Astarot / Getty Images/iStockphoto
The only thing better than enjoying a buttery, flaky croissant is getting this doughy delight without paying full price. Enjoy the French pastry for free on National Croissant Day, which falls on Jan. 30, 2018.
Find out where to score a deal on a croissant.
Deals for National Croissant Day 2018 from Perkins, Pillsbury and More
Although Starbucks isn't offering a free croissant for the holiday this year, there's plenty of savings opportunities at other restaurants and retailers. Here are the best deals for National Croissant Day:
Babeth's Feast: Take 25 percent off your next order when you sign up for Babeth's Feast emails. Use this to save money on your order of ready-to-bake croissants.
Burger King: For a limited time, get two Croissanwich sandwiches for $4 when you order select varieties at participating restaurants.
Gourmet Food Store: Get a 10 percent off coupon when you join the Gourmet Club, and use it to cut costs on a French croissant.
Harry & David: Use promo code SHARE20 to save 20 percent off your order of $75 or more through Jan. 31. Choose from a selection of croissant options, including a chocolate croissant or an almond croissant.
Mackenzie Limited: Refer a friend to Mackenzie Limited, and you'll both get a $25 coupon after they place their first order, saving you money on your order of plain croissants.
Pillsbury: Use this printable coupon to save $1 when you buy any three Pillsbury refrigerated baked goods products, including Pillsbury Crescents.
Starbucks: Starbucks launched a new Everything Croissant — a classic croissant with Gruyere, Fontina and Asiago cheeses, balanced with onion, sesame and poppy seeds. This new item arrives just in time for National Croissant Day, but you'll have to pay full price to taste this new item.
Sur la Table: Get free shipping on any order of $59 or more through December 2023 with code SHIPFREE. This gives you the perfect excuse to order both Gaston's Bakery Chocolate-Hazelnut Filled Croissants and the brand's jam-filled croissants.
Williams-Sonoma: Get free shipping on your order of $49 or more with code SHIP4FREE through Jan. 31, 2018. The store has a huge croissant selection, so stock up and get them shipped to your door free of charge.
Wolferman's: Take 15 percent off select items through June 30 with code IR15. The retailer offers a variety of decadent croissant day options, including Gruyere cheese croissants and spinach and cheese croissants.
Yummy Bazaar: Take 10 percent off your order when you sign up for the newsletter. The store has a hearty croissant selection, so the savings can add up fast.
Whether you celebrate with a stuffed croissant, an almond croissant or another member of the breakfast pastry family, be sure to use the deals above to curb your costs. The more money you save, the more croissants you can buy.
Up Next: What These Fast Food Favorites Will Cost You Around the World