6 Pantry Staples You Can Make at Home for Pennies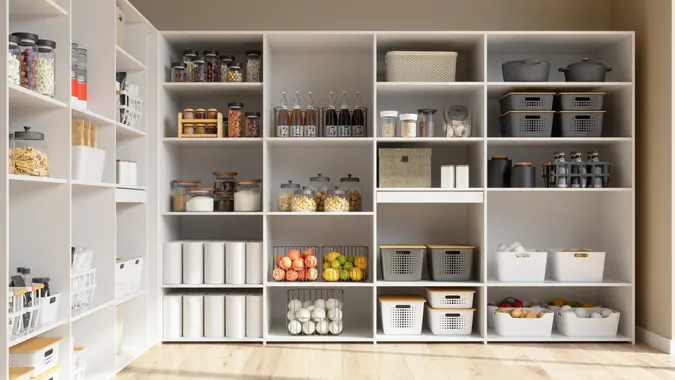 onurdongel / iStock.com
No one wants to spend extra on boring pantry essentials when they can save a few cents by making them at home. Classics like pancake mix and brown sugar are items you always want to have on hand, but have you considered making them yourself? It's easier than you think, and it can help you restock your non-perishables while saving money.
Here are six pantry staples that you can make at home to be resourceful while staying financially savvy. 
Pancake Mix
Why buy pancake mixes when you can have this pantry staple readily available in your kitchen at a much more affordable price?
"Although premade pancake mixes may be convenient, there is a much more affordable way to have this pantry staple available in your kitchen," said Jake Hill, CEO of DebtHammer.
"To make it, simply combine 4 cups of flour with 3 tablespoons of baking powder, 2 tablespoons of baking soda, 1 teaspoon of salt and 3 tablespoons of sugar. If you buy your baking ingredients in bulk, you'll get the most savings per pancake and be able to make larger batches of the mixture at a time."
On average, making pancakes or waffles from scratch can save you around $0.50 to $1.00 per serving, depending on the brand and quantities you typically purchase.
Make Your Money Work for You
Salad Dressing
You might be shocked to find how prices of favorite pantry staples, like salad dressing, have increased. Girard's Champagne Vinaigrette, for example, is a whopping $3.92 at Walmart. With everyday prices higher than ever, it's important to cut back on costs where you can, and salad dressing is a great place to start.
"Instead of buying expensive bottled dressings, create your own using olive oil, vinegar, mustard, honey and various herbs and spices," said Leo Lim, head of operations at Kickback, a price comparison and cash-back website. "By making your dressings in bulk, the costs can be as low as $0.10 per serving compared to $0.50 or more for store-bought options."
Brown Sugar
Who would have thought that making brown sugar at home could be so simple? You might not have guessed it, but this pantry staple is actually one of the easiest things to whip up in your own kitchen.
"To make brown sugar at home, you can easily combine one cup of granulated white sugar with two tablespoons of molasses," Lim said.
"Thoroughly mix them together until the molasses [is] evenly distributed throughout the sugar. This homemade alternative not only saves you money but also allows you to control the intensity of the molasses flavor. The estimated cost difference is approximately $0.30 per cup when compared to store-bought brown sugar."
Granola
Granola preferences vary, so why not tailor it to your exact taste while cutting back on your grocery bill? Making your own granola at home is simple and allows you to control the ingredients to your preferences.
"Making your own granola at home is not only simple but also allows you to control the ingredients and tailor it to your taste preferences," Lim said. "Combining oats, nuts, seeds, honey and dried fruits can result in a nutritious and affordable alternative to store-bought granola. On average, making your own granola can save you around $2 to $3 per pound compared to purchasing pre-packaged options."
Make Your Money Work for You
Breadcrumbs
Homemade seasoned breadcrumbs are not only incredibly cheap to make, but they also add more flavor to your dishes. Instead of buying an 8-ounce container of Italian-style panko bread crumbs for $1.77 from Walmart, you can easily make breadcrumbs at home.
Simply start off by toasting a couple of pieces of whatever bread you have on hand, then blitz them in a blender or a food processor and there you have it: breadcrumbs. To season, simply add some of your favorite dried spices — parsley, garlic, kosher salt, basil, oregano, onion and black pepper are some good go-tos.
Tomato Sauce
While canned tomato sauce is relatively inexpensive, making it at home allows you to customize the flavor.
"Canned tomato sauce can be easily replicated by simmering canned crushed or whole tomatoes with onions, garlic, herbs and spices," Lim said. "Not only can you save money, but you can also customize the flavor and reduce the sodium content. The estimated cost difference is approximately $0.30 per cup when compared to store-bought tomato sauce."
More From GOBankingRates