Reddit Users' 8 Favorite Budget Meals To Save You Money on Food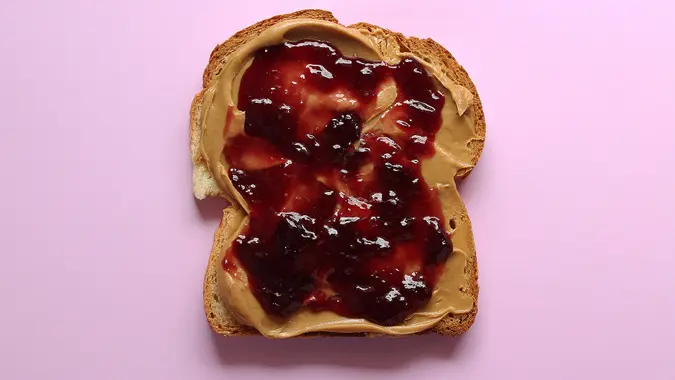 Michelle Patrick / Shutterstock.com
We often visualize ramen noodles when we think about eating without much money on hand. However, eating on a budget doesn't have to mean sacrificing nutritional value or deliciousness. There are plenty of dishes you can make for breakfast, lunch and dinner that are wallet friendly and stomach approved.
Recently, Reddit users created a thread where they shared their favorite meals to eat when they're broke. Here are the eight most upvoted budget meals to help you save money on food.
Baked Potato With Endless Toppings
Need an inexpensive and satisfying meal? Several Reddit users recommended baked potatoes. User Antique-Carrot-2831 wrote that you can buy a five-pound bag of potatoes at the store and enjoy baked potatoes with endless topping combinations for a week.
If you need a quick recipe for cooking inspiration, Reddit user luckygiraffe recommends baking a potato, opening it up and pouring a can of hot soup or chili over it.
Peanut Butter and Jelly Sandwich With Banana
Add extra potassium to your PB&J. Reddit user Ok_Produce_9308 received upvotes after recommending peanut butter and jelly sandwiches with bananas. Another user, Triviajunkie95, added if you don't have bananas, you could add a few stripes of honey instead.
Fried Rice
"Eggs, leftover rice, leftover veggies. It's a meal," wrote Sunshine95454. 
Pasta, Ground Beef, Frozen Peas and Feta Cheese
This kid-friendly recipe comes courtesy of Sunshine95454. Cook pasta, ground beef sautéed with onion and garlic, frozen peas and salt and pepper. Add in feta cheese if you have it — or no cheese is good, too.
Make Your Money Work for You
Macaroni and Crushed Tomatoes
Macaroni was mentioned several times throughout this budget meals thread. Reddit user MintyMynxx recommended cooking macaroni and crushed tomatoes with salt and pepper when money is tight. 
User elegant_geek added that you can add a can of black beans, taco seasoning and ground turkey if you have it to make chili mac.
Pancakes
Need a delicious breakfast for everyone in the household that doesn't cost much? Sunshine95454 recommended whipping up a batch of pancakes with cinnamon sugar butter syrup. 
Eggs
For Reddit user dietmatters, eggs are the perfect budget food with complete nutritional value.
Add spices, onion, garlic or queso to eggs to jazz them up. You can also take a page from user idrinkalotofcoffee's book and use them to make egg salad sandwiches. 
Pasta Salad
Reddit user Internal_Use8954 provided a recipe for a budget-friendly pasta salad. Cook pasta noodles like rotini or bowties. Add in a can of green beans, a can of chickpeas, a can of artichoke hearts and a can of olives. If cherry tomatoes are on sale or cheap, add these in too. Chop up a block of cheese and include frozen (thawed) peas and top with store brand Italian dressing. 
"It's easy to make and it keeps in the fridge for up to a week," wrote Internal_Use8954.
More From GOBankingRates
Make Your Money Work for You