9 Breakfast Groceries To Buy When You're Broke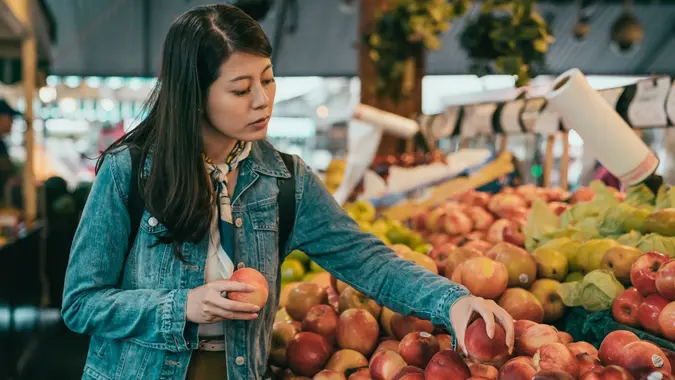 PRImageFactory / iStock.com
Looking for affordable breakfast items when you're in the grocery store? They can be quite hard to find, especially in times of inflation.
Luckily, you don't have to resort to stocking up on off-brand cereal to stay on your breakfast budget. Here are some reasonably priced items you can pick up at the grocery store to get you going in the mornings. 
Peanut Butter
Price: $2 a jar at Target
Peanut butter is great for its versatility. You can enjoy it by itself or spread it on your morning toast. Sebastian Jania, owner of Ontario Property Buyers, said peanut butter is an especially good pick because of its nutritional value as well as its low price.
"When someone is broke and is considering what they should eat to minimize grocery costs, a large emphasis should be placed on calorie density," Jania said. "These are most often high fat foods like oils such as canola oil, peanut butter, seeds and various nuts."
Yogurt
Price: $3.99+ at Target
Wake up to creamy goodness with a nice bowl of yogurt. At Target, you can pick up a 32-ounce container of Greek yogurt for $3.99, which offers 15 grams of protein per serving. Yogurt comes in a variety of flavors so if you get bored with one, you can easily switch it out with another. Plus, you can add fruit and nuts to it to make it even tastier. 
Make Your Money Work for You
Fresh Fruit
Price: 25 cents and up at Target
Fruit is a classic breakfast staple that gives you a touch of sweet without being too much. Add it to yogurt or eat it by itself to satisfy your morning cravings. Bananas run about 25 cents each at Target, while strawberries are $2.29 a pound. The fact that fruit does have an expiration date also encourages you to eat them before they go bad, so you'll be sure to eat them all and reap the nutritional benefits. 
Frozen Fruit
Price: $2.49+ for 12-ounce bags at Target
Want to keep fruit on hand for a little longer than fresh fruit will allow? Frozen fruit gives you that ability, plus it goes great in smoothies. Target's Good & Gather brand offers 12-ounce packages of an antioxidant fruit blend, strawberry banana blend, summer fruit blend and dragon fruit chunks. The bags are reclosable, so you can use them for multiple mornings. 
Oatmeal
Cost: $2.99 for 8 packets at Target
Oatmeal offers whole grains and fiber, in addition to being tasty. At Target, you can choose between apple cinnamon, maple brown sugar, strawberry banana or plain from Target's Good & Gather brand that gives you eight servings per box. 
Breakfast Bars
Price: $2.19 for 8 at Target
There are enough bars to have one each day of the week plus an extra for less than $3! Each one has real fruit filling and eight grams of whole grains per serving. Reviews say they taste delicious. 
Granola Bars
Price: $3.99 for 18 at Ralphs
You could be set for over two weeks with this package of granola bars. Each bar has protein, potassium and fiber. Buying Ralphs' store brand option is definitely a steal, as the Quaker brand offers only eight bars for $3.49.
Make Your Money Work for You
Pre-Made Breakfast Bowls
Price: $3.49 each at Target
Want to enjoy a hearty breakfast bowl, but don't want to spend $10 on one at a restaurant? Jimmy Dean makes a great alternative. These Jimmy Dean Delights come in a couple different varieties and offer 19 grams of protein in each bowl. All you have to do is heat them up, which makes them great for those mornings when you're in a rush. You don't have to worry about buying multiple ingredients, as they're all included right in the bowl. 
Frozen Breakfast Burritos
Price: $2.99 each at Target
Here's another item that'll run you $8 or more at a restaurant, but when you buy it at the grocery store it's a bargain. These breakfast burritos from Red's are less than $3 each and contain 18 grams of protein. There's a variety of delicious options to pick from like chicken chorizo or turkey sausage and egg.
More From GOBankingRates