5 Clear Signs You're Spending Too Much on Groceries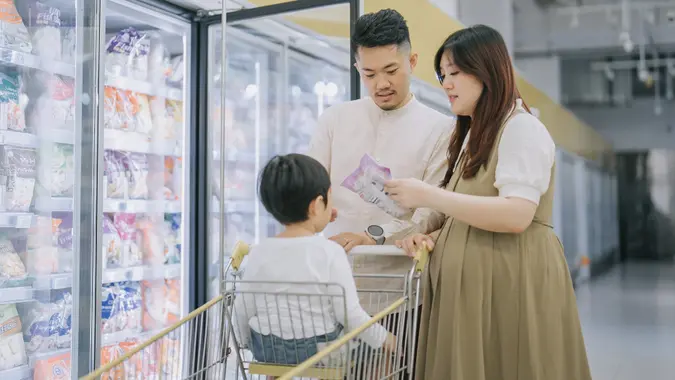 Edwin Tan / iStock.com
According to the Bureau of Labor Statistics, Americans spend an average of $5,259 a year on food at home. This breaks down to roughly $438 a month.
Some people tend to spend more money on groceries than necessary, though. This includes higher-income earners, as well as individuals who are more prone to impulse buys.
If you feel like you spend more on groceries than you should, you might be right. Here are some key signs you're spending too much money at the grocery store on a regular basis.
You Have Several of the Same Type of Food
"Here's one dead giveaway that you're spending too much on groceries: You find several of the same rarely-used items in your fridge or pantry," said Scott Lieberman, founder of TouchdownMoney.com. "You know how it goes — you clean out your fridge and find one jar of salsa in the front, another wedged into the shelf on the door, and two more shoved all the way to the back."
Check your refrigerator, freezer, pantry, cupboards and drawers to see if you have multiples of the same thing, If you do, and especially if some of these items are unopened or barely used, you may want to organize your kitchen in a way that helps you cut back on spending.
"Give things their own special place, and try not to store anything out of sight," said Lieberman. "That way, you'll always know what you have — and you won't buy things twice."
You Regularly Throw Out Food
It's a good idea to toss out old, unused or expired food every now and then. But if you find yourself frequently throwing away groceries, it could be a sign that you're overspending.
Make Your Money Work for You
"One of the signs that someone is spending more on groceries than they need to is that they are always throwing out food," said Sebastian Jania, owner of Ontario Property Buyers. Also, if you often forget things you've bought and they go bad, it could be a sign that you're prone to buying things you don't really need.
If you live with other people, it's even easier to buy excess items when shopping. Not only does this lead to more wasted food, but it also cuts into your finances.
"It's important to coordinate your shopping with housemates," said Lieberman. "My friend often walks into his apartment with a bag full of groceries, only to find his wife bought the same things a half hour before. They freeze what they can, but a lot of extra food goes to waste."
One way to combat this is to sit down with your housemates and discuss what each person will buy for the week or month. Even if you don't eat together, this can still help prevent duplicate items that go to waste. And if you do eat together, or if you share finances, consider taking turns with the grocery shopping to cut back on unnecessary spending.
Your Grocery Bill Is Often Too High
Another sign that you're overspending on groceries is pretty obvious — your grocery bill is higher than you expected or were prepared for. Along with this, if you have a monthly grocery budget and hit it too soon, you're overspending.
"It's super frustrating when the grocery bills just keep piling up," said James Allen, CPA, CFP, CFEI, founder of Billpin.com. "A couple red flags for me are hitting my budget way too early in the month, having a stuffed pantry that I can barely close, and tossing out food that went bad before I could eat it. Total bummer to throw money straight in the trash like that! If those kinds of things are happening regularly, it's probably a sign I need to re-evaluate my grocery shopping habits."
Make Your Money Work for You
One way to cut back on grocery expenses is to make a meal plan. If you've never had a meal plan before, start with a plan that lasts for a week. Then, go to the grocery store with a list of what you need and stick to it. Try to avoid any additional grocery runs during the week to avoid extra purchases. Repeat the process each week for a month. Your budget will thank you.
You're Not Looking for Deals
Grocery stores often have daily or weekly deals or discounts on select items. Depending on where you shop, you may also be able to find coupons to further cut costs. This could save you money, but only if you take advantage and buy what's currently on sale.
"One additional way that can save [you money] on groceries on top of the grocery list is to find coupons to save on those items," said Jania. "It's important to note that many people use coupons in order to justify buying things, but the approach here is to only use coupons for the items that are on the grocery list."
Many stores have an app that lists its current deals. When making your meal plan, check out what's currently on sale and plan around that to save even more money.
You're Not Buying Generic
Everyone has their preferred brands when it comes to food, and that's OK. But if you're only buying name-brand items, you could be missing out on some great deals and overspending at the store.
Most major grocery stores have a generic or store brand line of foods. For example, Walmart has Great Value, while Target has Good & Gather and Favorite Day. Oftentimes, just buying the store brand could save you money, so keep an eye out for these cheaper alternatives.
Remember though, just because it's a generic brand does not automatically mean it's cheaper. Allen suggested keeping an eye on prices while shopping and comparing them. "I'll jot down the price per ounce or pound and compare brands to find the best deals. Doing little things like that has made a nice dent in my grocery bill."
More From GOBankingRates