As Pandemic SNAP Benefits End, Gov. Phil Murphy and 3 Other State Officials Are Boosting Monthly Allotments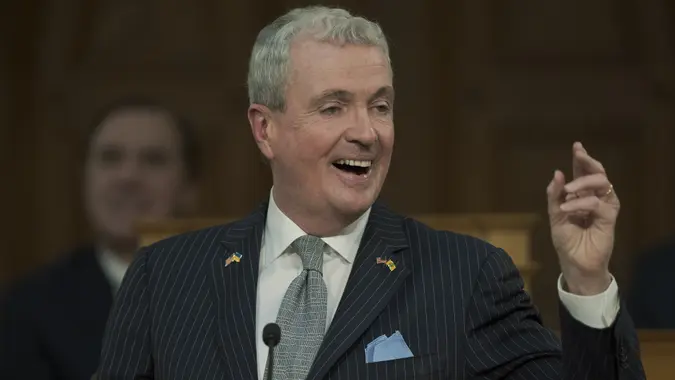 Matt Rourke / AP / iStock.com
The temporary boost of emergency allotments to Supplemental  Nutrition Assistance Program (SNAP) benefits put in place during the COVID-19 pandemic ended nationwide after the February 2023 issuance. In turn, as of March 2023, all SNAP households' benefits returned to normal amounts, without the added supplement.
Now, several states are taking measures to try to boost these monthly allotments. Those states include:
New Jersey
In February, Governor Phil Murphy signed a bill to ensure every SNAP household in New Jersey will receive at least $95 in monthly benefits starting March 1, according to a statement.
"As the federal government's temporary boost to SNAP benefits comes to an end, we cannot ignore the significant impact this will have on households and communities throughout our state," Gov. Murphy said in the statement. "No one should ever have to wonder where their next meal will come from. By implementing a minimum monthly SNAP benefit of $95 for all beneficiaries, New Jersey is leading the nation in ensuring families have the support they need to keep putting food on the table. While we may be the first state to do this, it is my hope we will not be the last to put these critical protections into effect."
West Virginia
According to The Hill, state lawmakers have introduced a series of SNAP-related bills, including one which would require the state to increase monthly SNAP benefits to be "at least equal to the federal emergency allotments" for pregnant people and families with children.
California
California State Sen. Caroline Menjivar introduced a bill that would boost the minimum monthly payment to $50 for those in the state's SNAP program, known as CalFresh, by January 2025.
Massachusetts
In January, Governor Maura Healey released the state's Supplemental Budget, which includes $130 million to create an "offramp" from the federal extra benefits and "to bridge the abrupt end of this program for more than 630,000 Massachusetts families," according to a statement. The state proposes providing a supplemental SNAP allotment to recipients equal to 40% of the previous federal benefit for three months.
Make Your Money Work for You
"The extra COVID SNAP benefits have provided critical support for individuals and families to buy food, and have also indirectly supported our local grocery stores and farmers," acting health and human services Secretary Mary A. Beckman said in the statement. "The Healey-Driscoll Administration is aiming to be a leader among states in providing households with an offramp to the abrupt end of these extra benefits and will continue to be a food security leader through systemic initiatives like this."
The funding would provide families with a portion of what they have been receiving for three months. For example, a family of three losing $151 per month would receive about $60 a month for 3 months in addition to their regular SNAP benefits., according to the Massachusetts Law Reform Institute.
More From GOBankingRates