Social Security Money Tight? 10 Ways AARP Recommends Saving on Food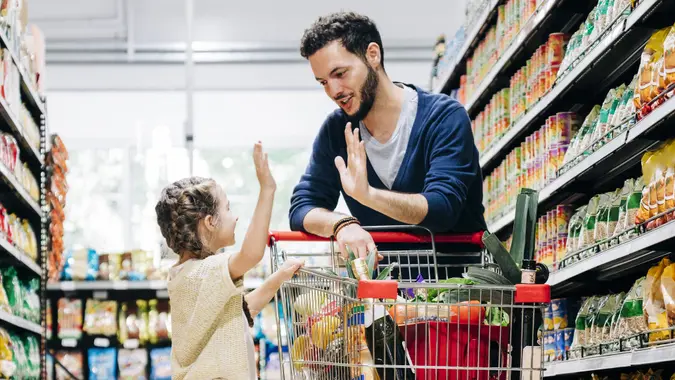 Portra / iStock.com
The new year isn't bringing much relief in grocery prices, with the cost of food still sky-high, making it difficult for retirees living on a fixed income to afford food. The Food and Agriculture Organization's (FAO) food price index averaged 143.7 points in 2022, up 14.3% from 2021, and the highest since records began in 1990, the agency said on Friday, Reuters reported.
Discover: 10 Things To Stop Buying in 2023
Learn: Get Your Credit Score on Track With These 3 Tips for Success
The pressure is on retirees to find ways to save on the cost of food, and AARP has come up with 10 ways for them to do just that. Here's what AARP recommends. 
Plan Ahead, Preferably on Friday 
Plan out next week's meals on Friday. This is an ideal day for planning because many stores post their week's discounts and deals on Friday or on Thursday.
Buy Generic 
Most major grocery chains have their own tried and true store brands and they can run as much as 25% less than the name-brand version. 
Make Your Money Work for You
Use Flipp
Flipp is a free phone app that consolidates retail circulars and enables you to generate a shopping list. You can use Flipp to compare your shopping list to circulars from your local supermarkets to determine which store's digital coupons will reap the most savings. 
Order Online 
Shopping in-store may seem like the cheaper option, but shopping online can actually save you money when you factor in coupon sites such as CouponFollow.com to find deals. You can also get money off first-time deliveries at most major grocery chains and at Instacart. 
Use Cash-Back and Points-Earning Apps
When shopping online, remember to plug in apps like FetchRewards, Coupons.com or Ibotta so that your grocery purchases earn points toward gift cards for various shopping options such as Amazon, Target and Walmart. 
Use the Best Credit Card for Grocery Shopping  
Be sure to shop with a credit card that gives you cashback or other rewards on your grocery purchases. 
Buy Ground Chicken Instead of Ground Beef 
In the meat category, the cost of ground beef rose more than the cost of ground chicken, so if you're making a dish that calls for ground beef but ground chicken can get the job done, opt for that.  
Make Your Money Work for You
Have a 'Pantry Cooking' Night
Americans throw away 30 to 40% of their food supply. To prevent waste (which is good for both one's budget and the planet), aim to cook at least one meal a week based entirely on foods taking up space in your refrigerator and/or pantry.
See: 11 Grocery Items To Buy at Dollar Tree
Take Our Poll: How Long Do You Think It Will Take You To Pay Off Your Credit Card Debt?
Make an 'Eat Me First' Spot in Your Fridge  
Too often we let perishables and time-sensitive leftovers go to waste because we forget about them. To prevent this, designate a shelf or bin in your fridge for foods that need to be eaten fast lest they go bad. 
Use Self-Checkout
If shopping in-store and not buying booze or another controlled substance, opt for the self-checkout. A study conducted by IHL Consulting Group found that people who used self-checkout spent less on impulse purchases.
More From GOBankingRates
Make Your Money Work for You