8 Summer Grocery Deals at Walmart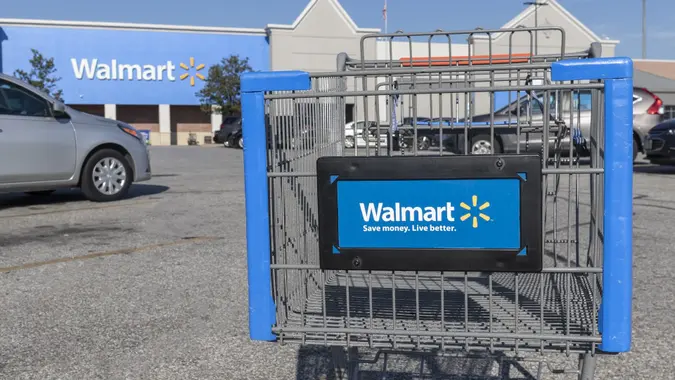 jetcityimage / iStock.com
Summer is on the horizon, heading our way in a bit more than a month. In many places, warm weather has already marched in and made itself at home, and the promise of long days with balmy temperatures beckons to Americans.
See: 10 Walmart Brands With the Best Bargains in May
More: 10 Costco Brand Items With the Best Bargains in May
It's a time for getting together outside, barbecuing with friends and family, eating tasty treats and enjoying yourself as much as you are able. People tend to eat lighter in the summer as well, so snacking and finger foods for the whole family are more imperative. Perhaps no other retailer offers better deals on summer grocery items than Walmart. Here are eight unbeatable deals.
Great Value Family Variety Pack of Chips, 18 Count
Price: $5.48
Summer snacking wouldn't be complete without grab and go chips, easy to send with a kid to summer camp, or have on hand for your family BBQ. At other grocery stores like Safeway, or big-box stores like Target, you'll pay twice as much for the variety pack of name-brand versions of Walmart's own Great Value brand of snack-sized chips.
Make Your Money Work for You
Great Value Freeze Dried Fruit Crisps, Variety Pack, 6 Count, 2.26 oz.
Price: $4.98
If you're looking for a sweet snack that isn't loaded with sugar, Walmart also offers individually packaged dried fruit crisps in a variety of fruits. Great for kids and adults alike, with a satisfying crunch.
Great Value Sugar-Free Iced Tea with Lemon Drink Mix, 6 Count
Price: $1.68
It just wouldn't be summer without iced tea for many folks. That classic flavor can instantly bring soothing refreshment to a hot afternoon. Walmart's Great Value sugar-free iced tea with lemon makes 12 quarts for less than the price of an individual cup almost anywhere you can get one.
POLL: Do You Think the Government Should Increase SNAP Benefits?
Franzia Sunset Blush Pink Wine, 5 Liter
Price: $13.97
For those who like to indulge in an adult beverage over the summer, there may be no wine lighter and more refreshing than a rosé. Walmart offers Franzia's Blush Wine in a 5-liter box, easy for sharing with friends and family for a formal or informal gathering, or just to save space on a number of bottles cluttering up your fridge. [x]
Make Your Money Work for You
Dr. Thunder Soda, 24 Pack Cans
Price: $5.46
A refreshing carbonated soda can really quench a parched summer throat, but name brand pops are often quite pricey. Walmart offers a Dr. Pepper generic soda called Dr. Thunder in an incredible deal: 24 cans for around $6.
Chicken Thighs
Price: $7.27
Ready to break out your grill? If you've got more than a few mouths to feed, you'll appreciate Walmart's deal on chicken thighs. A family pack of Sanderson Farms fresh chicken thighs, between 5 and 6 lbs. of chicken meat, is a remarkable $7.27.
Impossible Burger Patties, 2 Count
Price: $4.97
Whether you're vegetarian or just trying to cut back on how much meat you consume, Impossible Burger has cornered the market on their beef-like meat substitute that is so convincing, some meat lovers can't even tell the difference. You'll find these patties much cheaper at Walmart than any other grocery store. Beyond Meat burger 2-packs are also around the same price.
Make Your Money Work for You
Oreo/Chips Ahoy! Cookie Snack Packs, 30 Count
Price: $10.38
Appetites tend to be lighter in summer, for main courses and desserts. Who doesn't love to have a few tasty cookies to munch on after a meal? Walmart makes that easy — a 30-pack of mini Oreos and mini Chips Ahoy! is less than $11.
More From GOBankingRates
Disclaimer: Prices and availability may vary by location.
Make Your Money Work for You