These 10 Aldi Brand Products Are Worth Every Penny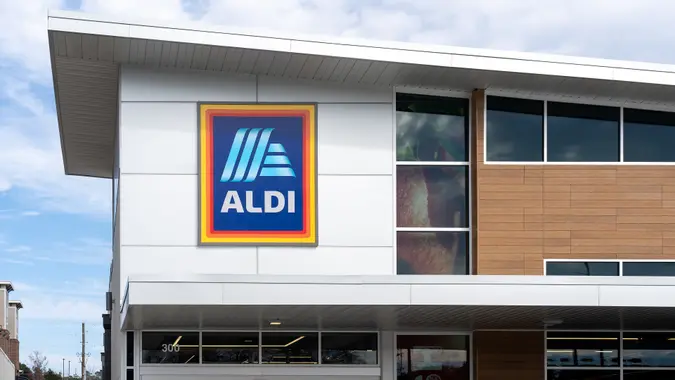 JHVEPhoto / iStock.com
When it comes to everyday home products and groceries, Aldi's motto is simple: "Low prices. Every aisle. Every day." The global discount retailer has a bunch of deals on everything you'd find at other grocery stores but for a lot less in terms of cost.
You might want to add a number of these Aldi brand products to your shopping lists each week, especially when it comes to in-store labels such as Appleton Farms, Breakfast Best, Benton's, Clancy's, Friendly Farms, Lunch Buddies, Millville, Nature's Nectar and Simply Nature.
Here are 10 Aldi brand products worth buying.
Simply Nature
At Aldi, one name provides all organic and non-GMO-verified products for a great price: Simply Nature. From breakfast cereals to apple juice, this brand never uses preservatives nor artificial ingredients in recipes. These products are easy to spot: The green emblem will catch your eye whether shopping in store or online.
Never Any!
When you want to buy some meat, you buy Never Any! — Aldi's line of deli meats and 20 other high-quality cuts and seafood selections. These meats never include hormones, artificial ingredients or antibiotics, and they are backed up by their 2018 Good Housekeeping Seal, a symbol of quality assurance and consumer protection. Nor are these meats ever sold at a high price.
Make Your Money Work for You
Earth Grown
"Vegan. Vegetarian. Delicious." That's Earth Grown's slogan, saluting your flavor pallet and favorite planet at the same time. This plant-based line of products includes meatless meatballs, chickenless patties and vegan desserts so good you won't be able to tell the difference against their meaty counterparts. They are also free of eggs, dairy, honey, gelatin, lanolin and any other animal by-products.
Barissimo Coffee
When you wake up in the morning, you want the coffee in your mug to bring the flavor, the boldness and the affordability. Barissimo has a cup waiting just for you, with coffee products that range from whole beans to pods, a variety of flavors and every roast from light to dark.
Sip knowing that you are doing your part for the environment as well. Barissimo carries the Fair Trade Certified Seal, which farmers award to brands for following specific environmental standards and social practices, like fighting regional deforestation and adapting cultivation practices to reduce their impact on climate change. 
Specially Selected
The award-winning Specially Selected has all of the delicious foods you and your family will love, including gourmet pastas, ice cream, German coffees and a variety of top-shelf meats and cheeses. Specially Selected has the philosophy that shoppers don't need to go out of their way or spend a small fortune to get premium products.
liveGfree
You might love snacks, cookies and other delicious foods — but your body might not like the side effects from one particular element in them: gluten. Luckily, Aldi supplies liveGfree, a brand that offers gluten-free food options — from baked goods to frozen foods — with "all of the flavor, none of the gluten."
Make Your Money Work for You
Fit & Active
It can be hard to maintain good eating habits, especially when plenty of the "diet foods" out there don't come close to tasting nearly as good as the real stuff we all like on our plates. Luckily, Fit & Active has your wallet bulging while keeping your waistline down with products such as pantry essentials and snacks designed for a healthy lifestyle. Not only that, but they back up their nutritional information with complete transparency.
Pueblo Lindo
Authenticity can be found in the flavors of all Pueblo Lindo products at discounted prices. Make Taco Tuesdays as tasty as can be with beans, cheeses, peppers and tortillas that the whole family can enjoy. For dessert, check out Pueblo Lindo's frozen treats. Provecho!
Little Journey
When you have a baby on the way or in your house, there is no skipping on the essentials. Luckily, Little Journey can save you up to 50% on all child-care products sold at Aldi, including diapers, training pants, wipes and wash. Little Journey also ensures your baby won't be using anything made with formaldehyde, parabens, phthalates or triclosan — meaning you and your family can bet on this line at Aldi as a safe buy.
Winking Owl Wine
Described on Aldi's website as "a quirky little wine with amazing character," Winking Owl brings a unique sense of style to each of its wines. The price is nothing to "hoot" at either, with each of the 10 varieties made from a long history of winemaking craftsmanship. Winking Owl earned the Silver Medal & Best Buy in the Beverage Testing Institute World Wine Championships for its Pinot Grigio.
Make Your Money Work for You
More From GOBankingRates