How Do I Maximize My Grocery Rewards? 9 Tips for Super Supermarket Bonuses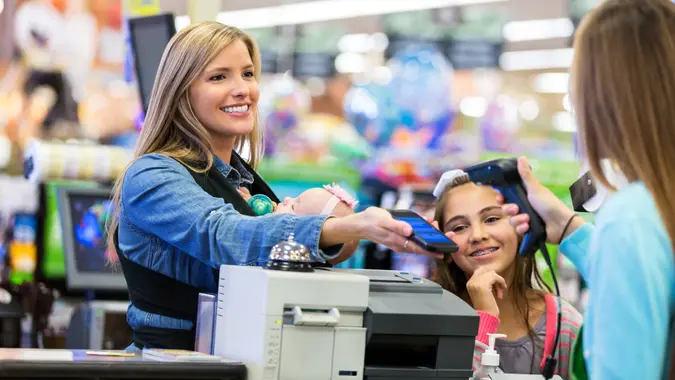 SDI Productions / Getty Images
If you're looking for ways to save money on your grocery bills, maximizing your grocery rewards might be the way to go. By taking advantage of loyalty programs and rewards opportunities offered by grocery stores, you can earn points for every dollar you spend, which can then be redeemed for free groceries, discounts and other goodies.
See: 11 Grocery Items To Buy at Dollar Tree
Read More: 3 Signs You're Serious About Raising Your Credit Score
Most grocery stores offer loyalty programs that allow you to earn points for every dollar you spend, and by maximizing your rewards, you can take advantage of these perks and enjoy huge savings on your grocery bills. You can also earn discounts on gas through partnerships between grocery stores and gas stations, and with many of us returning to offices in 2023, you can make your commute work for you!
And the savings go beyond simply gas and groceries — by spending less and saving more, you can feel more in control of your finances and improve your overall financial well-being. By saving money on your grocery bills, you can have more money for other important expenses or investments, such as saving for a down payment on a home, paying off debt or even planning for retirement. It can really add up.
Make Your Money Work for You
The tips below can help you get started and make the most of your grocery rewards bonuses.
Find the Right Rewards Program for You
"Step one is to review the options and sign up for your grocery store rewards programs that make sense to your household," said Karen Zerbini, founder of Supper Sanity. Check out the grocery stores you're most likely to shop at and then see what programs they're offering.
Zerbini says it makes the most sense to investigate the store's website and review all your options before making a decision — and don't forget to check for hidden fees! "Most rewards programs are free and some have fees, especially if it is a grocery delivery program," Zerbini said.
Take Our Poll: Are You Concerned About the Safety of Your Money in Your Bank Accounts?
Get a New Credit Card
A great way to maximize rewards at the grocery store is to get a credit card that gives you more cash back or points for grocery purchases. "When looking at different card options, pay attention to the details as some stores may not qualify towards these bonus rewards or there could be a spending cap," said budgeting expert Andrea Woroch.  
Make Your Money Work for You
Woroch shares that, for example, the American Express Blue Cash Preferred® Card offers 6% cash back at supermarkets on up to $6,000 in annual grocery spending. "This is one of the highest spending caps for grocery rewards so you can earn a lot of money back if you use it strategically," she said. However, if you shop at Target or Walmart, those purchases don't earn bonuses — so again, it's best to make sure you get rewards for where you actually shop.
Plus, when you use a rewards credit card in conjunction with the grocery store's rewards program, you can actually double up on points.   
And finally, don't forget about the sign-up bonuses. "Many credit cards offer sign-up bonuses when you first open an account. These bonuses can be a great way to earn extra rewards for grocery purchases," said Jen Stark of Happy DIY Home.
Make Your Money Work for You
Before You Shop, Check the Website
Get out your computer or phone before you hit the shops. "It's a good idea to review the website before every shopping trip to take full advantage of the deals," Zerbini said.
Refer Friends and Family Members for Bonus Points
Many grocery reward programs offer a bonus for signing up friends and family members. Send that code to everyone you know and start racking up the points.
Apps Are Your Friends
Not only do many stores have their own apps with built-in bonuses for using them, but there are special rewards apps like Fetch that let you snap pictures of your receipts so you can start accumulating points. "You can then redeem these points towards free gift cards to a variety of stores including those that sell groceries to offset future food purchases including Target, Walmart and Sam's Club," Woroch said.
And don't forget to check the special deals sections of the apps to make sure you're scoring the most points. "For instance, you can rake in 4,000 points if you buy a 15-pack of Gatorade Zero. That translates to $4 back," Woroch said.
Brittany Kline, a budgeting and lifestyle expert at The Savvy Couple, adds that Ibotta and Honey are also good apps to check. "You can earn points or cashback for your purchases and redeem them for gift cards, PayPal payments, and more."
Buy Gift Cards
"Many stores offer incentives such as fuel points or cash back when you purchase gift cards for popular retailers or restaurants," Kline said. If you're buying gift cards already, get them at your preferred store so you're earning points and bonuses while you're at it. Not only do you get a nice gift, but you're earning money while you do it. Cha-ching!
Use the Grocery Store's Pharmacy
If you're already getting prescriptions filled, why not do it at your grocery store's pharmacy? That way you can get your medications and get points. Plus, it's one-stop shopping!
Earn Points Just by Walking Into the Grocery Store
"Apps like Shopkick make it super easy to earn points just by walking into a store, scanning items, and making purchases," Kline said. "The points can be redeemed for gift cards or other rewards."  
Pay Attention to Expiration Dates
This might seem like a no-brainer but none of this careful planning means anything if you let your bonuses expire. "Make sure to use your rewards before they expire. Set reminders or alerts to ensure that you don't miss out on any rewards," Stark said.
More From GOBankingRates
Make Your Money Work for You