Top Tips for Saving Money on Your Online Grocery Order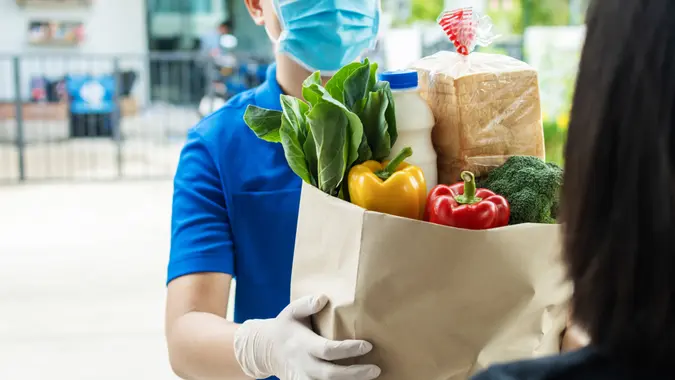 giggsy25 / Shutterstock.com
When the COVID-19 pandemic began sweeping across the United States in early 2020, people quickly shifted from grocery shopping in stores to grocery shopping online. Nearly 80% of consumers shopped online after the pandemic hit, compared to about 39% prior, according to Supermarket News. Retailers from Safeway to Target and services like Instacart were quick to jump on board, offering same-day delivery, curbside pick up and third-party delivery options to make online grocery shopping simpler. Now that online shopping is more a part of our lives than ever, finding the best deals and discounts on delivery are priorities for most consumers. Here are some tips for saving money on your online grocery order.
Be Aware: Costly Mistakes People Make While Grocery Shopping
Use Promo Codes/Coupons
Most of the big online shopping services, such as Instacart, Shipt and Walmart+ all offer online promo codes that include discounts off a certain order amount or specials available for a limited time. Regularly checking the websites of the places you order from is a good way to keep abreast of these discounts.
Make Your Money Work for You
Read More: Americans' Savings Drop to Lowest Point in Years
Choose Curbside Pickup
Delivery fees are often where the costs add up with online shopping, so consider choosing the curbside pickup option from most retailers, which most of the time comes without any additional fees.
See: 40 Supermarket Buys That Are a Waste of Money
Minimize Delivery Fees
Other than using curbside pickup, some sites offer ways to avoid paying delivery fees — which are added on top of the price of groceries and tax — if you purchase a minimum, from select brands or on a certain number of orders (such as your first three purchases). Be sure to look for such deals on the sites you use.
Compare Prices
If you use more than one online shopping service, be sure to compare prices before you commit, because you might be spending more than you have to when a better price is just waiting. You can start a cart, fill it up, then go investigate other prices before pressing "order."
More: Some Cities Are Mandating Hazard Pay for Grocery Employees
Avoid Peak Shopping Hours
Every service has a peak or busy service time when demand is high, and thus, their delivery prices increase. Shop early in the morning or later at night, or check your service's "peak hours" to be sure that you're not paying more just because of the time of day.
Make Your Money Work for You
Read: One-Third of Small Businesses Don't Expect to Survive
Tips for Using the Top Services
Finally, every individual service has its own unique policies and discounts that might benefit you. Be sure to check out their terms and policies before you shop. Here are a few details about some of the top services:
Amazon Fresh: Free delivery within a two-hour window in select cities for Prime members. People with SNAP/EBT benefits can also get free delivery without being a Prime member.
Instacart: Instacart, which has become a staple service for many people in the pandemic, offers coupons and promo codes from time to time. If you sign up for Instacart Express, for $99/year, you receive free delivery on orders over $35 and other reduced service fees.
Walmart+: For $12.95/month or $98/year, consumers can get any item Walmart sells delivered to their homes on the same day.
Last updated: May. 6, 2021
Make Your Money Work for You
Make Your Money Work for You