25 New Trader Joe's Products That Will Definitely Keep You on Budget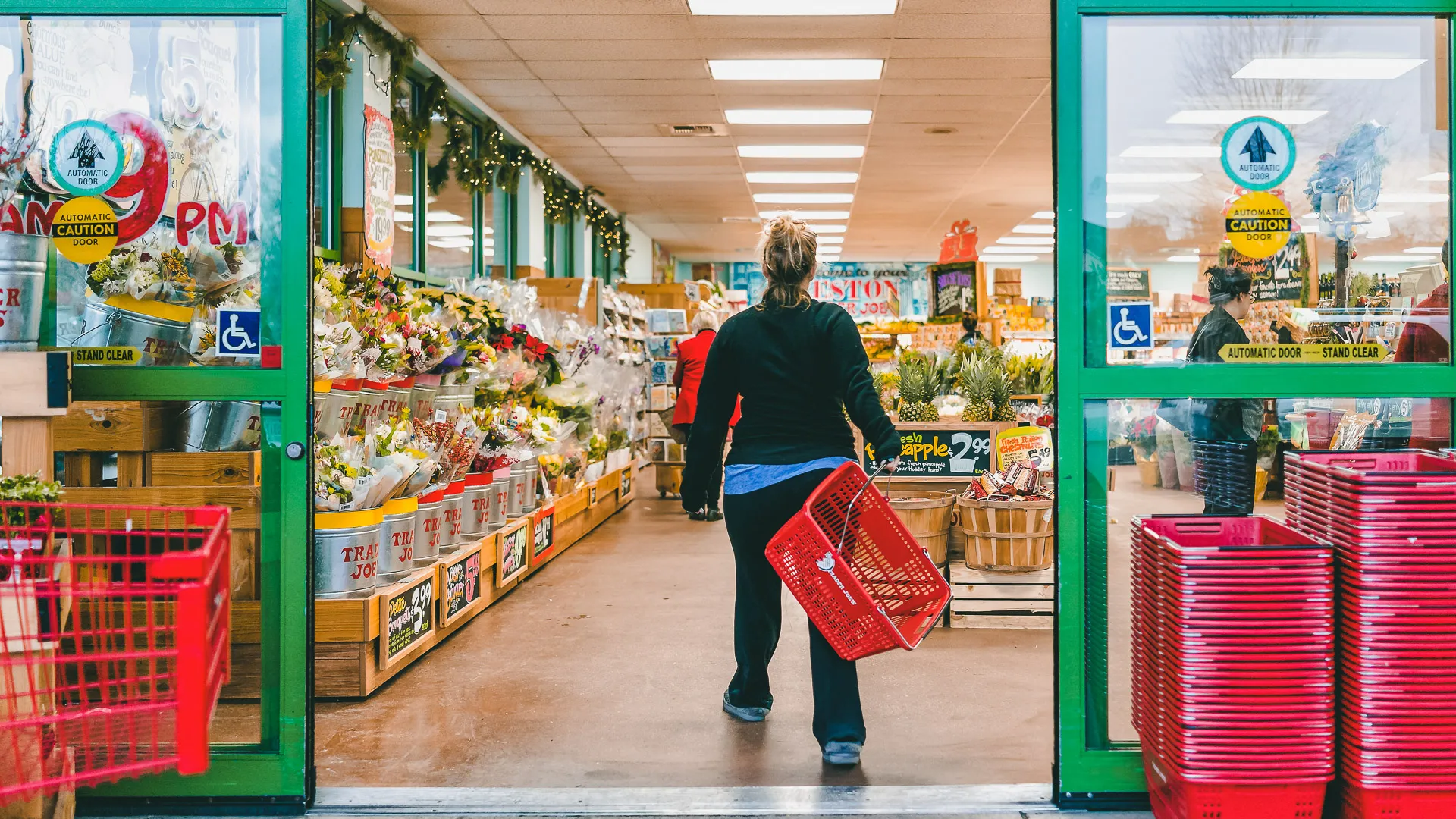 Fall is here, and that means seasonal products abound in the aisles of America's supermarket sweetheart, Trader Joe's. The grocery store chain, which touts more than 500 locations across the United States, is stocking its shelves with troves of autumnal treats. Trader Joe's shoppers likely will be pleased not only by the array of new choices but by their reasonable price tags. Trader Joe's Focaccia Primavera, for instance, which is "part pizza, part pie" and could serve as a main course in the family dinner, retails for $3.99. That's less than a 365 by Whole Foods Market, Frozen Thin Crust Pizza, which goes for $4.29 on Amazon Fresh. Trader Joe's pizza is slightly larger, too. 
New products at fair prices are perhaps more important to consumers than ever, as the average grocery bill soars. According to new data from LendingTree, American consumers' average weekly spending on groceries has increased by 17% since pre-pandemic times, up from $163 to $190. That's a lot of money — especially when you consider that a third of Americans have less income now than they did before the pandemic, as a Marketplace-Edison Research Poll found.
Here's a look at 25 more new products that shoppers can find at Trader Joe's to save more and stay on budget. 
Mini Spicy Pumpkin Samosas
Pumpkin spice but spicy? That's the promise of these veggie-filled samosas, inspired by the favorite Indian snack (which actually has origins in the Middle East). You can find these flaky savories in the frozen aisle. Trader Joe's recommends serving the samosas with a dollop of its Hot & Sweet Pepper Jelly. It's definitely cheaper than Indian takeout.
Non-Dairy Maple Oat Beverage
Oat milk is all the rage these days — but it isn't cheap at about $3.49 per 16 ounces on Amazon Fresh. At Trader Joe's, you can get a 32-ounce Non-Dairy Maple Oat Beverage for $2.99. Unlike plain oat milk, this one has a maple flavor, kicking up the autumn sweetness. 
Everything But the Gluten Crispbread Crackers
A gluten-free diet can be costly, but Trader Joe's has your back when it comes to snacks. Trader Joe's new Everything but the Gluten Crackers product is similar to its classic Crispbreads, but the gluten-free crackers are smaller and cut into rectangles. Additionally, they're seasoned with a mix that is likened to the TJ staple Everything but the Bagel Seasoning. Enjoy these crunchy treats solo or with a spread.
Make Your Money Work for You
Unexpected Cheddar Broccoli Soup
What's "unexpected" about Trader Joe's new cheddar broccoli soup? You'll have to taste it to find out. Made with vegetable broth, broccoli chunks and yellow cheddar, this hearty concoction gives tomato soup a run for its money when it comes to the ideal pairing with grilled cheese. These 20-ounce tubs are available in the refrigerated section — and you get a lot more product than the 16-ounce Panera Bread at Home Broccoli Cheddar Soup, which sells for $4.99 at Target. 
Pumpkin Spice Pretzel Slims
What's better than a plain old salty pretzel? A pumpkin spice pretzel! Trader Joe's Pumpkin Spice Pretzel Slims offer a seasonal spin on the classic Trader Joe's Pretzel Slims. In these crunchy snacks, you'll taste spiced pumpkin seeds among other spices (and even hints of lemon peel). Six-ounce bags are on sale now — while supplies last — and end up being cheaper than some other novelty seasonal pretzels from various retailers.
PB&J Snack Duo
This isn't a typical school year due to the coronavirus pandemic, but that doesn't mean lunchbox snacks have to be less than perfect. Trader Joe's PB&J Snack Duo consists of wafer sticks loaded with peanut butter filling, paired with a raspberry dip. A 12.7-ounce box contains six individual Snack Duos and can be found on shelves among other sweet snack offerings. It's less expensive than, say, Smucker's Uncrustables Peanut Butter & Grape Jelly Sandwich.
Spicy Chunky Tomato & Pepper Pasta Sauce
Sales of dry pasta have skyrocketed since the pandemic struck, and by now, consumers probably are a bit tired of the same old jarred pasta sauces. Fortunately, there's a new sauce in town on the aisles at Trader Joe's. A 24-ounce jar of Spicy Chunky Tomato & Pepper Pasta Sauce features whole, peeled San Marzano tomatoes, plus diced tomatoes. It packs a punch with red bell peppers, harissa and an assortment of spices such as paprika, cumin, cayenne and coriander. Better yet, it costs less than other specialty pasta sauces such as Chunky Italian Mrs. Miller's.
Make Your Money Work for You
Trader Joe's Protein Muffins
Breakfast in 60 seconds is the promise of these DIY muffins, which are available in two varieties: Dark Chocolate Protein and Maple Protein. These gluten-free treats are packaged in their own cooking vessel. Just remove the lid, add a quarter cup of cool water and milk (or milk alternative), then stir and microwave for a minute. Note that for the same price as the Maple Protein Muffin, you get a bit more of the Dark Chocolate product — 2.08 ounces vs. 1.87 ounces, so if you're looking to save money, opt for the chocolate. 
Ginger Turmeric Granola
Ginger and turmeric go so well together that they might as well be related, which, if you consider the rhizome food family, they are. They come scrumptiously (and sans gluten) together among rolled oats, oat flakes, brown rice crisps, coconut and cinnamon. A dash of sea salt ups the savoriness, while clusters of candied ginger raise the sweetness factor. You'll find 12-ounce bags in the cereal section at Trader Joe's, while inventory lasts. Fancy granola almost always will cost less at Trader Joe's. For instance, at Walmart, an 11-ounce bag of KIND Healthy Grains Granola Clusters, Vanilla Blueberry with Flax Seeds Gluten Free is $4.53.
Organic Uncured Turkey Jerky
If you want to keep meat jerky in your life but want a healthier option than a convenience store Slim Jim, consider Trader Joe's new Organic Uncured Turkey Jerky. It's the company's first organic jerky and is made with dried turkey breast. The meaty treat also has an organic marinade consisting of honey, tamari soy sauce and an array of spices. A 3-ounce bag goes for $5.99, making this one of the pricier items on the list, but it's worth it if you're in the mood for a carnivorous splurge.
Walnut Pesto
Think pesto, but instead of a basil base, it's walnuts. This spreadable blend is made with canola oil, extra virgin olive oil, Parmesan cheese, and of course, walnuts. You'll also find some zesty spices such as nutmeg, black pepper and sea salt. Use it the same way you would a regular basil pesto — on a baguette or as a vegetable dip or even as a pasta dressing. An 8-ounce tub can be found in Trader Joe's deli refrigerators for a limited time. Not only is it cheaper than many pestos at competing retailers, it's unique.
Make Your Money Work for You
Brazilian Style Cheese Bread
Made with tapioca flour and Parmesan cheese, Trader Joe's new Brazilian Style Cheese Bread gives a fancy restaurant twist to your home-cooked dinners. And it's gluten-free, too. Pick up an 11-ounce box in the freezer section. It might not replace your frozen sprouted bread, but it should cost less.
Instant Cold Brew Coffee
As the weather starts to cool, it can be tempting to hit the snooze button in the morning. To ward off the temptation, wake up with a chilled cup of instant cold brew coffee. Add a teaspoon of Trader Joe's Instant Cold Brew Coffee to 12 fluid ounces of water and you're good to go with a dark and smooth caffeine fix for a lot less than Starbucks charges. Find 3.5-ounce jars where other coffee and tea products are shelved in your local Trader Joe's.
Grainless Tortilla Chips
As football season revs up, the need for snacks intensifies. For a novel alternative to traditional tortilla chips, check out Trader Joe's Grainless Tortilla Chips. Instead of corn and wheat, they're made with flour from coconut and cassava, and they sport a robust seasoning blend. Fried in avocado oil, these chips were practically made for the mother of all avocado snacks, guacamole. Find them in the snack aisle. At $2.99, these chips are cheaper than even some grain-filled options. 
Pumpkin Spice Batons
Need more pumpkin spice in your life? Check out the new Trader Joe's Pumpkin Spice Batons. These wafer cookies are loaded with pumpkin-flavored cream and packed with cinnamon, nutmeg, ginger and clove powders. Dunk them in a piping hot cup of Autumn Maple Coffee or in your hot chocolate for a pumpkin-spicy twist. Each 5-ounce canister holds about a dozen batons and can be found in an aisle where other sweet treats are sold — and they're cheaper than what you would find at the local coffee house.
Vegan Caesar Dressing
Plant-based eaters, rejoice! Trader Joe's finally has unveiled its Vegan Caesar Dressing. It's creamy but doesn't have dairy, and it has a bite but doesn't use anchovies. Instead, it's made of tofu, capers, mustard and miso. It's also decently priced — especially when compared with other vegan salad dressings. Find 11-ounce bottles in the deli section, alongside other refrigerated salad dressings. 
Make Your Money Work for You
Strawberry Non-Dairy Oat Frozen Dessert
Trader Joe's understands that chilly weather doesn't cancel your desire for cold desserts. Welcome, Strawberry Non-Dairy Oat Frozen Dessert. It's not exactly ice cream because it doesn't use cream — or any dairy, as the name says. Using an oat milk base, this confectionery delight stars tapioca syrup, coconut oil, agave syrup, candied strawberries and almond brittle. Find your pint in the freezer section — and spend less than you would on a pint of Ben & Jerry's.
Sea Salted Saddle Potato Crisps
Move over, Pringles — Trader Joe's has launched a new snack that looks as if it could rival your tubed powers. And it's about the same price. The new Sea Salted Saddle Potato Crisps are made from dried potatoes, corn meal and rice flour. They indeed are shaped like a tiny saddle, so you can, ahem, saddle them with salsa, guac, cheese or whatever ruffles your truffles (when you don't want to eat Ruffles). Discover a 5.2-ounce lidded canister in the chips section.
Beef Pho Soup
It's pronounced "fuh," in case you're having trouble finding this Vietnamese-inspired dish on your next Trader Joe's trip. The new Beef Pho Soup features seasoned beef and rice noodles in a savory broth flavored with basil and cilantro. After six minutes in the microwave or 10 minutes on the stove, you'll have lunch for one. Add jalapeños or basil, or just enjoy it as is. These 13.23-ounce bowls can be found in the freezer case and certainly are cheaper than Vietnamese takeout. 
Mini Cornbread Biscotti
Trader Joe's Cornbread Biscotti, the newest addition to its line of seasonal biscotti, is an ideal combo of savory and sweet. If you like Trader Joe's Cornbread Mix, you'll enjoy this snack, which goes great with soup, cheese, chili, charcuterie, or even a cup of coffee or tea. Eight-ounce tubs are available while supplies last. And who can resist when you consider that other specialty biscottis typically sell for more than twice that price? 
Make Your Money Work for You
Apple Cider Fruit Spread
Trader Joe's Apple Cider Fruit Spread captures the spirit of autumn with chunks of sweet apples, tart apple cider and an array of bold spices such as cinnamon, ginger, cardamom and clove. Slather this on your bagel, toast or muffin for breakfast, or dab it on your pork chops at dinner. These 12-ounce jars are available while supplies last, and can save time and money if you were thinking about making your own apple cider spread.
Pizza Seasoned Shredded Toscano Cheese
Shredded cheeses tend to be a bit predictable in traditional supermarkets — featuring the usual suspects such as cheddar, jack and mozzarella — but Trader Joe's is adding a new contender to the mix: Pizza Seasoned Shredded Toscano Cheese. Inspired by all add-on seasonings served at pizzerias, this shredded cheese is decked out with herbs, spices and sea salt, so you'll have several fewer steps (and pricey ingredients) to bother with when making a pizza — or subs, salads or whatever else you might prep with spiced-up shredded cheese. Eight-ounce bags are in the cheese section and cost less than shredded cheese blends at many other stores.  
Organic Ghee & Sunflower Oil Spray
Cooking spray, much like shredded cheeses, tends to be limited in variety in "regular" supermarkets, but not at Trader Joe's, which has just added Organic Ghee & Sunflower Oil Spray to its lineup. Serving up a buttery flavor with no carbs or calories, this is a guilt-free option when greasing your pans. Available in 5-ounce containers, it's a bit pricier than Pam, but it's an ideal choice for many diets, such as Paleo, which might have you making your own cooking spray or spending a fortune on avocado cooking spray.
Cottage Cheese
If you're on a budget, cottage cheese can be integral in your diet. It's packed with protein, and, in the case of Trader Joe's selection, doesn't contain filler or gums. Load it up with granola, fresh fruit or maple syrup. Five-ounce tubs sell for $1.19.
Vanilla Non-Dairy Frozen Dessert
Non-dairy desserts at supermarkets generally are substantially pricier than dairy options — but not at Trader Joe's. Made from almonds, Vanilla Non-Dairy Frozen Dessert is $3.99 per pint — which typically is cheaper than Ben & Jerry's non-dairy options. You probably don't need any suggestions on how to eat this (or any dessert, for that matter), but Trader Joe's suggests adding TJ's Honey Roasted Sliced Almonds and warm Organic Reduced Sugar Strawberry Preserves.
More From GOBankingRates
About the Author