Use These Tips To Never Pay Full Price at Olive Garden, Applebee's & Other Popular Restaurant Chains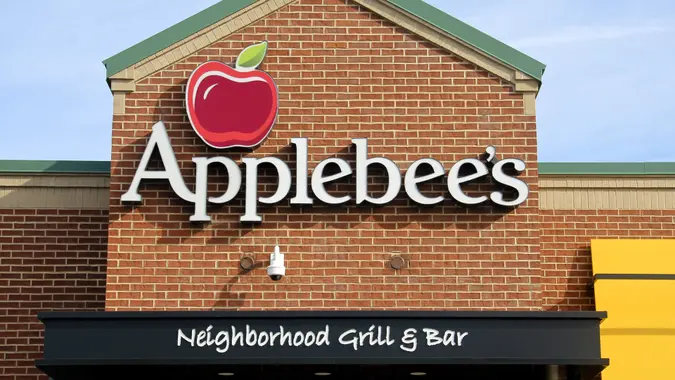 ©Shutterstock.com
Going out to eat can be pricey. The average household spends about $3,500 on dining out (during non-pandemic lockdown times), according to data from the Bureau of Labor Statistics. Fortunately, there are ways to save on going out to eat, so you can enjoy a meal out without the guilt of overspending.
Find Out: Discover: 
Here's how to save money and score freebies at some of the most popular chain restaurants.
Applebee's
Applebee's has a "2 for $22" deal that includes two entrees and an appetizer — which is a good amount of food for $11 a person.
Read More: 
Find Out: 
BJ's Restaurant & Brewhouse
If you dine in Monday through Thursday, take advantage of the daily deals. These include half off large pizzas on Mondays and $10 loaded burgers on Wednesdays.
Buffalo Wild Wings
Check out Buffalo Wild Wings' "Wing Bundles" to get some of the best deals on food for the whole family. For example, the 20/20 Wing Bundle comes with 20 traditional wings, 20 boneless wings and french fries for $39.99 — that's less than a buck a wing.
Learn: 
Chili's
Chili's happy hour deals vary by location but can include some very cheap eats like $6 boneless wings and $4 fries. Plus, you can go any time of day to enjoy the $5 margarita of the month.
Make Your Money Work for You
Olive Garden
In a viral TikTok video, user @natasha21k recommends ordering the kids' meal at Olive Garden — even if you're an adult.
"If you are ordering to-go, get the kids' meal. Look at these portion sizes, they are enormous," she said in her video. "A side of broccoli, our main entrée, two breadsticks and a drink — all for only $5.99."
If you want to dine in, go during lunchtime. The chain's lunch menu features a choice of spaghetti with marinara or meat sauce, fettucini alfredo or eggplant parmigiana with unlimited soup or salad and breadsticks for just $7.99.
Discover: 
Outback Steakhouse
Download Outback Steakhouse's app to earn discounts for future meals. After you visit three times, spending $20 or more per visit (not including alcohol), you'll receive 50% off your next meal, up to $20.
Red Lobster
Be sure to check out the "Daily Deal" next time you dine at Red Lobster. These specials rotate throughout the week and include unlimited endless shrimp for $17.99 on Mondays and fish and chips for $11.99 on Fridays.
Budget: 
Red Robin
At Red Robin, kids' entrees, sides and drinks are bottomless. Although the adult menu doesn't have bottomless entrees, you do get bottomless sides and drinks, which is a money-saving plus.
Ruby Tuesday
Join Ruby Tuesday's So Connected loyalty program to receive $5 off when you join and a free burger or Garden Bar entree every year on your birthday.
Learn More: 
Make Your Money Work for You
TGI Fridays
With the Fridays Rewards app, you'll get a free appetizer just for signing up and a free dessert every year on your birthday. Plus, you'll earn one point for every $1 spent, which you can redeem for food and drink rewards.
More From GOBankingRates