6 Walmart Items That Are Cheaper Than the Dollar Store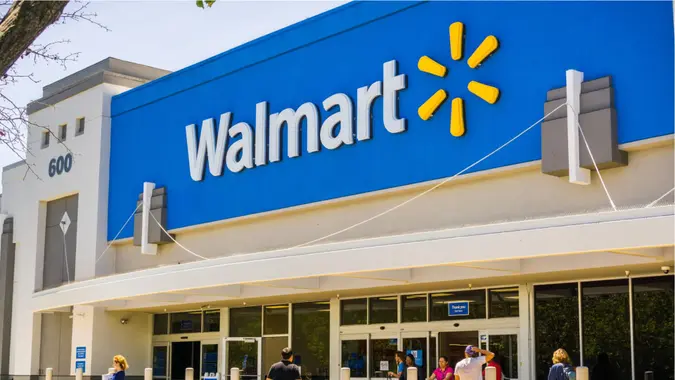 ©iStock.com
Dollar stores are great ways to save money. They're especially convenient when you're in a pinch and need small quantities of just one or two items.
SNAP Schedule 2022: May Payments
Read More: 25 Extra Grocery Costs You're Probably Forgetting About
They certainly come with their own caveats, though, as oftentimes buying a single small item ends up costing far more than it would in the grocery store. Instead of paying for the convenience, try shopping around to make sure that you're getting the best deals.
Below are six examples of items that typically cost less at Walmart than at a dollar store.
Auto Maintenance
If you're handy with cars and can perform your own oil changes, or even if you just need a quart or two to top off your oil, Walmart's oil prices beat those at Dollar General. The difference might only be a dollar per quart, but that's significant savings when you need five or six quarts at a time.
Make Your Money Work for You
You'll also save money at Walmart on maintenance items such as containers of high-mileage oil treatment or automatic transmission fluid compared to Dollar General.
Canned Vegetables
Canned corn and green beans are staples on the shelves at Dollar Tree, but you'll pay much there than at Walmart. The house Great Value-label canned vegetables at Walmart cost significantly less than what you'll find at Dollar Tree, and many of the veggies from name-brand manufacturers do, too. Remember, also, that Walmart accepts manufacturers coupons, bringing down that price even more.
Multivitamins
If your doctor recommends you or your kids take a daily multivitamin, you'll find the same national brands at both Walmart and Family Dollar, with Walmart coming out slightly ahead on price per vitamin. If you buy the Walmart brand Equate, however, you'll save even more – about 25%.
Poll: Have Gas Prices Affected Your Driving Habits?
Pain Relievers
Walmart stocks the full line of national-brand ibuprofen and acetaminophen, but reviewers give the store's own Equate brand high marks for both pain relievers. And even though Dollar General has its own house brand, Walmart's price can't be beat. You'll pay less than 2 cents per tablet or caplet at Walmart for a bottle of 100, and the price drops if you buy bigger bottles or multipacks.
Make Your Money Work for You
Pet Products
Walmart's pet-care aisles are far bigger than those at the dollar stores, and its purchasing power shows in this section when comparing prices with Family Dollar, for example.
Cat litter, dry dog food and catnip treats from the same national manufacturers are among the items you'll find for less at Walmart. If the package sizes aren't the same, calculating the price per ounce will help you to verify that you're getting the best deal.
Paper Products
You'll need those math skills again when comparing the value of paper products at Walmart vs. Dollar Tree. But once you do the calculations, you'll find it pays to shop at Walmart for some paper products.
Start with paper plates for a birthday party or other gathering. While the 7-inch colored plates seem like a good deal at Dollar Tree, if your party is small and guests use the same plate when they go back for more appetizers or another piece of cake. With just 18 plates per pack at Dollar Tree, the 50-count pack at Walmart is a better value.
Make Your Money Work for You
The same goes with paper towels. With double rolls vs. single rolls, you'll have to look at the square footage when comparison shopping. But Walmart comes out on top in many cases.
As you make your shopping list, it doesn't hurt to look at the website of the dollar stores to look for weekly ads and specials. You might even find a coupon for $5 off if you spend $25, for example, which could influence where you shop in a given week.
More From GOBankingRates
Jami Farkas contributed to the reporting for this article.
Make Your Money Work for You