How To Budget For Groceries and Spend Less on Food in 2021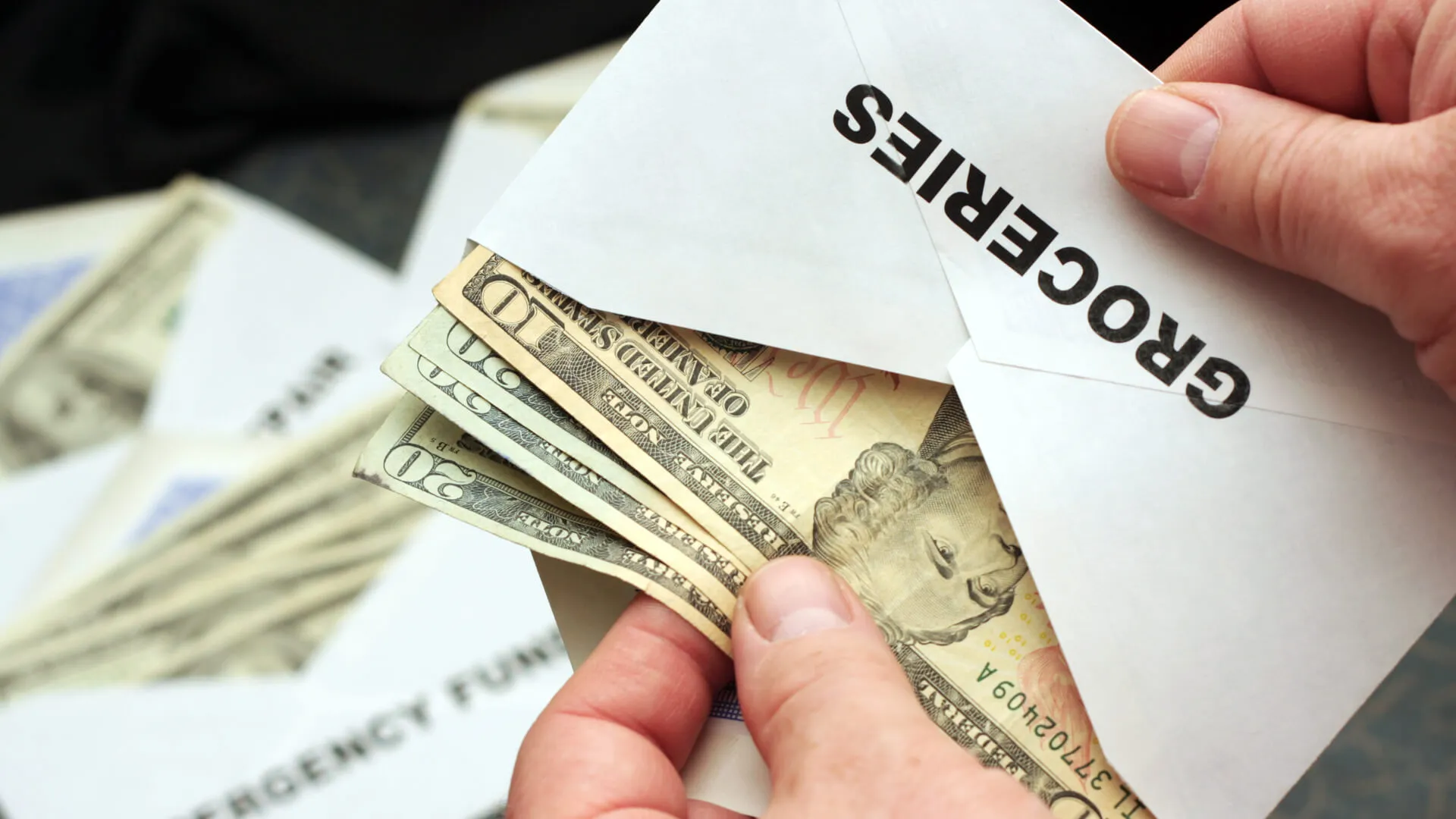 Food costs soared in 2020 and they're not slowing down in 2021. In a perfect world, consumers wouldn't have to shoulder rising costs at the farm and factory level but the real, capitalistic world is far less forgiving. It's up to the consumer to be savvy and crafty when it comes to saving money at the supermarket. 
One way to save money is to simply track your grocery spending, which you might best do by opening a checking account just for food shopping. 
"Have a separate grocery account for your household and transfer your grocery budget money into this account the moment your paycheck hits the bank," said Marjolein Kok, a simplified personal finance coach and educator. "By securing that money away from our regular spending we can never end up at the end of the month without money to feed ourselves, but we also can't spend more than we transferred into the account. An important note is that the card associated with this account is a debit card and that there is no overdraft facility; otherwise, you still run the risk of overspending, and that won't help you reduce your grocery bill." 
Here's a look at 15 other expert-approved ways to trim down your grocery bill without sacrificing your nutritional needs.
Last updated: Jan. 14, 2021
1. Use the '50/30/20' Budgeting Rule
"Always begin your budgeting with the 50/30/20 rule," said Alice Gerwat, a money-saving expert and senior content editor at Magic Freebies. "Groceries come under 'Needs', so your budget should form part of the total 50% of your after-tax income spend. In other words, you should be spending 50% of your after-tax income on things like food, utility bills, rent/mortgage payments. If you discover that you're spending more than 50% on these things, then your groceries budget is the perfect thing to cut back on."
2. Divide Your Grocery List Into Wants Versus Needs 
Much like your overall budget, your grocery list should have two sections: needs and wants. 
"List down the essentials first, the important things," said Andrew Priobrazhenskyi, budgeting consultant and CEO of Discount Reactor. "After that move onto wants and get those extra toppings and ready-to-cook-meals."
Make Your Money Work for You
3. Use the 'S.A.V.E' method
"Once a shopper is familiar with the various sale cycles I encourage them to shop using the S.A.V.E method," said Joy Hearn, an extreme couponer and founder of the Facebook page Cards and Clips. Here's Hearn's breakdown of the 'S.A.V.E' method:
S: Scan all grocery weekly ads.

A: Always look for the stores with the lowest prices highlighting items within a sale cycle.
V: Verify the store's shopping and savings policy. For instance, find out if you can double coupons and whether there is a limit to how many items can purchase. Also see if you have to purchase qualifying items to get the lowest price.
E: Enjoy the savings.
4. Opt In to All Rewards/Loyalty Programs
It might be a hassle at first to fill out the paperwork, etc., but if you do nothing else, opt in to loyalty and rewards programs wherever you shop.
"These programs cost you nothing and can be the single best way to save money on groceries," said Jeanette Pavini, budgeting/savings expert and author of "The Joy of $aving." "Most larger stores also have an app which will allow you to download savings directly to your phone. These programs will allow you to take advantage of loyalty deals in addition to sale prices."
5. Be Sure To Plan Your Meals
"When you don't know what to cook or have for dinner, it's easier to fall back on takeout, but as long as you have something planned, you'll be less likely to decide to order a pizza," said Julie Ramhold with DealNews.com. "Additionally, by planning ahead, that means you'll have those ingredients on hand, so you won't decide to make something you don't have the ingredients for. Even if chicken pot pie sounds great for a Friday night dinner, if you don't have the ingredients on hand, it's harder to do; still, you can always roll that over the next week and plan on stocking up on those ingredients during your next shopping trip." 
Ramhold continued, "For instance, if you spend $150 on groceries every week, and then find yourself with zero ideas what to cook, so you end up ordering takeout for $40, you've already spent close to $200 when you didn't have to. That's not even factoring in what happens if some of the $150 groceries end up going bad and have to be tossed — then you're looking at that money just having been basically thrown away."
Make Your Money Work for You
6. Shop Your Pantry and Freezer First
"Rather than buying each week's groceries as they are needed, keep a stocked pantry/freezer and shop your pantry/freezer first," said Mary Ann Kelley, food blogger. "The most effective weapon against high grocery prices is replenishing your pantry/freezer when the items are on sale at the lowest price per unit."
Kelley added that you can also save space and time by cooking things like ground beef and chicken before freezing. "Cooked ground beef takes up less than half the space of its raw counterpart. Why brown one pound of ground beef five times if you can brown five pounds one time? You save cooking time and only make a mess once."
7. Family Size Is Not Always the Best Size 
"Sometimes family size can really save a bundle," Pavini said. "It is common to save $0.50 or more per pound on meat when you buy the bulk packaging. But you can't assume that's the case. You'll need to read unit price*. Sometimes if the regular size is on sale or if you have a coupon it is actually less expensive than the family size."
*You can generally find the unit price on the price tag. "You will see a price per ounce (or [another] unit of measurement)," Pavini said. "This is the best way to compare prices between brands."
Make Your Money Work for You
8. Embrace Frozen Fruits and Veggies 
Frozen produce gets a bad rap for absolutely no reason. It's actually packaged at its peak, so it's bursting with nutrients — but costs less and lasts longer than fresh produce. 
"Don't be afraid of the frozen vegetable and fruit aisle," said Chesney Blue, registered dietitian nutritionist and co-owner of Blue Counseling and Wellness Center. "Frozen produce is already chopped up. So, that will reduce your meal prep time. For a healthier meal, avoid the frozen produce that may have syrups, sweeteners, cheeses and gravies."
9. Swap 'Instant' Options Out for a More DIY Approach
"One tip for budgeting for groceries is to switch out instant oatmeal for organic rolled oats," said Kathryn Schwab, health coach and founder of Tons of Goodness. "This has so many health and budgeting benefits. For example, rolled oats have zero sugar, 6 grams of protein per serving, 5 grams of fiber, and 2mg of iron. You can sprinkle on a bit of cinnamon or add banana slices or berries to make it even more nutritious. When checking at Whole Foods, the gluten-free organic rolled oats by Bobs Red Mill is $0.16 per ounce. Conversely, an instant oatmeal that I referenced (a Whole Foods brand) has 13 grams of sugar, 3 grams of protein, 3 grams of fiber, and 1mg of iron and is $0.33 per ounce."
This same logic applies to rice, beans, and other ready-made packaged goods. You'll save money and likely get more nutrients by going about it the old-fashioned way. 
10. Go Vegetarian When You Can 
Vegetarianism isn't for everyone, but it is a fantastic way to eat both for your body and for the planet. It can also work wonders for your wallet.   
"Buying meat is most often the most expensive item on your grocery list," said Youmna Rab, founder of Sustainably-Yours. "Chicken and beef can go over $10 depending on how many people you are feeding. Try incorporating some vegan or vegetarian meals in your week to save on cost. Canned beans or chickpeas cost about $1 and can make up to four meals from one can. Eggs are another cheap food that will keep you full while saving money."
As a longtime vegetarian, I'll add that lentils are crazy cheap and can impeccably substitute for meat in many soups, pasta, chili dishes and so on. A quick Google search will show you the way, but here's a good site to get you started!
Make Your Money Work for You
11. Use the Same Ingredients for as Many Recipes as Possible 
Some produce items like stalks of celery and bundles of cilantro, are sold in such generous quantities that you might find yourself with leftovers you simply have no use for. This not only brings up the pain point of spending on the food you don't really need, but it also highlights the growing crisis of food waste in the U.S. To battle this problem, take a tip from recipe developer Coralia Varga.
"Try and make use of all the ingredients you need to buy and reuse for other recipes," Varga said. "For example, if one recipe calls for 2 carrots, very likely you will buy a pack of carrots. Find recipes that call for carrots so you don't waste anything."
12. Opt For Whole Grains
"Purchase whole grains when you can," said Jessi Holden, registered dietitian nutritionist, team lead, weight management program at Mary Free Bed Rehabilitation Hospital. "White pasta and whole grain pasta are usually the same price, but you will feel fuller from a smaller portion of whole grain pasta because of the fiber. This means you typically get more servings for what you pay for than you would for the white flour-based pasta."
13. Don't Buy Household Staples (Like Toilet Paper) at Supermarkets
"Avoid purchasing household staples (non-food) and paper items at the grocery store," said mom blogger Holly Nordenberg. "They are often more expensive, and you can easily set up auto shipments for these items from cheaper retailers. With a little research, you can find the best price and then set up auto shipments based on how often you need to replenish the item." 
"A lot of people think Amazon will have the cheapest prices, but that has not been true from my research for my own auto shipments," Nordenberg continued. "I use Target, Walmart, and Chewy (for pet supplies) because they offer the best value. I recheck prices about twice a year and I continue to find the best prices with these three retailers."
Make Your Money Work for You
14. Buy 'Ugly' Produce 
"One way to budget and cut the cost of your groceries is to buy ugly produce from subscriptions such as Misfits Market," said Stacy Caprio of DealsScoop."This type of produce was deemed too ugly to be sold in grocery stores but it is perfectly good to eat and still high quality. The prices end up being around half of what you would pay for comparable food in a regular grocery store, so you're saving a ton of money and still getting to eat really healthy, unprocessed food."
15. Check Your Receipt Before Leaving the Store
"Make a habit out of checking your receipt before walking out of the store, and if something is wrong, make sure to go back for the difference," Marjolein Kok said. "It's crazy the number of times there is an error in the cash register system that causes it to not register discounts. And that is without taking into consideration human error, like accidentally scanning items twice."
More From GOBankingRates