Long COVID Patients Are Struggling To Pay Bills — Here's How To Get Help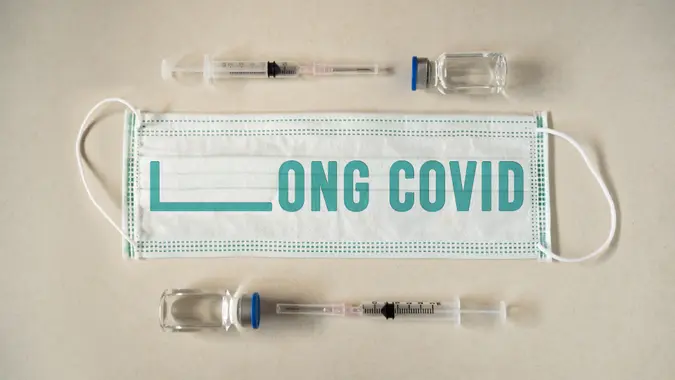 Wachiwit / Getty Images/iStockphoto
You may be surprised to learn that many Americans previously infected with COVID-19 still struggle — both in terms of their health and their finances — six months after hospitalization. According to a recent Journal of American Medicine listing (an article published in "Critical Care Medicine" as of Feb. 14, 2023), 75% of initially hospitalized COVID survivors in a study exploring long COVID had new, or worsened, cardiopulmonary issues at the six-month mark. Within that same group, nearly 35% had depleted most or all of their savings, and 20% couldn't cover necessities.
See: What Is the Average Social Security Benefit at Age 62?
Find: 3 Ways Smart People Save Money When Filing Their Taxes
Fortunately, if you or someone you know is experiencing hardship due to long COVID, help is available.
What You Should Know
If long COVID keeps you from completing normal life activities, you may be considered an individual with a disability. In that case, you could be protected by the Americans with Disabilities Act (ADA) against discrimination from your employer and other entities. For example, your workplace may potentially be legally required to make reasonable accommodations that help you do your job, such as allowing you to work from home or on a flexible schedule.
Make Your Money Work for You
In addition, insurance plans from the healthcare marketplace typically cover long COVID treatment. Plus, there are federally qualified health centers that use a sliding scale to determine fees — and must provide care even if you can't pay. However, if you're still struggling to afford your medical bills, there are other ways to cover your healthcare costs.
Resources Available to You
The Administration for Community Living (ACL) collaborated with 13 other federal agencies to compile a comprehensive list of resources to help you deal with, and recover from, long COVID. Resources within the list may get you access to support such as:
Housing, utility, food, child care, or funeral assistance.
Telehealth appointments or home-based care.
Mental health care or substance abuse treatment.
Transportation to medical appointments.
Medical equipment or assistive technology.
Career development, job training, job placement, or vocational rehabilitation services.
Take Our Poll: Do You Have a Second Job or Backup Plan in Case You Are Laid Off?
More: Free COVID-19 Tests, Vaccines and More Gone in May as US Ends Public Health Emergency
The list also includes special programs for disabled individuals, the elderly, veterans, low-income households, and other groups.
More From GOBankingRates
Make Your Money Work for You
Make Your Money Work for You