What Are the Medicare Extra Help Income Limits for 2023?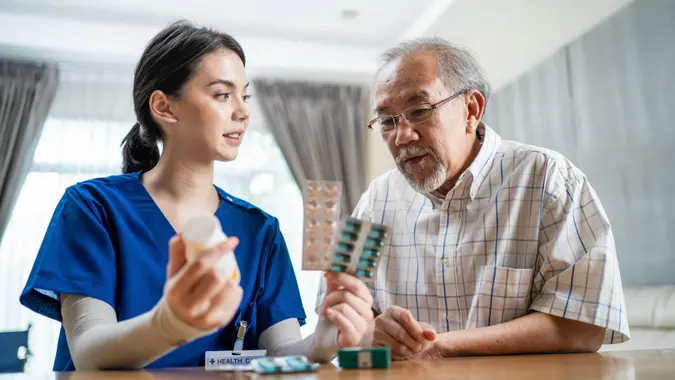 Kiwis / Getty Images/iStockphoto
With 2023 fully underway, there are new costing guidelines associated with Medicare that went into effect Jan. 1. CNBC noted that copays and deductibles for Medicare Part A (which includes hospital stays) are going up, while Part B premiums and deductibles (outpatient care) are down. Part D premiums are also typically trending down, and new caps on insulin and vaccine prices have come into effect.
But, if your Medicare costs have become unmanageable — especially when it comes to prescriptions — and you don't qualify for Medicaid, there is another option that may provide financial help.
The Extra Help provision offers assistance in paying premiums, deductibles and copayments that are part of a Medicare prescription drug plan — and the savings can be substantial. Also known as the Part D Low-Income Subsidy, the extra value is worth about $5,300 every year, according to the Social Security Administration (SSA). The SSA also stated that many eligible Americans are unaware of the program: "Many people qualify for these big savings and don't know it."
There are some parameters to qualify for the program, mostly related to income and assets. The government has updated the income limits for 2023, which — per Medicare Interactive — are now:
up to $1,719 monthly income for individuals.
up to $2,309 monthly income for married couples.
The value of assets (also known as resources) also have caps in order to be eligible for the Extra Help program. As noted by the SSA, those caps are:
$16,660 for an individual.
$33,240 for married couples.
This list is what is taken into consideration when assessing resources:
Real estate beyond a primary residence.
Bank accounts (any checking, savings or certificates of deposit).
Stocks and bonds, including U.S. Savings Bonds.
Mutual funds.
IRAs.
Cash of any sort.
Make Your Money Work for You
The SSA also noted that primary households, vehicles, jewelry and other personal possessions, life insurance policies and any savings for burial expenses are not included when it comes evaluating one's resources. Further, even if some Americans exceed income limits, they may still qualify if they are supporting other family members, or live in Hawaii or Alaska.
As well, income thresholds will not include any SNAP benefits, housing assistance, disaster relief and earned income tax credits, among other items.
How To Apply for Extra Help
To apply for the Extra Help program:
Apply online at www.ssa.gov/extrahelp.
Call Social Security at 1-800-772-1213 (TTY 1-800-325-0778).
Head to your local Social Security office to apply in person.
The SSA further noted that, upon qualification, you'll be able to choose a Medicare prescription drug plan: "If you do not select a plan, the Centers for Medicare & Medicaid Services will do it for you. The sooner you join a plan, the sooner you begin receiving benefits." You can see all eligible plans at Medicare.gov.
Medicare Interactive also indicated that if you are currently enrolled — or newly enrolled — in Medicaid, a Medicare Savings Program or have Supplemental Security Income benefits, you "automatically qualify for Extra Help regardless of whether you meet Extra Help's eligibility requirements."
Make Your Money Work for You
More From GOBankingRates