54% of Americans Want Gift Cards for the Holidays: Get Them These 11 To Fight Inflation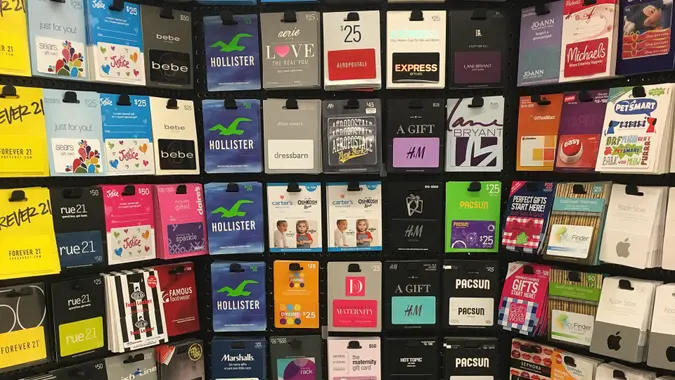 Joshua Rainey Photography / Shutterstock.com
This holiday season, most Americans would like gift cards please. According to the National Retail Federation (NRF), 54% of Americans surveyed said gift cards are the most-wanted gift of the holiday season.
It's not exactly surprising that so many are seeking gift cards in 2022. Pretty much everything you can think of, from gas to groceries, has increased in price this year. Giving someone a gift card is now an immediate form of financial relief. You can put the card toward something you need or something you'd like to have. 
Whether you're planning on fighting inflation or simply want to make a self-care purchase, these gift cards have something valuable to offer everyone on your wish list.
Visa or Mastercard Prepaid Gift Card
Almost every gift card mentioned in this list may be used in a specific retailer. For anyone who may not have access to these establishments, it's always a good idea to give a prepaid gift card from credit card companies like Visa and Mastercard. 
You can find these cards for sale at most grocery stores or warehouse clubs. Best of all, people can pay for almost anything using them so long as the seller accepts Visa or Mastercard.
Gas Station Gift Cards
After close to a year of high gas prices, gifting someone a prepaid gas gift card is a solid move they'll surely appreciate. Look for gift cards from companies like Shell, Circle K and BP. Check into local gas stations in your area to see which kinds of gift cards they sell, too.
Make Your Money Work for You
Grocery Store Gift Cards
It has been a grueling year in the checkout aisle for households buying groceries, so look at store gift card options like Target, Walmart, Trader Joe's and Costco. (Just be sure the person you're buying a Costco gift card for has a membership there first.)
Another grocery store gift card option is for Whole Foods. Sound pricey? It's actually not, if you consider the person you're purchasing the gift card for. A friend with dietary restrictions, for example, will be grateful for the opportunity to get their groceries there using this gift card.
Amazon
In a GOBankingRates holiday survey of 1,025 Americans, 47% of respondents said Amazon is their favorite place to shop. Gift the Amazon lover in your life with a gift card to use for anything they want to order on the website.
Pizza
Pizza gift cards, like those available from chains including Domino's, Pizza Hut, Papa John's and Little Caesars, go the distance in helping to feed a family or acting as a welcome break on long days where one may be too tired to cook dinner.
Coffee
If you know someone who has to scale back on their coffee budget this year, treat them to a gift card for their favorite coffee shop. This can be a nationwide coffeehouse like Starbucks or a local small business they prefer to frequent.
Dining Out
Many households have been cutting back on their dining out amid inflation. Look into gift cards at sit-down restaurants, like The Cheesecake Factory, P.F. Chang's, Olive Garden and Outback Steakhouse, which give everyone a night away from cooking and meal planning.
Make Your Money Work for You
Rideshares
If you have someone in your life who can't drive or doesn't drive and depends on rideshares to get around, an Uber gift card will help curb some of their travel expenses.
Home Improvement
With so many Americans renovating their homes this year, a gift card to home improvement stores like The Home Depot and Lowe's will be much appreciated in assisting with renovation costs. These gift cards can also go toward other items, like holiday decorations, families may be trying to budget for.
Fashion and Beauty
Sometimes you just want a gift card that gives you the opportunity to pamper yourself. Cards for fashion and beauty retailers like Nordstrom, Sephora and Ulta are always in demand for the fashion and beauty lovers in your life.
Entertainment 
Revenge spending, specifically when it comes to travel and experiences, is making a comeback with Americans. 
Think carefully about the person in your life and their entertainment needs. Do they love going to the movies? Look into gift cards from AMC Theatres. Are they planning to travel next year? Surprise them with gift cards for airlines like Delta and Southwest to offset travel costs. And if they're planning a trip to one of the Disney Parks, make their gift card Disney to help stay on budget and enjoy their time making memories with loved ones.
More From GOBankingRates
Make Your Money Work for You