7 Pricey Popular Halloween Costumes and How To Create Them for Cheap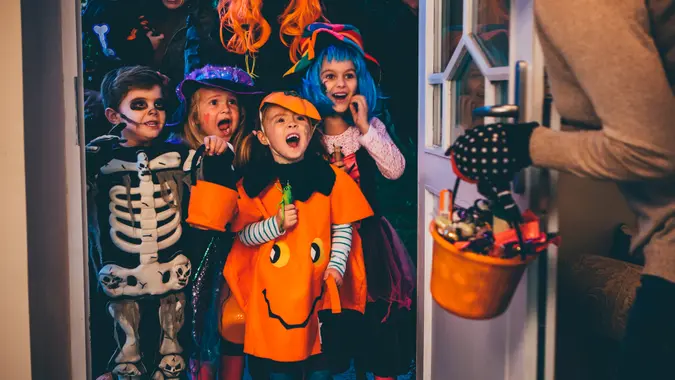 SolStock / Getty Images
Halloween is just around the corner, and despite inflation, thousands of consumers will be shopping for costumes for kids and adults alike.
According to the National Retail Federation, Americans spent $10 billion on Halloween in 2021, up significantly from $8.05 billion in 2020 and a record-breaking all-time high. Individually, Americans spend just over $100 each on Halloween.
Save More: Back-to-School Tips To Help You Cut Costs
Find Out: This Credit Score Mistake Could Be Costing Millions of Americans
An estimated $3.3 billion of that chunk of change went toward Halloween costumes. That's an awful lot to spend on an outfit you'll wear maybe three times max (and that's only if you're planning to attend multiple parties, perhaps in addition to trick-or-treating). 
It's looking like pop culture figures are top of mind for those planning to dress up. Expect plenty of recognizable characters from hit shows like "Stranger Things" and "Umbrella Academy," as well as get-ups that are Barbie-inspired, thanks to press for the upcoming movie. 
The problem with these popular costumes is that when you buy them off the rack, they tend to cost a pretty penny. That's because retailers know just how much you want them; but fear not on this most happily fearful occasion, craftiness can go a long way in helping you save money.  Here's a look at how to create pricey Halloween costumes on a budget. Get ready to break out the sewing machine and hit up the local Goodwill.
Make Your Money Work for You
Barbie
Just the Barbie box alone can go for $69.99. A cheaper option is to make the box out of materials from a craft store. You can purchase some cardboard sheets for $0.95 each from Makerstock, pink spray paint from Amazon for about $6.00, and then print out the Barbie logo to attach to the outside of the box. Depending on the Barbie look you're going for, you can find a pink dress for as little as $10 from Poshmark, and a blonde wig for $23.88 from Amazon. For less than the price of the box, you have the whole Barbie look!
Take Our Poll: What's the Table Time Limit on a $400 Restaurant Meal?
Dr. Strange
Amazon will charge you up to $289 for a Dr. Strange costume for an adult. That's a big chunk of change for one night. 
Making this will take a little craftiness, but it's definitely doable. Purchase some red fabric for the cloak from JOANN for $10.49, or get a cloak outright from Amazon for $11.95. The royal blue tunic can be made out of a bedsheet, which you can purchase at Target for $9.50. As for the accessories, you can make the belt out of faux crocodile vinyl, which you can get from FabricsForever for $1.00. Buy the amulet off Etsy for $8.99, and the sling ring off Amazon for $14.99. That's the whole costume for under $100. 
Make Your Money Work for You
Chrissy's Hawkins' Cheerleader Outfit From "Stranger Things"
Chrissy's iconic getup will cost you $49.99 at Spirit. However, you might be able to find a secondhand cheerleading outfit on eBay for less. Another alternative is a green cheerleading outfit on AliExpress for $15.29. You can sew on the HHS letters, which will run you about $3.50 each on Etsy.
Student from "Umbrella Academy"
Donning the uniform from the academy can cost $49.99 on Amazon. Luckily, there's a cheaper way. The blazer, sweater vest and skirt or pants are ubiquitous enough that they can easily be snagged at a thrift store. Secondhand shopping sites like thredUP are also a good spot to look. The gray blazer can be picked up on thredUP for as low as $13.99. Plaid skirts go as low as $11 on thredUP. Snag an argyle vest (you can get one for $14 on Mercari right now), and you're set.
Bluey
If your toddler is obsessed with Bluey, you might be tempted to pay $39.99 for a Bluey costume at Spirit. However, you can easily piece together a much cheaper costume. Get footie pajamas from BuyBuyBaby for $9.90, and a Bluey hat from Etsy for $6.00. This way, your kid can stay comfy and wear the Bluey hat whenever he or she wants.
Ladybug from "Miraculous" 
Dressing like Ladybug from Miraculous doesn't have to cost a fortune. A full Ladybug outfit from Spirit will cost $49.99. Spend less by getting a red jumpsuit from Amazon for $12.99. Use hot glue to add felt spots, which cost about $5 at Oriental Trading Company. Get the eye mask from Funidelia for $4.99, and a blue wig from Amazon for $9.99.
Make Your Money Work for You
Mario From Super Mario Bros.
When all else fails, you can always rely on this classic.
"For this, you'll need a pair of children's overalls, a red shirt, a red cap, white children's gloves, yellow, some white felt (which you'll cut out and glue onto the cap with the letter "M" written on it), yellow felt (which you'll glue onto the straps of the overalls), and a fake mustache (though you could draw one on)," said Adam Garcia, founder of The Stock Dork and a father of three.  
If you don't go the DIY way, you can fork over $26 for a kid's Mario costume on Amazon.
More From GOBankingRates
Nicole Spector contributed to the reporting for this article.
Make Your Money Work for You