An $8 Million Necklace and More Outrageously Expensive Celebrity Valentine's Day Gifts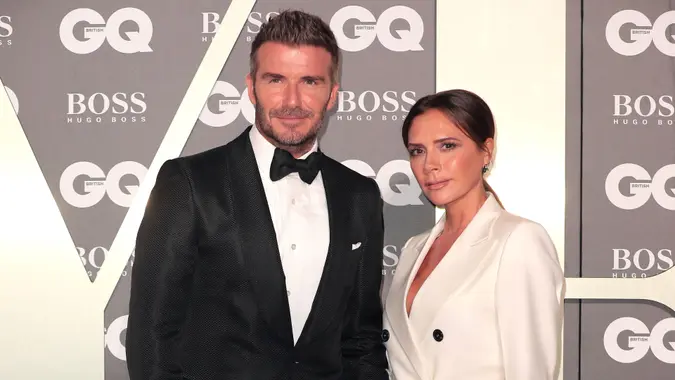 James Shaw/Shutterstock / Shutterstock.com
Valentine's Day is supposed to be about professing your love, but it often comes with a lot of pressure to get the right gift for your significant other. Celebrities raise this bar to a nearly absurd level most of the rest of us could never even hope to achieve, much less afford. Here we look at some of the most lavish celebrity Valentine's Day gifts.
Check Out: 6 Valentine's Day Costs That Supply Chain Issues Are Making More Expensive This Year
Read More: This Valentine's Day, One Financial Trait Could Be Key to Attracting a Partner
Michael B. Jordan Rented an Aquarium for Lori Harvey
The "Black Panther" star took his lady love, Lori Harvey, for a special aquatic Valentine's date in 2021, renting out an entire aquarium for just the two of them. There, he scattered rose petals along its halls, according to People. Harvey posted to her Instagram account, "My baby rented out the aquarium so we could do a private tour and see the turtles and then we walked into this…" This being rose petals, lit candles and a private dinner.
Make Your Money Work for You
And More: 65 Splurges of the Filthy Rich
Kanye West Gifted Kim Kardashian Expensive Jewels and Kenny G
Though Kanye "Ye" West and reality TV star Kim Kardashian have called it quits, it's certainly not due to any lack of extravagance on Kanye's part for Valentine's Day. In 2015, he spent a reported $73,000, according to Hello Magazine, on a diamond and emerald panther cuff from Cartier, which Kim proudly showed off on her Instagram account. And in 2019 he surprised Kim again with a room full of multicolored roses in vases, with the centerpiece being jazz musician Kenny G, performing on his iconic saxophone, according to People.
See: 16 Money Rules That Millionaires Swear By

Offset's Lavish Decorations for Cardi B
Beloved rapper Cardi B truly felt the love from her beau Offset on Valentine's Day 2021, according to People. He lavishly decorated her bedroom with dozens of heart-shaped balloons, roses and other fancy decorations, as well as the word "Love" spelled out in balloons. She wrote on her Instagram, "Feeling love, I'm feeling love" as she shared the spectacle.
Make Your Money Work for You
Jonathan Owens Made Simon Biles Feel the Love
While athletic "GOAT" (greatest of all time) Simone Biles is known for her Olympic success, her boyfriend Jonathan Owens pulled off an Olympic Valentine's Day feat of his own in 2021, with enormous lit-up letters spelling out "love" beside a spectacular balloon display, according to People. It was followed by a romantic dinner, and a bed covered in rose petals that spelled out "I [heart] you." Simone posted a pic on Instagram of the pair kissing beside the display with the words, "lucky to be loved by you."
Learn the Difference: Being Rich vs. Being Wealthy
John Legend Whisked Chrissy Teigen Away
The smooth-piped singer John Legend took his valentine, wife Chrissy Teigen, on a surprise getaway via private jet in 2015, according to TooFab. Their destination remained a mystery to the paparazzi, but Chrissy was thrilled. She posted a pic to her Instagram of the duo aboard the jet with the words, "I'm on my magical mystery date! Luckiest girl alive."
Make Your Money Work for You
Katy Perry Bought Russell Brand a Bentley
Though Katy Perry and Russell Brand had a very short whirlwind of a marriage — less than a year total — it was not without its romantic gestures. On Valentine's Day in 2010, Perry bought Brand a lilac Bentley that is said to have been modeled after Keith Moon's (a member of the band The Who). Hello Magazine reported that the car cost $341,000, but nobody knows who got it in the divorce settlement.
Discover: Do You Invest Like These Millionaire Stars?
Courteney Cox Gave David Arquette a Carousel Horse
The "Friends" star Courteney Cox played to her then-husband David Arquette's sense of whimsy and antiques on Valentine's Day in 2010, buying him an antique carousel horse estimated at $45,000, according to Hello Magazine.
David Beckham Awed Victoria With an $8 Million Necklace
Jewelry is a no-brainer of a Valentine's Day gift, and soccer star David Beckham sent wife Victoria Beckham a loud and clear sparkly message of love in 2006. Not only did he buy her jewelry, he bought her an $8 million dollar Bulgari diamond and ruby necklace, according to People. Victoria then showed off her new jewels at that year's Met Gala.
More From GOBankingRates
Make Your Money Work for You